Combined heterozygous loss of Ebf1 and Pax5 allows for T-lineage conversion of B cell progenitors.
Bottom Line: Whereas combined reduction of Pax5 and Ebf1 had minimal impact on the development of the earliest CD19(+) progenitors, these cells displayed an increased T cell potential in vivo and in vitro.This report stresses the importance of the levels of transcription factor expression during lymphocyte development, and suggests that Pax5 and Ebf1 collaborate to modulate the transcriptional response to Notch signaling.This provides an insight on how transcription factors like Ebf1 and Pax5 preserve cellular identity during differentiation.
Affiliation: Department of Clinical and Experimental Medicine, Experimental Hematopoiesis Unit, Faculty of Health Sciences, Linköping University, 58183 Linköping, Sweden.
Show MeSH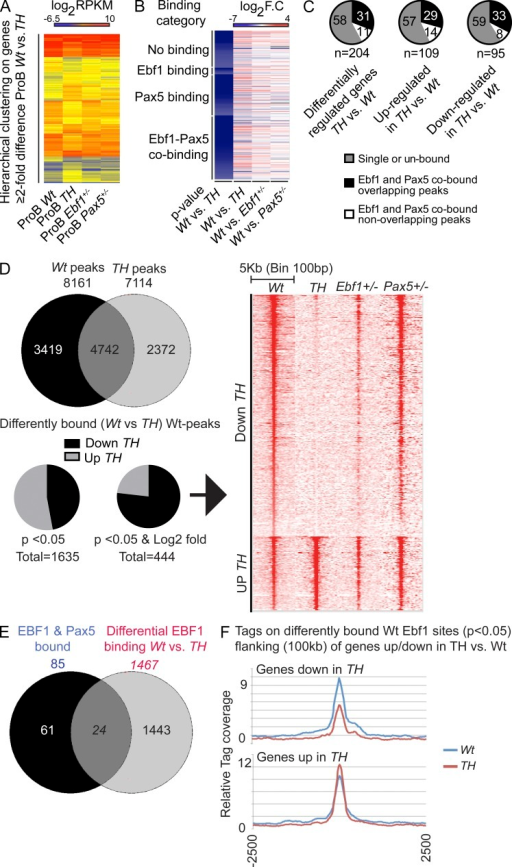 © Copyright Policy - openaccess
License 1 - License 2


getmorefigures.php?uid=PMC4493409&req=5

Mentions: Lineage plasticity in Ebf1−/− or Pax5−/− B cell progenitors has been linked to rather drastic changes in gene expression patterns, including increased expression of T-lineage associated genes such as Notch1 (Souabni et al., 2002; Nechanitzky et al., 2013). To investigate how the combined dose reduction of Pax5 and Ebf1 would impact the transcriptional program in the pro–B cell compartment, we sorted pro–B cells from Wt, Ebf1+/−, Pax5+/−, and Pax5+/−Ebf1+/− animals and performed RNA sequencing analysis. Analysis of the data suggested that even though the transcriptome of Wt and Pax5+/−Ebf1+/− pro–B cells differed in expression at 204 genes (Fig. 3 A), the levels of classical B- or T-lineage genes, including Ebf1 and Pax5 target genes such as CD79α, CD79β, Notch1, or Gata3, were not significantly altered in mice carrying combined heterozygous deletion of Ebf1 and Pax5. K.E.G.G pathway analysis of the differentially expressed genes highlighted a significant difference (Benjamini-Hochberg corrected, P < 0.05) in the categories Cytokine–cytokine receptor interactions, Acute Myeloid Leukemia, Nod-like receptor signaling pathway, Leukocyte transendothelial migration, and NK cell–mediated cytotoxicity. Even though genes involved in cellular signaling were differentially expressed, we did not detect any obvious changes that could be linked to the cellular plasticity observed in Pax5+/−Ebf1+/− pro–B cells. Analysis of the gene expression data suggested that a major part of the genes differentially expressed in the Pax5+/−Ebf1+/− cells was dependent on the combined loss of Ebf1 and Pax5, as the RNA levels were not significantly altered in the single heterozygous cells. To investigate if the differentially expressed genes were direct targets for Ebf1, Pax5, or both, we investigated the binding of these transcription factors in the proximity of the differentially expressed genes using existing Rag2−/− pro–B cell ChIP-sequencing data (Revilla-I-Domingo et al., 2012; Vilagos et al., 2012). This indicated that 85 (42%) of the differentially expressed genes (≥2-fold) contained either overlapping or nonoverlapping binding sites for both Ebf1 and Pax5 (Fig. 3, B and C), whereas an additional 32% contained binding sites for either Ebf1 or Pax5 (Fig. 3 B). Hence, the majority of the differentially regulated genes are direct targets for Ebf1, Pax5, or both. 29% of the up-regulated and 33% of the down-regulated genes contained overlapping peaks (Fig. 3 C), supporting the notion that Pax5 and Ebf1 share a substantial number of regulatory elements.