Evaluation of nano spray drying as a method for drying and formulation of therapeutic peptides and proteins.
Affiliation: Saad Centre for Pharmacy and Diabetes, School of Pharmacy and Pharmaceutical Sciences, Ulster University Coleraine, UK ; Department of Pharmaceutical Technology, Faculty of Pharmacy, University of Tanta Tanta, Egypt.
During spray drying, the way in which stabilizing excipients react with proteins can control the choice of the additives and the processing conditions to preserve the protein properties, stability, and biological activity... Recent developments achieved in the area of particle engineering via spray drying in the last two decades were coinciding with the development of different pulmonary therapeutics administered traditionally by injection (Patton and Byron, )... The pulmonary route was found to be beneficial for systemic delivery of different proteins and peptides (Johnson, ), in particular insulin (Patton et al., )... However, by using the Nano Spray Dryer with its new advanced technology of the spray head, the heating system, and the electrostatic particle collector, the sample amount or volume can be as small as 200 mg or 2 mL, the final product yields increased up to 90%, the particle sizes decreased up to 300 nm with narrow size distribution, and, eventually, fast drying process (up to 150 ml/h) was attained (Li et al., ; Bürkia et al., ; Heng et al., ; Lee et al., ; Schmid et al., ; Schafrothb et al., )... The major advantage of having nanosize powder, especially in the field of proteomics and genomics, is to enhance the stability and therapeutic potential of these drugs to become more effective and less toxic... Nanosize is a key parameter that significantly affects cellular and tissue uptake of nanoparticles, as it influences their internalization mechanisms... Submicron size particles are taken up more efficiently compared to the larger size microparticles (Zauner et al., )... The Nano Spray Dryer B-90 can be used for a wide variety of applications including spray drying of solutions, nanosuspensions, nanoemulsions, or micro and nanoparticles as well as for structural transformations... Proteins are exposed to several shear stresses like shaking, pumping, and nozzle atomization during this spray drying process... Adsorption of proteins and peptides to different interfaces can result in unfolding of their structure that finally leads to the formation of aggregates... Moreover, this spray drying method has an additional advantage in the preparation of sterile injectable particulate delivery systems because it can be conducted in an aseptic condition, as the device could be easily cleaned and sterilized and the atomized air could be filtered... On the other hand, the incorporation of stabilizers such as poly (vinyl alcohol) and other amphiphilic surfactants, which are difficult to remove, is not recommended to minimize the preparation efforts and to prevent the side-effects from the residual surface located surfactant... The hydrophobic ion pairing (HIP) technique based upon spray drying can be employed as a simple process to improve hydrophilic peptide encapsulation in lipophilic carriers to form micro and nanoparticles... Combination of (HIP) method with organic spray drying and emulsion solvent diffusion method enhanced insulin encapsulation and release from PLGA nanoparticles... While PLGA nanoparticles encapsulating different drugs as peptides, proteins and small molecules can be produced with controlled physicochemical properties using Nano Spray Dryer, the ability to process small volumes to produce a high yield of small particles still represents the major advantage of this relatively new approach.
No MeSH data available.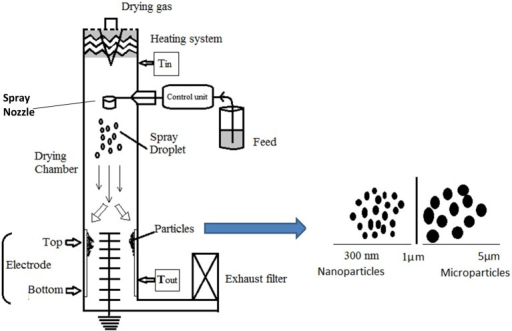 © Copyright Policy
License
getmorefigures.php?uid=PMC4493383&req=5
Mentions: Current progress in the spray drying paved the road to introduce a new advanced technology such as the Nano Spray Dryer B-90, recently developed by BÜCHI Labortechnik AG, which resulted in high particle recovery rates up to milligram sample amounts of powder particles with particle sizes between 300 nm and 5 μm (Figure 1). The Nano Spray Dryer was designed to generate millions of precisely sized tiny droplets every second by using a piezoelectric driven, vibrating membrane in the spray head. The final, dried particles are separated by the aid of an electrostatic particle collector with high product recovery (Li et al., 2010; Bürkia et al., 2011; Heng et al., 2011; Lee et al., 2011; Schmid et al., 2011; Schafrothb et al., 2012).