Tumor immune microenvironment characterization and response to anti-PD-1 therapy.
Affiliation: 1 Medical Oncology Unit, Human Pathology Department, University of Messina, Messina 98122, Italy ; 2 Translational Research Unit, Dr Rosell Oncology Institute, Quirón Dexeus University Hospital, Barcelona 08028, Spain.
These immunotherapies include cancer vaccines and immune checkpoint inhibitors that have been tested in various solid tumors, including those traditionally considered non-immunogenic, such as non-small cell lung cancer (NSCLC)... In the current study, secondary endpoints included correlation of tumor PD-L1 expression with overall survival... Nivolumab provides significant clinical benefits in different cancer types; thus, identification of predictive response factors is crucial to select patients who will most likely benefit from treatment, while sparing resistant patients from unnecessary toxicity... A total of 68 pretreatment archival or newly obtained tumor samples from 41 patients with advanced melanoma, NSCLC, renal-cell carcinoma, colorectal carcinoma, and castration-resistant prostate cancer (CRPC) were analyzed... PD-L1 expression varied among tumors and mainly occurred in tumor cells of melanoma, NSCLC, and kidney cancer specimens, in contrast to only one colorectal and no CRPC specimens... Tumor PD-L1 expression was significantly associated with objective response (P=0.025), as assessed by RECIST 1.0, and clinical benefit (objective response or stable disease ≥6 months; P=0.005)... PD-L1 expression by immune cells was significantly correlated with clinical benefit only... Majority of melanoma, kidney cancer, and NSCLC showed PD-L1 expression in tumor cells, which were also correlated with immune infiltrate intensity in melanoma and kidney cancers... Different studies significantly reported that some rates of objective response to PD-1 pathway blockade have been observed in patients with PD-L1-negative tumors; thus, PD-L1 expression may not be the only predictive factor for this class of inhibitors... The survival benefit from first-line nivolumab versus dacarbazine was observed across all pre-specified subgroups of metastatic melanoma patients, including subgroups defined by PD-L1 status... The predictive function of PD-L1 expression and other immunoarchitectural features of pretreatment tumors will be specifically addressed in ongoing phase II and III trials on PD-1/PD-L1 pathway inhibitors in different solid tumors, including melanoma and NSCLC... Moreover, efficacy is correlated with a molecular smoking marker, specific DNA repair pathway mutations, and higher burden of candidate neoantigens... Similarly, in melanoma patients treated with ipilimumab, a long-term clinical benefit was associated with high mutational load... However, some tumors with high load of somatic mutations failed to respond to checkpoint blockade; therefore, other tumor characteristics may affect therapeutic benefit... In the same study, researchers identified a set of neoantigens that were common to patients who presented a sustained clinical benefit; however, these neoantigens were completely absent in patients with minimal or no benefit.
No MeSH data available.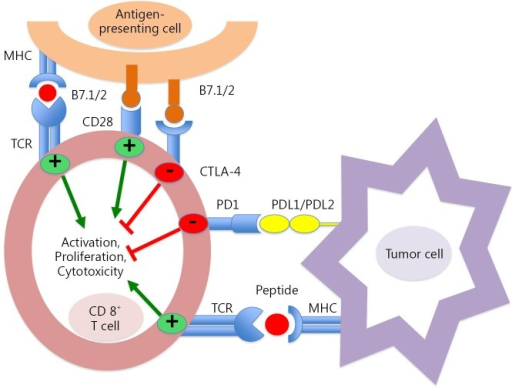 © Copyright Policy - open-access
License
getmorefigures.php?uid=PMC4493379&req=5
Mentions: PD-1 receptor is highly expressed by activated T cells, B cells, and natural killer cells3. The well-known ligands of PD-1 are PD-L1 (or B7-H1) and PD-L2 (or B7-DC). PD-L1 is expressed in macrophages and can be induced by inflammatory cytokines on tumors, immune cells, and various tissues (Figure 1). After ligand binding, PD-1 inhibits kinase signaling pathways involved in T-cell activation; thus, this process prevents overstimulation of immune response. PD-L1 also binds CD80 receptor, which is another negative regulator of T-lymphocyte activation. PD-1 primarily inhibits T-cell activity in the effector phase within tissues and tumors, whereas CTLA-4 regulates immune responses early in T-cell activation. Therefore, PD-L1/PD-1 axis blockade should enhance anticancer immunity. Antibodies directed against CTLA-4 and PD-1/PD-L1 pathway have been demonstrated to be effective treatment strategies, which induce durable tumor responses in patients with various malignancies4. Several anti-PD1 antibodies, including nivolumab (BMS-936558), have been developed and are currently in advanced phases of clinical development; nivolumab is a full human IgG4 monoclonal antibody that binds to PD-1 receptor and can block interaction with both of its ligands. Nivolumab disrupts negative signaling triggered by PD-L1/PD-L2 and restores T-cell antitumor function. In a phase I nivolumab study, patients' cumulative response rates (at all doses from 0.1 to 10 mg/kg every 2 weeks) were 18% in NSCLC, 28% in melanoma, and 27% in renal-cell cancer. Grade 3 or 4 adverse events were observed in 14% of patients, with three drug-related deaths caused by pneumonitis5. In a phase II trial that enrolled patients with advanced squamous NSCLC, who had received two or more prior treatments, nivolumab was associated with 14.5% response rate after an 11-month follow-up, with 3.3-month median response onset. Responses were durable, with 77% of responders who presented ongoing responses during analysis6. CheckMate 017, a phase III trial, was stopped early in January 2015 following an assessment conducted by the independent Data Monitoring Committee; this committee concluded that the study reached its endpoint, demonstrating superior overall survival with nivolumab compared with docetaxel in patients with advanced squamous NSCLC pretreated with platinum-based chemotherapy. The abovementioned trials included patients regardless of their PD-L1 status. First-line treatment with nivolumab conferred a significant improvement in overall survival and progression-free survival compared with dacarbazine, with low risk of high-grade toxic effects, in a phase III randomized trial including patients with metastatic melanoma without BRAF mutation7. In the current study, secondary endpoints included correlation of tumor PD-L1 expression with overall survival.