Phospholipid oxidation generates potent anti-inflammatory lipid mediators that mimic structurally related pro-resolving eicosanoids by activating Nrf2.
Bottom Line: While the ability of OxPL to modulate biological processes is increasingly recognized, the nature of the biologically active OxPL species and the molecular mechanisms underlying their signaling remain largely unknown.Our study defines epoxycyclopentenones as potent anti-inflammatory lipid mediators that mimic the signaling of endogenous, pro-resolving prostanoids by activating the transcription factor nuclear factor E2-related factor 2 (Nrf2).Using a library of OxPL variants, we identified a synthetic OxPL derivative, which alleviated endotoxin-induced lung injury and inhibited development of pro-inflammatory T helper (Th) 1 cells.
Affiliation: Institute of Molecular Health Sciences, ETH Zurich, Zurich, Switzerland.
No MeSH data available.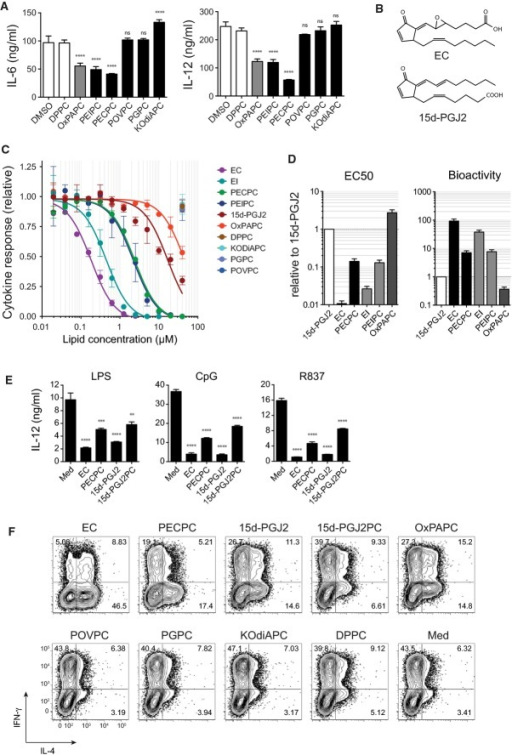 © Copyright Policy - open-access
License
getmorefigures.php?uid=PMC4492819&req=5
Mentions: To unambiguously identify the relevant OxPL species, we next tested the bioactivity of each of these candidate lipids in isolated form using synthetic compounds. We focused our analysis on OxPL that was either commercially available or synthesized by us according to recently established routes (Egger et al, 2013). While PEIPC showed an anti-inflammatory bioactivity similar to that of OxPAPC, the less characterized PECPC exhibited slightly higher efficacy (Fig3A). In contrast, neither of the truncated OxPL associated with cardiovascular inflammation (Watson et al, 1997; Podrez et al, 2002), for example, POVPC, PGPC, or KOdiAPC, inhibited the TLR-induced inflammatory response in our experiments (Fig3A). The close structural homology of the fatty acid epoxycyclopentenone detected at the sn2 position of PECPC to the endogenous, pro-resolving prostaglandin 15-deoxy-Δ12,14-Prostaglandin J2 (15d-PGJ2) prompted us to further explore the functional relationship between PECPC and 15d-PGJ2. Given that 15d-PGJ2 is physiologically generated and active as the isolated prostanoid in vivo, we also examined the corresponding fatty acid epoxycyclopentenone (EC) and fatty acid epoxyisoprostane (EI) in our bioassays (Fig3C and D). While the inhibition of cytokine production provided by PECPC and PEIPC exceeded that of 15d-PGJ2 by an order of magnitude, the prostanoid-like EI and EC exhibited a 40-fold and 100-fold stronger bioactivity than 15d-PGJ2, respectively (Fig1C and D). Thus, EC and EI appeared to represent the active components of PECPC and PEIPC, as their efficacy greatly increased when provided to cells in isolated form, that is, not esterified to a lysophospholipid. Accordingly, also the bioactivity of the synthetic phospholipid 1-palmitoyl-2-(15-deoxy-Δ12,14-Prostaglandin J2)-sn-glycero-3-phosphocholine (15d-PGJ2-PC), which contains 15d-PGJ2 esterified at the sn2 position, showed much weaker effects than 15d-PGJ2 itself (Fig3E). Together, these findings identified PECPC and PEIPC as the OxPL species mediating the anti-inflammatory bioactivity of bulk OxPAPC preparations and suggested that they mimic the physiological activity of the endogenous, pro-resolving lipid mediator 15d-PGJ2. This notion was further corroborated by the ability of EC and 15d-PGJ2 to modulate Th-cell polarization in our in vitro co-culture system (Fig3F). As could have been anticipated from above observations, EC and 15d-PGJ2 as well as their respective OxPL, PECPC, and 15d-PGJ2PC efficiently limited Th1-cell polarization, whereas POVPC, PGPC, and KOdiAPC had no such effect (Fig3F) consistent with the inability to inhibit IL-12 production (Fig3A and C). Collectively, these data identified EC as the most potent anti-inflammatory OxPAPC component and implicated the molecular pathways that are physiologically targeted by 15d-PGJ2 as potential mechanism for this activity.