CRISPRs provide broad and robust protection to oral microbial flora of gingival health against bacteriophage challenge.
Affiliation: Computational Genomics Lab, Beijing Institutes of Life Science, Chinese Academy of Sciences, Beijing, 100101, China.
Clustered regularly interspaced short palindromic repeats (CRISPR), which are widely present in prokaryotic genomes (Grissa et al., ), belong to a family of DNA sequences characterized as short direct repeats (DR) separated by spacers (Jansen et al., )... CRISPR and CRISPR-associated (cas) genes are involved in resistance against exogenous sequences, and recognition of infected bacteriophages depends on the sequence similarity between spacers and targeted phage DNA segments (Barrangou et al., )... Consequently, in addition to a tool designed for genome editing (Ghorbal et al., ), CRISPRs are widely used to demonstrate the dynamic changes of bacteria and phage communities... In human microbial communities, a study involving more than 700 datasets of metagenomic sequencing reported that only a few spacers were shared among different body sites or individuals although known CRISPRs can be found in most human oral microbiome (Rho et al., )... To classify these CRISPR elements, DRs and spacers were respectively aligned to bacteria and phage genomes in NCBI non-redundant (NR) database... Spacers were assigned to 444 phage species (444 in PH and 411 in PD, Table S3)... Though more DRs were found in PD, PH possesses 33 more spacers than PD (Fig. 1B)... When the oral microbial flora of patients suffered from chronic periodontitis encountered bacteriophages corresponding to the distinctive spacers hold only by healthy people, it is easier to be attacked and might not maintain a stable bacterial community, and microbiota disequilibrium was exactly the reason causing or increasing the susceptibility of periodontal diseases (Curtis et al., )... Porphyromonas gingivalis, Tannerella forsythia and Treponema denticola were also widely known as 'the red complex' to be involved in the periodontal diseases (Darveau, )... Although we found that the DR abundance of several genera (e.g., Prevotella, Selenomonas, Treponema and Tannerella) in PD samples was a little higher than that in PH samples, we did not observe any of them with significant difference by Mann-Whitney U test... The most substantial variation came from the species Clostridium phage phiCD27... We also classified these spacers to the genus level and got a similar result. 23 out of 28 genera had greater concordance in healthy people, and they occupied 91.8% of all the spacers... Since spacers indicate the ability of bacteria to resist invasion of certain bacteriophages, and thus the microbiome in healthy people seems to be fairly adapted to defend invasion of such phages and could be much more robust to micro-environment alteration... In conclusion, by systematical analysis of CRISPR using whole genome sequencing data for oral microbiome, we found the composition of DRs and spacers are significantly different between PD and PH.
No MeSH data available.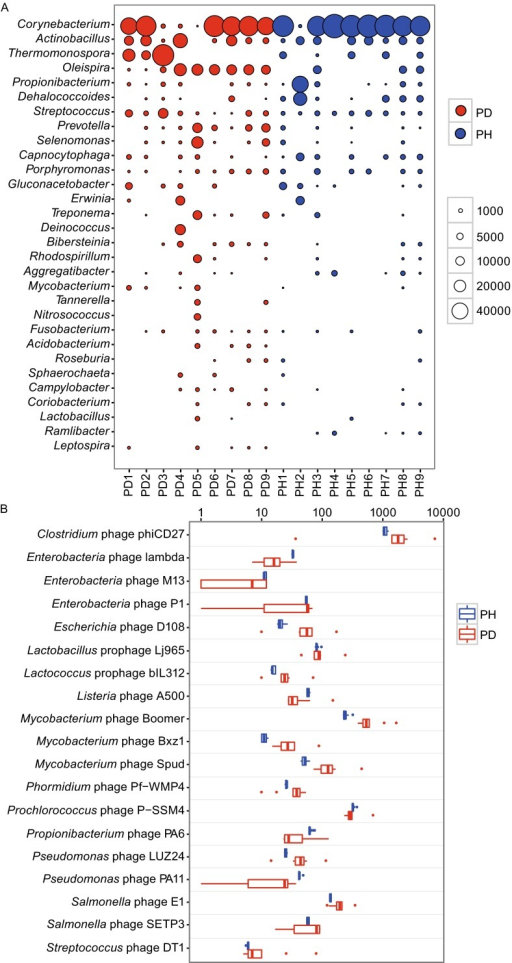 © Copyright Policy - OpenAccess
getmorefigures.php?uid=PMC4491054&req=5
Mentions: To characterize the subjects that play a role of defense, we ranked the DRs based on the relative abundance of DRs-assigned genera. The relative abundance of each genus was calculated by dividing total reads numbers of each sample and then normalized to 100,000. Top 30 most abundant genera of DR source were shown in the bubble chart (Fig. 2A), which accounted for 98.8% of the entire DRs. Common bacteria of human oral cavities such as Corynebacterium, Actinobacillus, Capnocytophaga, Streptococcus and Prevotella, were all included in this consortia. However, Streptococcus and Prevotella, which usually account for the dominant of oral microbiota, are not the leading contributors of DRs. This result suggests the abundance of CRISPRs of microbial community in human oral cavities is not only determined by the amount of bacteria, but also closely related with species composition. Previous studies have reported that some bacteria were highly abundant in periodontitis, such as Prevotella, Selenomonas and Treponema (Wang et al., 2013). Porphyromonas gingivalis, Tannerella forsythia and Treponema denticola were also widely known as 'the red complex' to be involved in the periodontal diseases (Darveau, 2010). Although we found that the DR abundance of several genera (e.g., Prevotella, Selenomonas, Treponema and Tannerella) in PD samples was a little higher than that in PH samples, we did not observe any of them with significant difference by Mann-Whitney U test. This reveals that the ability of defense to phages is at least not weaker in healthy people than in patients.Figure 2