Genetic Differences in the Immediate Transcriptome Response to Stress Predict Risk-Related Brain Function and Psychiatric Disorders.
Bottom Line: One putative biological mechanism implicates variability in the ability of cortisol, released in response to stress, to trigger a cascade of adaptive genomic and non-genomic processes through glucocorticoid receptor (GR) activation.Here, we demonstrate that common genetic variants in long-range enhancer elements modulate the immediate transcriptional response to GR activation in human blood cells.Moreover, these risk variants are associated with inappropriate amygdala reactivity, a transdiagnostic psychiatric endophenotype and an important stress hormone response trigger.
Affiliation: Department of Translational Research in Psychiatry, Max Planck Institute of Psychiatry, Munich 80804, Germany.
Show MeSH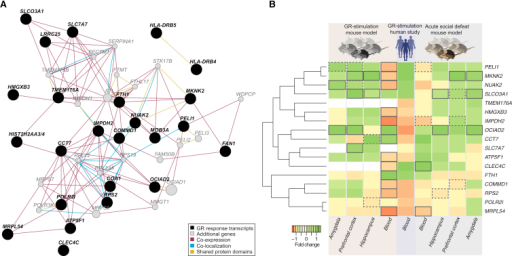 © Copyright Policy - CC BY-NC-ND
License
getmorefigures.php?uid=PMC4490780&req=5
Mentions: Next, we investigated whether the probe genes (n = 24), regulated by the MDD-related GR eSNPs, are part of specific pathways that may be relevant for the pathophysiology of psychiatric disorders. Using the GeneMANIA tool (Montojo et al., 2014), we were able to generate a gene network containing 23 of the 24 MDD-related GR genes (see Figure 6A and Experimental Procedures). Within this network, the type of interactions between the MDD-related GR genes that were most enriched were: co-expression (1.21 times the number expected when using other GR-stimulated transcript sets), co-localization (genes are expressed in the same tissue or proteins are found in the same location; fold enrichment = 1.21), and shared protein domains (fold enrichment = 3.77). Several genes, e.g., FTH1, CCT7, RPS2, IMPDH2, and PELI1, presented more than ten interactions. Additional co-expression analysis identified that the MDD-related GR genes are more tightly co-regulated in blood than in 1,000 sets of randomly chosen transcripts selected from all GR-responsive transcripts (fold enrichment = 1.04, permutation-based FDR = 0.078). These data provide support that the MDD-related GR genes functionally interact to perform an orchestrated function, i.e., they are coordinated in their transcriptional response to GR activation or stress. A limited network analysis through manually curated interactions from the scientific literature (Lechner et al., 2012) revealed that these genes show associations with MDD, SCZ, BPD, neurodevelopmental disorders, posttraumatic stress disorder, and response to antidepressant treatment in independent datasets (see Figure S3). In addition, they seem predominantly involved in pathways associated with ubiquitination and proteasome degradation and the inflammatory response, systems that have been implicated in the pathophysiology of MDD and SCZ, as well as in stress-related changes in synaptic plasticity (Miller et al., 2009; Schizophrenia Working Group of the Psychiatric Genomics Consortium, 2014; Tai and Schuman, 2008).