Protein degradation and dynamic tRNA thiolation fine-tune translation at elevated temperatures.
Bottom Line: In agreement with previous transcriptomics studies, amongst the most marked changes, we found up-regulation of cytoprotective factors; a shift from oxidative phosphorylation to fermentation; and down-regulation of translation.Using random forests we show that this results in differential translation of transcripts with a biased content for the corresponding codons.We propose that the role of this pathway in promoting catabolic and inhibiting anabolic processes, affords cells with additional time and resources needed to attain proper protein folding under periods of stress.
Affiliation: MRC Protein Phosphorylation and Ubiquitylation Unit, College of Life Sciences, University of Dundee, Dundee DD1 5EH, UK.
Show MeSH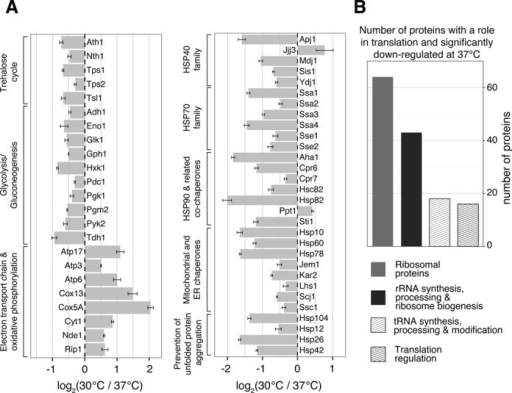 © Copyright Policy - creative-commons
License
getmorefigures.php?uid=PMC4482078&req=5
Mentions: We also manually validated key-proteins in the response to elevated temperatures Figure 2A. The abundance of many heat shock proteins (HSPs) increases in the presence of proteotoxic stress. The SSA subfamily of HSP70s (i.e. Ssa1p, Ssa2p, Ssa3p and Ssa4p), responsible for binding hydrophobic regions of unfolded proteins and promoting their folding, was significantly up-regulated. HSP70s use ATP to promote folding and rely on the HSP110s (Sse1p and Sse2p) nucleotide exchange family. Although, it has previously been reported that Sse2p abundance increases significantly more than that of Sse1p (2,35), under the mild stress conditions we used, the relative increase in the abundance of these proteins was similar. HSP40s increase HSP70s ATP hydrolysis rate. Ydj1p, Sis1p, Mdj1p and Apj1p were up-regulated at 37°C, in contrast, Jjj3p was down-regulated. These observations are consistent with transcriptomics findings (2) and support the idea that Jjj3p, with its role in diphtamide synthesis, might play a specialized role as an HSP40 (36). The abundance of HSP90s (Hsc82p and Hsp82p), which help in protein maturation, was increased at elevated temperatures. HSP90s co-chaperones Sti1p, Aha1p, Cpr6p and Cpr7p were also up-regulated, whereas Ppt1p was down-regulated. Although, 37°C does not cause protein aggregation (37), we found that Hsp104p a disagregase that helps resolubilize protein aggregates, as well as Hsp26p, Hsp42p and Hsp12p, responsible for keeping denatured proteins in solution, were significantly up-regulated. Finally, several mitochondrial and endoplasmic reticulum chaperones were also up-regulated (e.g. Ssc1p, Hsp78p, Hsp60p, Hsp10p, Kar2p, Lhs1p, Scj1p, Jem1p).