A Multifunctional Mutagenesis System for Analysis of Gene Function in Zebrafish.
Bottom Line: However, understanding the functions of all the genes in the genome remains a challenge.Large-scale mutagenesis screens to generate disruptive mutations are useful for identifying and understanding the activities of genes.We obtained 642 zebrafish lines with dynamic reporter gene expression.
Affiliation: Temasek Life Sciences Laboratory, National University of Singapore, Singapore 117604.
No MeSH data available.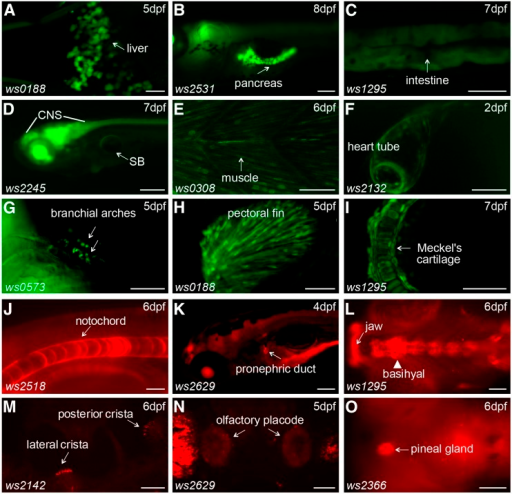 © Copyright Policy - open-access
License
getmorefigures.php?uid=PMC4478556&req=5
Mentions: Besides the CNS, we also found reporter expression in various tissues/organs derived from all three germ layers of zebrafish embryos (Figure 2, A and B and Table S1, Table S2, Table S3, Table S4, Table S5, Table S6, Table S7, Table S8, Table S9, Table S10, Table S11, Table S12, Table S13, Table S14, Table S15, Table S16, Table S17, Table S18, Table S19), including expression in the liver (Figure 3A), pancreas (Figure 3B), intestine (Figure 3C), swim bladder (Figure 3D), notochord (Figure 3J), pronephric ducts (Figure 3K), various muscles (Figure 3E), the heart tube (Figure 3F), branchial arches (Figure 3G), fins (Figure 3H), jaw (Figure 3L), olfactory placodes (Figure 3N), cranial cartilages (Figure 3I), otoliths (Figure 3M) and the pineal gland (Figure 3O). Many lines show diverse expression patterns at different developmental stages, indicating dynamic expression of the tagged genes and/or multiple insertions in the founders. Tissue-specific expression patterns are usually a direct readout of protein activity, indicating where the protein product functions. For example, the Tg(DsDELGT4)ws2036 line contains an insertion 333.13 kb upstream of the translation start site of the zebrafish nr2f2 (Coup-TFII) gene. The transcription factor COUP-TFII functions as a determinant for venous cell fate specification and promotes venous identity by inhibiting expression of arterial-specific genes (You et al. 2005). Interestingly, the enhancer trap reporter GFP in Tg(DsDELGT4)ws2036 embryos is expressed strongly in the vein and venous sprouts at 52 hr after fertilization (Figure 4, A–C). Later, at 5 d after fertilization, GFP expression is restricted to the posterior cardinal vein (PCV) and intersegmental veins, but not in the dorsal aorta and intersegmental arteries (Figure 4D).