Analysis of RNA Interference Lines Identifies New Functions of Maternally-Expressed Genes Involved in Embryonic Patterning in Drosophila melanogaster.
Bottom Line: As mRNAs from several genes with known functions in anterior-posterior patterning and/or germ cell specification accumulate in RNA islands, we hypothesized that some other mRNAs that localize in this manner might also function in these developmental processes.We observed dorsal appendage defects in a proportion of eggs produced by females expressing double-stranded RNA targeting Mkrn1 or jvl, implicating these two genes in dorsal-ventral patterning.Because the mammalian ortholog of Mkrn1 acts as an E3 ubiquitin ligase, these results suggest an additional link between protein ubiquitination and pole plasm activity.
Affiliation: Department of Biology, McGill University, 3649 Promenade Sir William Osler, Montréal, Québec, Canada H3G 0B1.
No MeSH data available.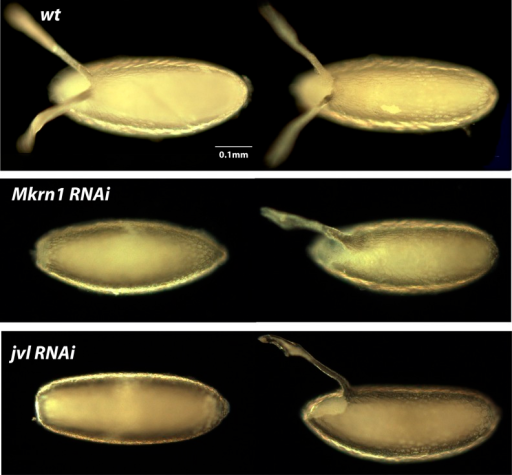 © Copyright Policy - open-access
License
getmorefigures.php?uid=PMC4478533&req=5
Mentions: Next, we examined these knockdown embryos for their ability to form pole cells by immunostaining with anti-Vas (Figure 2). In wild-type, pole cells form at the posterior pole prior to general cellularization (Figure 2A, left panel). At gastrulation, they migrate along with the posterior midgut invagination into the interior of the embryo and then migrate as individual cells (Figure 2A, right panel) until forming two clusters in association with the gonadal mesoderm to form the two gonads. Knockdown embryos for known posterior-group genes (vas, osk, spir; Figure 2, B, E, and H) and those that did not form cuticles (del, gwl, exu, nrv1, CG4040; Figure 2, I, J, L, N, and P) also did not form pole cells, although this phenotype was completely rescued for exu (Figure 2M) and partially rescued for gwl (Figure 2K) by a paternal wild-type copy of the gene . In this case, approximately 50% of gwl knockdown embryos formed pole cells in numbers smaller than those for wild-type. Consistent with the phenotype of the corresponding mutant, and that of embryos produced by females expressing antisense RNA targeting pgc (Nakamura et al. 1996; Martinho et al. 2004), we observed a severe reduction in pole cell number in pgc knockdown embryos; pole cells were absent in 20% of embryos and present in reduced numbers in the remaining 80% (Figure 2F). For CG31998, 15% of knockdown embryos formed 0–5 pole cells and the rest formed wild-type numbers of pole cells (Figure 2C). A similar phenotype was observed for Mkrn1, with approximately 20% of embryos forming 0–5 pole cells (Figure 2D). Pole cells were also absent in approximately 25% of Rapgap1 embryos (Figure 2G). For nos knockdown embryos cultured at 29°, pole cells formed in normal numbers and were localized normally until the onset of pole cell migration (Figure 2O, left panel). In later-stage embryos, pole cell migration was highly aberrant and pole cell numbers diminished as development progressed, such that stage 14 and later embryos had only a few scattered pole cells (Figure 2O, right panel) or none at all. In knockdown embryos for Tao, milt, and cta, wild-type numbers of pole cells form, but they also frequently scatter during migration. This is presumably because of the extensive somatic defects that are present in these embryos. We observed failure of pole cells to coalesce into gonads in 53% of Tao knockdown embryos, 36% of milt knockdown embryos, and 97% of cta knockdown embryos (Figure 3). Our results differ from observations of embryos produced by a Tao hypomorphic mutant where reduced numbers of pole cells were present (Sato et al. 2007). We also observed defects in dorsal appendage structure in eggs produced by Mkrn1 and jvl knockdown females (Figure 4). For Mkrn1 knockdowns, 15% of eggs lacked dorsal appendages and 18% had a single fused dorsal appendage, whereas for jvl knockdowns 19% of eggs lacked dorsal appendages and 24% had a single fused dorsal appendage. Similar dorsal appendage defects have been reported in eggs produced from a hypomorphic jvl mutant (Dubin-Bar et al. 2011).