Antibodies against Escherichia coli O24 and O56 O-Specific Polysaccharides Recognize Epitopes in Human Glandular Epithelium and Nervous Tissue.
Bottom Line: The results indicate that various human tissues are recognized by anti-O24 and anti-O56 antibodies.Interestingly, only a single specific reactivity could be found in the anti-O56 antibody preparation.Stratified epithelium such as that of skin is definitely not stained.
Affiliation: Ludwik Hirszfeld Institute of Immunology and Experimental Therapy, Polish Academy of Sciences, Weigla 12, 53-114, Wrocław, Poland.
ABSTRACT
---
Lipopolysaccharide (LPS), the major component of the outer membrane of Gram-negative bacteria, contains the O-polysaccharide, which is important to classify bacteria into different O-serological types within species. The O-polysaccharides of serotypes O24 and O56 of E. coli contain sialic acid in their structures, already established in our previous studies. Here, we report the isolation of specific antibodies with affinity chromatography using immobilized lipopolysaccharides. Next, we evaluated the reactivity of anti-O24 and anti-O56 antibody on human tissues histologically. The study was conducted under the assumption that the sialic acid based molecular identity of bacterial and tissue structures provides not only an understanding of the mimicry-based bacterial pathogenicity. Cross-reacting antibodies could be used to recognize specific human tissues depending on their histogenesis and differentiation, which might be useful for diagnostic purposes. The results indicate that various human tissues are recognized by anti-O24 and anti-O56 antibodies. Interestingly, only a single specific reactivity could be found in the anti-O56 antibody preparation. Several tissues studied were not reactive with either antibody, thus proving that the presence of cross-reactive antigens was tissue specific. In general, O56 antibody performed better than O24 in staining epithelial and nervous tissues. Positive staining was observed for both normal (ganglia) and tumor tissue (ganglioneuroma). Epithelial tissue showed positive staining, but an epitope recognized by O56 antibody should be considered as a marker of glandular epithelium. The reason is that malignant glandular tumor and its metastasis are stained, and also epithelium of renal tubules and glandular structures of the thyroid gland are stained. Stratified epithelium such as that of skin is definitely not stained. Therefore, the most relevant observation is that the epitope recognized by anti-O56 antibodies is a new marker specific for glandular epithelium and nervous tissue. Further studies should be performed to determine the structure of the tissue epitope recognized.

No MeSH data available.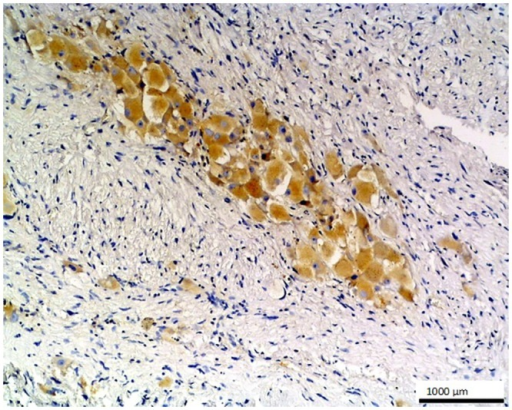 © Copyright Policy
License
getmorefigures.php?uid=PMC4472344&req=5
Mentions: No staining was observed using both antibodies on 1) normal tissues and cells: parathyroid gland, suprarenal gland, lymphatic or blood vessels, bronchial squamous epithelium, ovarian serous epithelium, bone, T and B cells, macrophages, granulocytes and nevoid cells, 2) benign tumors, e.g. in lipoma and papilloma, and 3) malignant tumors, such as gastrointestinal stromal tumor, nasopharyngeal carcinoma, lung microcellular carcinoma, basal cell carcinoma, liposarcoma [Table 1]. We noted an intense positive reaction with anti-E. coli O56 antibody in sections of liver metastasis from moderately differentiated colon adenocarcinoma where the glands are less regular (Fig 3). A similar reaction of this antibody was noted for pancreatic adenocarcinoma and slightly weaker for bronchoalveolar carcinoma and endometrial carcinoma (data not shown). These antibodies react with an as yet uncharacterized antigen present in hepatocytes as shown in Fig 4. Based on the granular intracytoplasmic pattern of immunostaining, we presume that the epitope may be localized in the cytoplasm [15]. Immunohistochemistry plays an important role in distinction of hepatocellular carcinoma (HCC) from other primary and metastatic neoplasms. Still no highly specific and sensitive marker for HCC has been identified. In this case an immunohistochemical collection, including multiple antibodies such as hepatocyte-specific antigen (Hepatocyte), pCEA, MOC-31, CD34, and TIF-1, should be used [16]. Based on this information, the antibody E. coli O56 could be useful in combination with other known markers rather than applied alone. Positive reaction of both anti-E. coli O56 and O24 antibodies has been revealed in a number of malignant tumors, e.g. hepatoblastoma, meningioma, and ganglioneuroblastoma, and a very strong positive reaction has been observed in cholangiocellular carcinoma cells (Fig 5). Interestingly, benign tumor, ganglioneuroma, from nervous tissue proves that tissue of neuroectodermal origin is recognized by anti-E. coli O56 antibody (Fig 6), while only trace reactivity with anti-E. coli O24 antibody could be recorded. The cells of normal renal tubules (Fig 7), ganglia cells (Fig 8) and thyrocytes of normal thyroid gland (Fig 9) were stained with both antibodies and expressed a much stronger reaction with E. coli O56 antibody. When considering that neuroectodermal tissues (ganglia, nerves and brain) develop from ectoderm, the reactivity of our antibodies in normal tissue (ganglia) as well as in tumor tissue (ganglioneuroma) is not surprising. Endodermal origin glands of the gastrointestinal tract, endocrine thyroid glands and organs have shown positive reactions with E. coli O56 antibody too. A positive reaction was also observed in myoepithelial cells of mixed tumor of the salivary gland. An interesting observation is that normal thymus, spleen, salivary gland and tonsil did not show immunoreactivity, which proves the consistency of our results.