Clinical impacts of additive use of olmesartan in hypertensive patients with chronic heart failure: the supplemental benefit of an angiotensin receptor blocker in hypertensive patients with stable heart failure using olmesartan (SUPPORT) trial.
Bottom Line: We examined whether an additive treatment with an angiotensin receptor blocker, olmesartan, reduces the mortality and morbidity in hypertensive patients with chronic heart failure (CHF) treated with angiotensin-converting enzyme (ACE) inhibitors, β-blockers, or both.Additive use of olmesartan did not improve clinical outcomes but worsened renal function in hypertensive CHF patients treated with evidence-based medications.Particularly, the triple combination therapy with olmesartan, ACE inhibitors and β-blockers was associated with increased adverse cardiac events.
Affiliation: Department of Cardiovascular Medicine, Tohoku University Graduate School of Medicine, 1-1 Seiryo-machi, Aoba-ku, Sendai 980-8574, Japan.
Show MeSH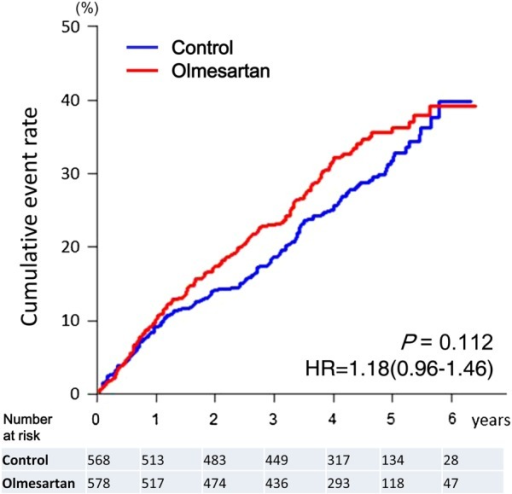 © Copyright Policy - creative-commons
License
getmorefigures.php?uid=PMC4466154&req=5
Mentions: During a median follow-up of 4.4 years, the primary endpoint occurred in 192 patients (33.2%) in the olmesartan group and in 166 patients (29.2%) in the control group [hazard ratio (HR) 1.18; 95% confidence interval (CI), 0.96–1.46, P = 0.112] (Figure 3 and Table 3). Subgroup analysis according to the baseline medication revealed that the incidence of the primary endpoint was more frequent in the olmesartan group than that in the control group, when combined with both ACE inhibitors and β-blockers [38.1% (114/299) vs. 28.2% (88/312), HR 1.47; 95% CI 1.12–1.95, P = 0.006], whereas there was no difference in the primary endpoint when combined with β-blockers alone or ACE inhibitors alone (Figure 4). Similarly, when combined with both ACE inhibitors and β-blockers, olmesartan was associated with increased incidence of all-cause death [19.4% (58/299) vs. 13.5% (42/312), HR 1.50; 95% CI 1.01–2.23, P = 0.046], a component of the primary endpoint, whereas olmesartan was associated with decreased mortality when combined with β-blockers alone [9.4% (10/106) vs. 22.1% (23/104), HR 0.41; 95% CI 0.19–0.85, P = 0.017], but not with ACE inhibitors alone (see Supplementary material online, Figure S1 and Table S2). Subgroup analysis revealed that additive use of olmesartan was associated with an increase in the primary endpoint in the subgroups of systolic blood pressure (SBP) of <130 mmHg, estimated glomerular filtration rate (eGFR) of <60 mL/min/1.73 m2, BNP level of >100 pg/mL, and high-sensitive C-reactive protein level of >1 mg/L (see Supplementary material online, Table S3), which was primarily due to the triple combination therapy (see Supplementary material online, Figure S2). There were no interactions of the impacts of olmesartan with age, gender, body mass index, diabetes, diastolic blood pressure, left ventricular hypertrophy, LVEF, or use of spironolactone (see Supplementary material online, Table S3).Table 3