Cecal volvulus in giant ventral hernia.
Bottom Line: Both of these types require a mobile cecum and presence of right colon to occur.It is generally accepted, that mobile cecum is a congenital condition, but in certain situations, particularly after prior intraabdominal surgeries, cecum may lose fixation points and potentially become vulnerable to twisting.Challenges in management of this exceptionally difficult patient were discussed.
Affiliation: Department of Surgery, Tulare Regional Medical Center, CA 93274, USA. Electronic address: areznik9@yahoo.com.
No MeSH data available.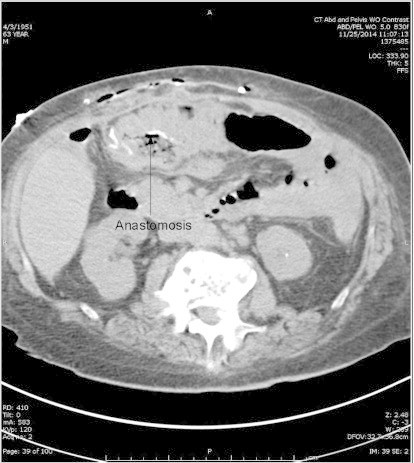 © Copyright Policy - CC BY-NC-SA
License
getmorefigures.php?uid=PMC4430115&req=5
Mentions: 63 year old male with history of active heroin abuse, non-compliance, hypertension, obesity, CHF, hypercholesterolemia, multiple prior intraabdominal surgeries, including appendectomy, cholecystectomy, several ventral hernia repairs, long history of large ventral hernia, presented with worsening abdominal pain and distention for 2 weeks. Two days prior to admission, he noticed that his ventral hernia on right side of the abdomen became more swollen and painful. In the ER he became obtunded, developed severe respiratory distress and required endotracheal intubation. Subsequent CXR showed free intraabdominal air. Plain abdominal radiograph showed markedly distended cecum pointing to the left upper quadrant and free air (Fig. 1). At this point surgical consultation was obtained. Vitals: T 99, BP 174/90, pulse 115, respirations 12. Clinical exam showed distended abdomen and very large tender hernia occupying all right side of the abdomen and extending to the left of midline with redness and warm skin above it. Patient had multiple surgical scars and another 2 smaller hernias in lower abdomen. Abnormal laboratory results: WBC 15,000, creatinine 4.5. Subsequent CT of the abdomen and pelvis without contrast showed tremendous amount of free air and markedly distended cecum, partially contained in the ventral hernia and crossing midline to the left, suspicious for cecal volvulus (Figs. 2–4). Patient was immediately taken to the OR, where diagnosis of cecal volvulus was confirmed. Cecum, terminal ileum, and ascending colon were twisted in axial plane, with concomitant clockwise torsion and grossly perforated hepatic flexure, significant fecal spillage and large abscess cavity along the transverse mesocolon. Size of the hernia was approximately 20 × 30 cm. Hernia contained part of the cecum. Right colon had significant adhesions from prior surgeries, including those inside the hernia sac. Patient had loss of the domain. There was another lower abdominal wall hernia containing old infected mesh and communicating with major right sided abdominal wall hernia defect. The volvulus was reduced in counterclockwise direction. Extensive lysis of adhesions, right hemicolectomy, abdominal washout, explantation of infected mesh was performed. Because of extreme condition of the patient, damage control procedure was chosen and abdomen was temporally closed with negative pressure (VAC) dressing. Patient remained intubated in ICU. After 48 h of resuscitation patient improved: pressors were discontinued and he had good urine output. Patient was taken back the OR. Reopening of recent laparotomy, ileocolostomy anastomosis and ventral hernia repair with biological mesh was performed. Repair of abdominal wall defect was challenging because of the size of the hernia. Despite meticulous dissection, we had 10 × 12 cm defect in the middle, which was not possible to approximate. This area was bridged with one piece of biological mesh. Another bigger piece of mesh (same type) was placed above the bridged area to have 7–8 cm overlapping from the edges of the hernia. Mesh was secured to the fascia with unabsorbable sutures and titanium tackers. Patient had successful recovery. He was extubated 5 days later, started on regular diet. All drains were removed before his discharge to rehabilitation center. A week after his discharge, patient was readmitted with pneumonia, and CT of the abdomen was performed in the ER. CT showed no bowel obstruction and no hernia (Fig. 5). Patient was discharged to home in stable condition and was followed in the clinic without evidence of recurrence during 4 months after surgery.