Inherited IL-17RC deficiency in patients with chronic mucocutaneous candidiasis.
Bottom Line: The patients are homozygous for different nonsense alleles that prevent the expression of IL-17RC on the cell surface.However, in contrast to what is observed for the IL-17RA- and ACT1-deficient patients tested, the response to IL-17E (IL-25) is maintained in these IL-17RC-deficient patients.These experiments of nature indicate that human IL-17RC is essential for mucocutaneous immunity to C. albicans but is otherwise largely redundant.
Affiliation: Laboratory of Human Genetics of Infectious Diseases, Necker Branch, French Institute of Health and Medical Research (INSERM) U1163, 75015 Paris, France Imagine Institute, Paris Descartes University, 75015 Paris, France.
Show MeSH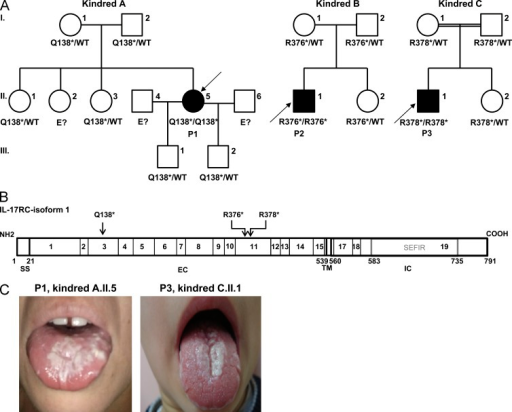 © Copyright Policy - openaccess
License 1 - License 2


getmorefigures.php?uid=PMC4419340&req=5

Mentions: The index patient of kindred A (P1, kindred A.II.5, Fig. 1 A) is a 37-yr-old woman of Argentinean origin, living in Argentina, with no known parental consanguinity. The calculated homozygosity rate for P1 was 0.008 (not depicted; Purcell et al., 2007), providing further support for the notion that P1 was not from closely related parents. However, the mutation was located in a homozygous region of 7.1 Mb, which may be consistent with a cryptic consanguinity. Since the age of 4 yr, P1 has suffered from chronic intertrigo and pustules on her face, but with a normal scalp, nails, teeth, and sweating. She also developed recurrent oral (P1, kindred A.II.5, Fig. 1 C) and esophageal thrush. She had never suffered from any severe bacterial (staphylococcal, in particular), viral, or other fungal infection. P1 was treated with oral fluconazole. The response to treatment was good, with no drug resistance, but relapses occurred when treatment was stopped. Laboratory investigations showed normal immunophenotype (T, B, and NK). The T cell proliferations in response to phytohemagglutinin and antigens (tuberculin, candidin, and anatoxin) were normal. No endocrine, metabolic, or autoimmune abnormalities were reported. In particular, the patient did not display anti-DNA, antinuclear, or antithyroglobulin antibodies and had normal TSH levels. P1 had normal proportions of circulating IL-17A–, IL-17F–, IL-22–producing CD3+ and CD4+ T cells (Fig. 2, A–C) and displayed normal IL-17A production by freshly prepared leukocytes (Fig. 3 A). None of her sisters, parents, or sons had any particular relevant clinical history.