Elevated levels of adaption in Helicobacter pylori genomes from Japan; a link to higher incidences of gastric cancer?
Bottom Line: H.pylori is host dependent and has been carried with human populations around the world after their departure from Africa.Of the identified genes which were annotated, 38% possessed homologs associated with pathogenicity and / or host adaptation, consistent with their involvement in a coevolutionary 'arms race' with the host.Given the efficacy of identifying host interaction factors de novo, in the absence of functionally annotated homologs our evolutionary approach may have value in identifying novel genes which H.pylori employs to interact with the human gut environment.
Affiliation: Bioinformatics Lab, Department of Biology, University of Puerto Rico - Rio Piedras, PO Box 23360, San Juan 00931, Puerto Rico.
No MeSH data available.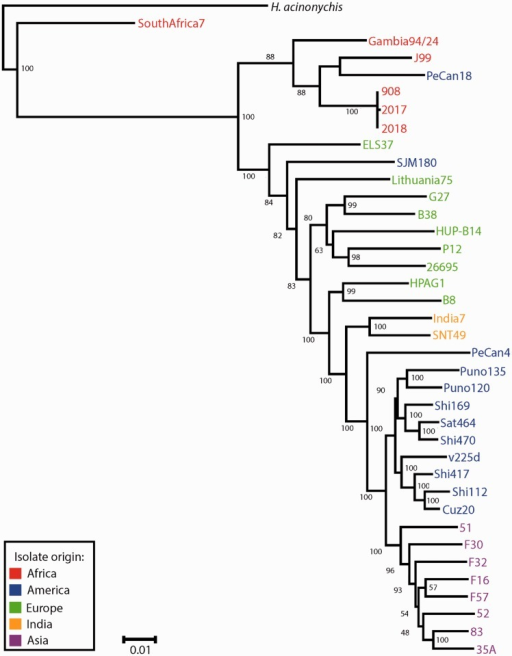 © Copyright Policy - creative-commons
License
getmorefigures.php?uid=PMC4419197&req=5
Mentions: A phylogenetic tree of 37 H.pylori strains with complete genomes available was constructed (Fig. 1). The strains, with NCBI Refseq ID, country of origin and associated disease status where available (Ga; gastritis, PUD; peptic ulcer disease, ML; MALT lymphoma, GC; gastric cancer, C; commensal) were as follows. SouthAfrica7 (NC_017361.1; South Africa; C), Gambia94/24 (NC_017371.1; Gambia; C), J99 (NC_000921.1; USA; PUD), PeCan18 (NC_017742; Peru; GC), 908 (NC_017357.1; West Africa; PUD), 2017 (NC_017374.1; West Africa; PUD), 2018 (NC_017381.1; West Africa; PUD), ELS37 (NC_017063.1; El Salvador; GC), SJM180 (NC_014560.1; Peru; Ga), Lithuania75 (NC_017362.1; Lithuania; C), G27 (NC_011333.1; Italy; PUD), B38 (NC_012973.1; France; ML), HUP-B14 (NC_017733.1, Spain; C), P12 (NC_011498.1, Germany, PUD), 26695 (NC_000915.1; UK; Ga), HPAG1 (NC_008086.1; Sweden; Ga), B8 (NC_014256.1; USA; PUD), India7 (NC_017372.1; India; PUD), SNT49 (NC_017376.1; India; C), PeCan4 (NC_014555.1; Peru; GC), Puno135 (NC_017379.1; Peru; Ga), Puno120 (NC_017378.1; Peru; Ga), Shi169 (NC_017740.1; Peru; C), Sat464 (NC_017359.1; Peru; C), Shi470 (NC_010698.2; Peru; Ga), v225d (NC_017355.1; Venezuela; Ga), Shi417 (NC_017739.1; Peru; C), Shi112 (NC_017741.1; Peru; C), Cuz20 (NC_017358.1; Peru; C), 51 (NC_017382.1; South Korea; PUD), F30 (NC_017365.1; Japan; PUD), F32 (NC_017366.1; Japan; GC), F16 (NC_017368.1; Japan; Ga), F57 (NC_017367.1; Japan; GC), 52 (NC_017354.1; South Korea), 83 (NC_017375.1; Japan; GC), 35A (NC_017360.1: Japan; PUD). Sequences from the H.acinonychis genome (NC_008229.1) were used as an outgroup.Figure 1.