Concurrent gastric and pulmonary mucosa-associated lymphoid tissue lymphomas with pre-existing intrinsic chronic inflammation: a case report and a review of the literature.
ABSTRACT
---
Herein, we report a rare case of concurrent gastric and pulmonary mucosa-associated lymphoid tissue (MALT) lymphomas. A 65-year-old man who had been diagnosed with Helicobacter pylori-positive gastric MALT lymphoma received eradication therapy and achieved complete remission. During follow-up, he developed de novo pulmonary MALT lymphoma as a sequela of pulmonary tuberculosis, accompanied by recurrent gastric MALT lymphoma. Polymerase chain reaction (PCR) products of the CDR3 region of the immunoglobulin heavy chain gene showed an overall polyclonal pattern with bands at 400 base pairs (bp) and 200 bp predominant in the pulmonary tissue, as well as two distinctive bands in the gastric tissue at 400 bp and 200 bp. This case suggests that multiorgan lymphomas are more likely to be independent from each other when they are far apart, involve different organ systems, and have independent precipitating factors.
Show MeSH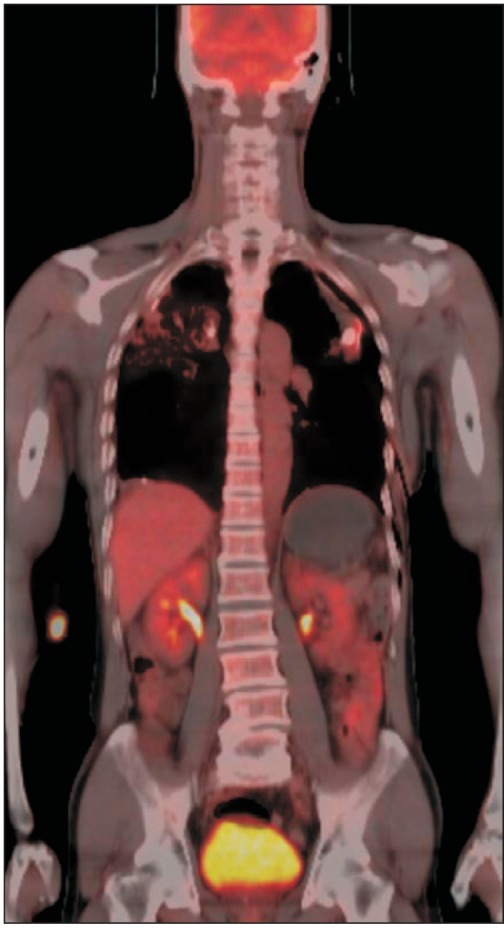 © Copyright Policy
License
getmorefigures.php?uid=PMC4413978&req=5
Mentions: The patient returned for follow-up 6 months later (21 months after the first diagnosis of MALT lymphoma). He was in good general condition and had no discomfort or abnormal findings on physical examination, except for mild inspiratory crackles in the right upper lung field that had been previously noted. Reevaluation of disease status was performed with gastric endoscopy and a CT scan of the chest. Gastric endoscopy showed a nodular lesion at the location of the original MALT lymphoma, and two new proximal erosions were present. Biopsy specimens showed infiltration of malignant lymphoid cells within the lymphoepithelial lesion. The malignant cells were both CD20- and cytokeratin-positive, demonstrating recurrent MALT lymphoma, but H. pylori was not detected. CT scan showed that the previously observed consolidative lesions of the bilateral upper lung lobes had increased in extent and density (Fig. 2C). To diagnose the lung lesions, bronchoscopic washings were performed. Acid-fast smears, cultures, PCR for M. tuberculosis, and cytology studies were performed on the specimen, but the results of these tests were nondiagnostic. Therefore, CT-guided percutaneous needle aspiration of the right upper lobe lesion was performed twice, but the sampled tissues showed only inflammatory cells and were not sufficient for diagnosis. Video-assisted thoracoscopic wedge resection was then performed to remove the nodular lesions in the left upper lobe. Pathologic examination of the acquired tissue showed that the alveoli were infiltrated with small lymphocytes. Immunohistochemical staining was positive for CD20, focally positive for CD3, 1% positive for Ki-67, positive for cytokeratin and BCL-2, and negative for CD5, CD10, CD23, BCL-6, and cyclin D1. The lesion was consistent with MALT lymphoma, and t(11;18)(q21;q21) was present. A subsequent positron emission tomography scan showed hyper-metabolic areas in the bilateral upper lobes of the lung, but no other abnormal signals suggestive of malignancy were observed (Fig. 3). Bone marrow examination showed evidence of lymphomatous involvement. The serum lactate dehydrogenase level was 277 IU/mL (reference range, 100 to 255 IU/mL).