Cuprizone-induced demyelination and demyelination-associated inflammation result in different proton magnetic resonance metabolite spectra.
Bottom Line: In this study we aimed to better understand the changes in metabolite concentrations following demyelination of the white matter.Therefore, (1) H-MRS might possibly allow us to discriminate demyelination from demyelination-associated inflammation via changes in Tau and Glu concentration.In addition, the observed decrease in tCho concentration in cuprizone-induced demyelinating lesions should be further explored as a possible diagnostic tool for the early identification of human MS type III lesions.
Affiliation: Experimental Cell Transplantation Group, Laboratory of Experimental Hematology, University of Antwerp, Antwerp, Belgium; Vaccine and Infectious Disease Institute (Vaxinfectio), University of Antwerp, Antwerp, Belgium; Bio-Imaging Laboratory, University of Antwerp, Antwerp, Belgium.
Show MeSH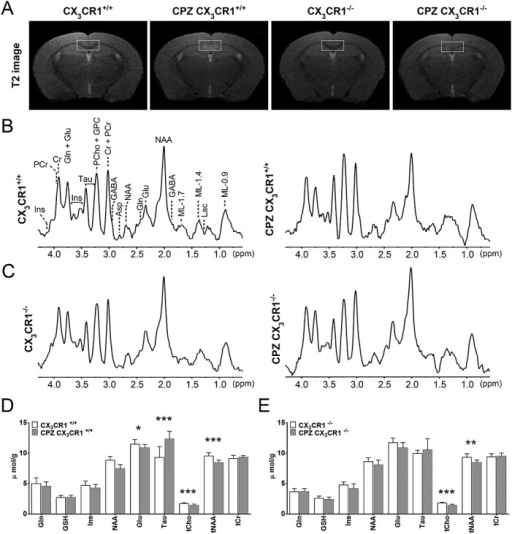 © Copyright Policy - open-access
License
getmorefigures.php?uid=PMC4403969&req=5
Mentions: For 1H-MRS analysis, we used a total of 20 CX3CR1+/+ mice and 19 CX3CR1−/− mice. At the age of 12 weeks, after 4 weeks on standard rodent chow or a 0.2% CPZ-supplemented rodent chow diet, mice were subjected to 1H-MRS analysis. All MRI measurements were made using a 9.4 T BioSpec MR scanner with a 20 cm diameter horizontal bore (BioSpec 94/20 USR, Bruker BioSpin, Ettlingen, Germany). This system is equipped with a standard Bruker cross-coil setup, using a quadrature volume coil for excitation and quadrature mouse surface coil for signal detection. The system was interfaced to a Linux PC running Topspin 2.0 and ParaVision 5.1 software (Bruker BioSpin). Mouse anesthesia is induced using 3% isoflurane (Forane, Abbott, West Berkshire, UK) in a gas mixture of 30% O2 and 70% N2 at a flow rate of 600 ml/min. During MR acquisition, isoflurane concentration was maintained at 2% and mouse respiration rate was constantly monitored using a pressure sensitive pad. In addition, mouse body temperature was monitored via a rectal probe and was held constant at 37.0 ± 0.5 °C using warm air coupled to a feedback unit (SA Instruments, New York, USA). Both respiration and body temperature control systems were controlled by pcSam monitoring software (SA Instruments). To localize the volume of interest (VOI), we acquired axial, coronal and sagittal multislice rapid acquisition and relaxation enhancement (RARE) images using the following parameters: repetition time (TR) = 2500 ms, echo time (TE) = 33 ms, matrix size 256 × 256, field of view = 20 × 20 mm, 16 slices, slice thickness = 0.4 mm, RARE factor = 8. The 1H-MRS VOI (0.9 mm × 2.5 mm × 1 mm = 2.25 mm3) was placed in the splenium of mice brains, corresponding to the region chosen for histological analysis. The VOI is indicated on the T2 images shown later in Fig.3(A) (by a thin white dashed box) or in Supplementary File 2, which shows the correspondence between the histological region of interest and the 1H-MRS VOI. Based on the RARE images we were able to estimate the volume fractions of cerebrospinal fluid (fcsf) as well as gray and white matter (fgm and fwm) within the VOI, allowing us to perform a partial volume correction using LCModel. The VOI first and second order shim terms were automatically adjusted using FASTMAP (23,24). Water line widths were obtained between 18 and 20 Hz. 1H-MR spectra were acquired using a point-resolved spectroscopy sequence in combination with outer volume suppression (OVS) and VAPOR water suppression (25,26). The following parameters were used: TR = 4000 ms, TE = 15 ms, number of averages = 720, total acquisition time = 48 min. For each animal, an unsuppressed water signal (TE = 15 ms, TR = 4000 ms, 64 averages, scanning time = 5 min, VAPOR and OVS turned off) was acquired immediately after acquiring the water-suppressed spectrum. During post-processing, this unsuppressed water signal was used for eddy-current correction by LCModel, where the water-suppressed MRS signal (in the time domain) is pointwise divided by the phase part of the unsuppressed water signal (27). In addition, the unsuppressed water signal served as a concentration reference to determine absolute metabolite concentrations by means of water scaling in LCModel.