Requirement for chloride channel function during the hepatitis C virus life cycle.
Bottom Line: Here, we show that HCV increases intracellular hepatic chloride (Cl(-)) influx that can be inhibited by selective Cl(-) channel blockers.Through pharmacological and small interfering RNA (siRNA)-mediated silencing, we demonstrate that Cl(-) channel inhibition is detrimental to HCV replication.This represents the first observation of the involvement of Cl(-) channels during the HCV life cycle.
Affiliation: School of Molecular and Cellular Biology, Faculty of Biological Sciences, University of Leeds, Leeds, United Kingdom.
Show MeSH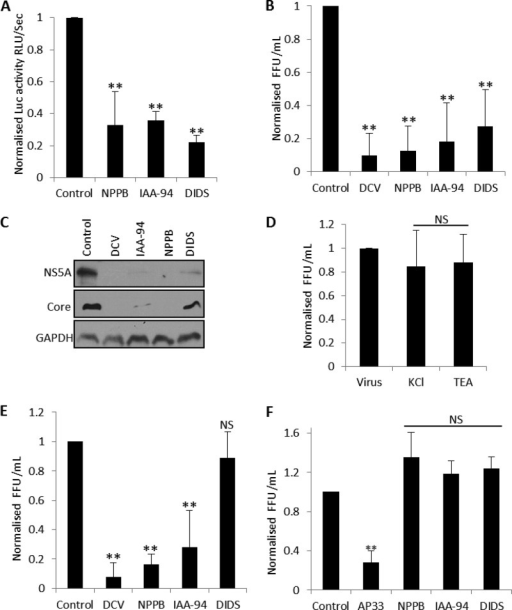 © Copyright Policy - open-access
License
getmorefigures.php?uid=PMC4403416&req=5
Mentions: Since SGR–Feo–JFH-1-harboring cells express only the HCV nonstructural proteins NS3 to NS5B, it was important to determine whether Cl− channel inhibition suppressed HCV replication in the context of virus-infected cells (23). We initially used a monocistronic full-length HCV chimeric genotype 2a virus, J6/JFH1, which is fully infectious in cell culture and expresses Renilla luciferase, herein termed J6/JFH-1 RLuc (24). Assays were performed by virus infection (multiplicity of infection [MOI] of 0.5) in the presence of each channel modulator, and luciferase expression was analyzed 48 h postinfection (p.i.). Figure 3A shows that NPPB and IAA-94 treatment significantly decreased J6/JFH-1 RLuc activity (67% ± 20% and 63% ± 5% inhibition, respectively) confirming a dependence on Cl− influx during the virus life cycle. When these assays were performed in the presence of DIDS (100 μM), J6/JFH-1 RLuc activity also decreased by 77% ± 4% at concentrations that did not affect SGR–Feo–JFH-1 replication (Fig. 3A). To verify these data, we directly infected Huh7 cells with full-length JFH-1 virus (25) in the presence of each Cl− inhibitor and measured the production of infectious virions by focus-forming assay. As shown in Fig. 3B, virus yields were significantly lower in IAA-94-, NPPB-, and DIDS-treated cells (87% ± 14%, 81% ± 23%, and 72% ± 22% inhibition, respectively). This was paralleled by a decrease of both NS5A and core protein expression in virus lysates as assessed by Western blot analysis (Fig. 3C). No effects on JFH-1 virus production were observed when TEA or KCl was assessed in these assays (Fig. 3D). We subsequently performed time-of-addition focus reduction assays using JFH-1 virus inoculum to assess the effects of DIDS over the time course of HCV infection. Cells were treated with each inhibitor 24 h p.i., and virus production was assessed 72 h p.i. Figure 3E shows that DCV, NPPB, and IAA-94 reduced JFH-1 virus production when added postinfection (92% ± 9%, 81% ± 23%, and 72% ± 22% inhibition, respectively), consistent with a block of HCV replication. DIDS however, failed to reduce virus production relative to that in the untreated wells, consistent with a lack of inhibition of HCV replication. To further determine which steps of the HCV life cycle are impaired by DIDS, we examined the effects of each Cl− channel inhibitor on virus entry by adding them to JFH-1 inoculum during the initial 3 h of virus infection (26). The HCV-neutralizing mouse monoclonal E2 antibody AP33, a characterized inhibitor of HCV entry, was included in these assays for verification (27). Figure 3F shows that, while AP33 (50 μg/ml) inhibited HCV entry by 72% ± 11%, IAA-94, NPPB, and DIDS did not impede viral entry. These observations suggest that a DIDS-sensitive Cl− channel can inhibit early postentry virion trafficking and/or early replication events but does not inhibit virus entry or replication following the establishment of infection.