A DNA/HDAC dual-targeting drug CY190602 with significantly enhanced anticancer potency.
Bottom Line: Here, we report the development and characterization of CY190602, a novel bendamustine-derived drug with significantly enhanced anticancer potency.Importantly, CY190602, the first-in-class example of such DNA/HDAC dual-targeting drugs, exhibited significantly enhanced anticancer activity in vitro and in vivo.Systematic development of similar DNA/HDAC dual-targeting drugs may represent a novel opportunity for improving cancer therapy.
Affiliation: Key Laboratory of Systems Biology, State Key Laboratory of Cell Biology, Institute of Biochemistry and Cell Biology, Shanghai Institutes for Biological Sciences, Chinese Academy of Sciences, Shanghai, China Department of Oncology, Changhai Hospital, Second Military Medical University, Shanghai, China.
Show MeSH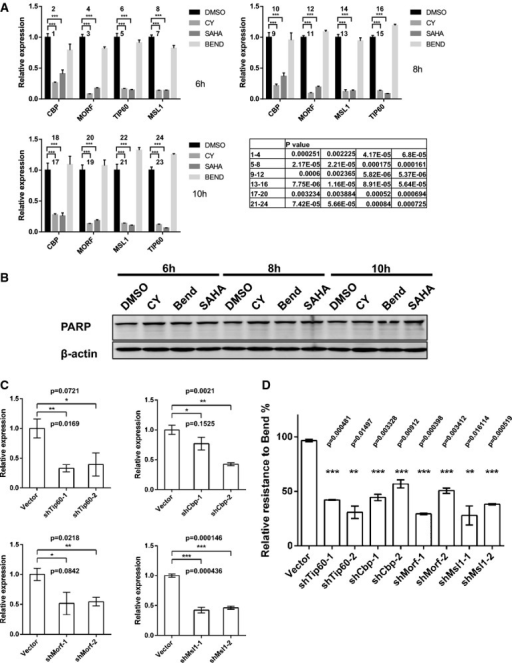 © Copyright Policy - open-access
License
getmorefigures.php?uid=PMC4403045&req=5
Mentions: Several recent publications argue for HDAC's crucial involvement in DNA repair (Miller et al, 2010; Robert et al, 2011). Although several mechanisms have been proposed, the full range of HDAC's function in DNA repair remains undefined. Given HDAC's important roles in regulating gene expression, we asked whether expressions of certain DNA repair genes are deregulated in CY-treated cells. According to current model, there are several core groups of ICL repair genes, including those participating in the ATR-Chk1, FA, TLS, and HR pathways (Knipscheer et al, 2009). In addition, since TLS and HR require active DNA synthesis, genes involved in dNTP production may also significantly impact ICL repair. To address how these groups of genes might be affected by HDAC inhibition, we treated cells with bendamustine, CY or HDAC inhibitor SAHA, and compared the expression level of more than 50 genes belonging to these aforementioned gene groups (Supplementary Tables S1 and S2) as well as many other genes that have been reported to regulate DNA repair. Among these genes, we found that the expression levels of three histone acetyltransferases Tip60, CBP, and MORF, and MSL1, a gene associated with the histone acetyltransferases MOF (Smith et al, 2005; Huang et al, 2012), were all greatly suppressed in CY-treated cells as early as 6 h (Fig3A), and such downregulation was not caused by drug-induced cell death (Fig3B). Tip60 has been reported to regulate ATM-mediated DNA repair (Sun et al, 2005; Kaidi & Jackson, 2013), whereas CBP have been shown to regulate ATR-Chk1 pathway and chromatin remodeling at DNA lesions (Hasan et al, 2001; Stauffer et al, 2007). MSL1 has also been shown to affect DNA repair (Gironella et al, 2009; Aguado-Llera et al, 2013). Importantly, shRNA suppression of these four genes (Fig3C, Supplementary Fig S3) each sensitized cells to bendamustine (Fig3D, Supplementary Tables S3 and S4). Of note, suppression of these genes alone did not affect cellular viability without drug treatment (Supplementary Fig S4). Taken together, our data demonstrated that in addition to other reported mechanisms (Miller et al, 2010; Robert et al, 2011), HDAC inhibition could increase the potency of nitrogen mustards through downregulation of genes that regulate DNA repair, including Tip60, CBP, MORF, and MSL1. Our study of CY as a prototype of DNA/HDAC dual-targeting drug demonstrates that by incorporating HDAC inhibitory moiety into traditional DNA-damaging drugs, it is indeed possible to achieve much higher toxicity against cancer cells.