New insights into Hoogsteen base pairs in DNA duplexes from a structure-based survey.
Bottom Line: The survey identifies 106 A•T and 34 G•C HG bps in DNA duplexes, many of which are undocumented in the literature.The survey reveals HG preferences similar to those observed for transient HG bps in solution by nuclear magnetic resonance, including stronger preferences for A•T versus G•C bps, TA versus GG steps, and also suggests enrichment at terminal ends with a preference for 5'-purine.The survey provides insights into the preferences and structural consequences of HG bps in duplex DNA.
Affiliation: Department of Biochemistry, Duke University, Durham, NC 27710, USA.
Show MeSH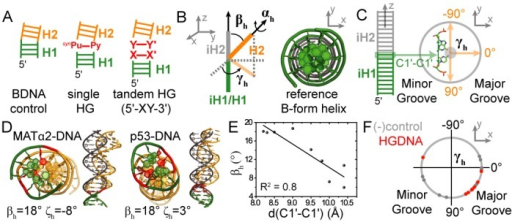 © Copyright Policy - creative-commons
License
getmorefigures.php?uid=PMC4402545&req=5
Mentions: To assess the impact of HG bps on the DNA structure, we adopted the inter-helical Euler angle protocol developed for describing relative orientations of RNA A-form helices across junctions (59,60). Here, three inter-helical Euler angles (αh, βh, γh) are computed which describe the relative orientation of two helices across a given junction, in this case, a single or tandem HG/HG-like bps. For a given target DNA structure containing HG bps, we define a corresponding lower helix H1 and upper helix H2 to be the helices at the 5′ and 3′ sides, respectively, of the syn purine base in an HG bp (see Figure 5A). The inter-helical Euler angles describe the orientation of H2 relative to H1 across the junction of HG/HG-like bps and are determined by computing the rotation matrix that is required in order to rotate H2 so that it is in perfect coaxial alignment with H1. The approach has been described elsewhere in A-form RNA (59–61). Here we provide a brief description emphasizing those differences that relate to bending in B-form DNA. βh is the inter-helical bend angle between H2 and H1, and ranges between 0° and 180°. αh and γh are defined as 'twist' and 'arc' angles of H2 around the H2 and H1 helical axes, respectively, and range between −180° and 180° (see Figure 5B). The inter-helical Euler angles (αh, βh, γh) are computed relative to a reference idealized B-form linear helix with 10 bps per turn consisting of two consecutive and perfectly coaxial helices (iH1 and iH2). This reference B-form helix was constructed using the 3DNA fiber model (62) and the helix axis was oriented along the z-axis (see Figure 5B). The C1′–C1′ vector across the WC bp in iH1 immediately neighboring the junction was oriented along the y-axis with the major groove facing the +x direction (see Figure 5C). H1 in the target DNA structure was superimposed onto iH1 using heavy atoms (i.e. C, N, O, P) in the sugar-phosphodiester backbone. Next, reference helix iH2 was superimposed onto the resulting target helix H2 to yield iH2′. A rotation matrix R(αh, βh, γh) was then computed to transform iH2′ back to iH2 using the EULER-RNA program (https://sites.google.com/site/hashimigroup/resources) (60,63). The direct output (αh0, βh0, γh0) from EULER-RNA was then converted based on the current definition of inter-helical Euler angles by\documentclass[12pt]{minimal}\usepackage{amsmath}\usepackage{wasysym} \usepackage{amsfonts} \usepackage{amssymb} \usepackage{amsbsy}\usepackage{upgreek}\usepackage{mathrsfs}\setlength{\oddsidemargin}{-69pt}\begin{document}}{}\begin{equation*} \begin{array}{*{20}l} {if\beta _h^0 \ge 0,(\alpha _h ,\beta _h ,\gamma _h ) = (\alpha _h^0 ,\beta _h^0 ,\gamma _h^0 );} \\ {if\beta _h^0 < 0,(\alpha _h ,\beta _h ,\gamma _h ) = (\alpha _h^0 \pm 180^\circ , - \beta _h^0 ,\gamma _h^0 \pm 180^\circ )} \\ \end{array} \end{equation*}\end{document}