DAP5 associates with eIF2β and eIF4AI to promote Internal Ribosome Entry Site driven translation.
Bottom Line: DAP5 is an eIF4G homolog that has been proposed to regulate both cap-dependent and cap-independent translation.In contrast, DAP5 is dispensable for cap-dependent translation.These findings provide the first mechanistic insights into the function of DAP5 as a selective regulator of cap-independent translation.
Affiliation: Department of Molecular Genetics, The Weizmann Institute of Science, Rehovot 7610001, Israel nliberman@genetics.med.harvard.edu.
Show MeSH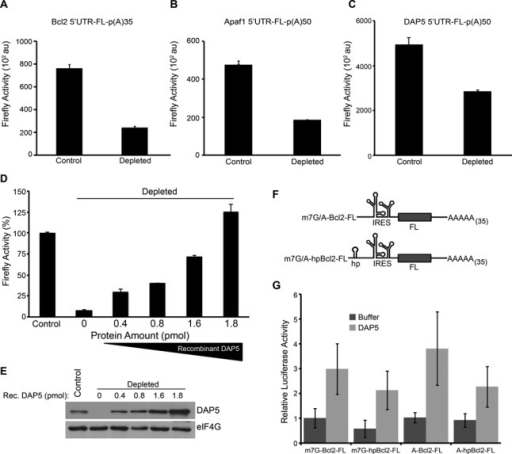 © Copyright Policy - creative-commons
License
getmorefigures.php?uid=PMC4402527&req=5
Mentions: To investigate the molecular mechanisms of DAP5 function in translation initiation, we deployed and calibrated a rabbit reticulocyte lysate (RRL) cell-free system, which efficiently supports both cap- and IRES-mediated translation (Supplementary Figures S1, S2 and Figure 2B) (50–52). We found that the levels of DAP5 in the RRL are similar to or slightly higher than those of its close homolog, eIF4GI (∼230nM and ∼130nM respectively; Supplementary Figure S3). We first monitored the effects of DAP5 depletion from micrococcal nuclease treated RRL (Figure 1E) on the translation of a selected group of cellular IRES-containing mRNAs. DAP5 depletion significantly reduced the translation of the Firefly Luciferase (FL) reporter mRNA bearing a non-functional ApppG-cap structure and the Bcl2, Apaf1 and DAP5 5′UTRs (by 72%, 60% and 43%, respectively) as compared to the non-depleted RRL control (Figure 1A-C). To ascertain that the observed effects on the IRES-containing mRNAs are DAP5-dependent, and not a consequence of inadvertent effects, recombinant DAP5 was added back to DAP5-depleted RRL. Replenishing the RRL with DAP5 resulted in a concentration-dependent increase in translation of the mRNA reporter containing Bcl2 5′UTR (Figure 1D and E). Reconstitution of DAP5 in the depleted RRL also stimulated the translation of the mRNA reporter containing Apaf1 and DAP5 5′UTRs (See below, Figure 4G and H). In addition, we found that DAP5 stimulated Bcl2 5′UTR translation in the DAP5 non-depleted RRL (Supplementary Figure S4). These data indicate that the levels of DAP5 in the RRL are not saturating for the translation of IRES-containing cellular mRNAs. To further delineate the function of DAP5, we focused our subsequent experiments on the Bcl2 5′UTR whose IRES activity within cells has been better characterized (36,41). We affirmed that the observed stimulation by DAP5 is cap-independent by examining the effect of DAP5 on translation of the reporter mRNAs, m7GpppG-(hp)-Bcl2-FL and ApppG-(hp)-Bcl2-FL, in which a hairpin structure (hp) impeding scanning of the ribosome (53,54) was inserted upstream of the Bcl2 5′UTR (Figure 1F). Addition of recombinant DAP5 stimulated translation of all the four reporter mRNAs (Figure 1G). To reassert that the m7GpppG-Bcl2 5′UTR-FL mRNA is translated mainly in a cap-independent manner, we tested the sensitivity of its translation to inhibition by the cap-analog, m7GDP. This was compared to the effect of m7GDP on the translation of m7GpppG-FL mRNA, which is expected to exclusively use a cap-dependent mechanism. As expected, m7GDP markedly inhibited m7GpppG-FL mRNA translation, while having no effect on m7GpppG-Bcl2 5′UTR-FL mRNA translation (Supplementary Figure S5). Addition of KCl (40 mM), which renders the RRL more cap-dependent (55,56), significantly increased inhibition of m7GpppG-FL mRNA translation by m7GDP. However, even under these conditions, the translation of m7GpppG-Bcl2 5′UTR-FL mRNA was relatively resistant to the inhibition by m7GDP (Supplementary Figure S5). Taken together, these data demonstrate that DAP5 stimulates, in a cap-independent manner, the translation of several cellular mRNAs driven by IRESes.