Attention and normalization circuits in macaque V1.
Bottom Line: Surround/mask stimuli provide an estimate to what extent V1 neurons are affected by normalization, which was compared against effects of spatial top down attention.In one class of models, attention contributed to normalization mechanisms, whereas in a different class of models it did not.Model selection based on Akaike's and on Bayesian information criteria demonstrated that in most cells the effects of attention were best described by models where attention did not contribute to normalization mechanisms.
Affiliation: Institute of Neuroscience, Newcastle University, Newcastle upon Tyne, NE2 4HH, UK.
Show MeSH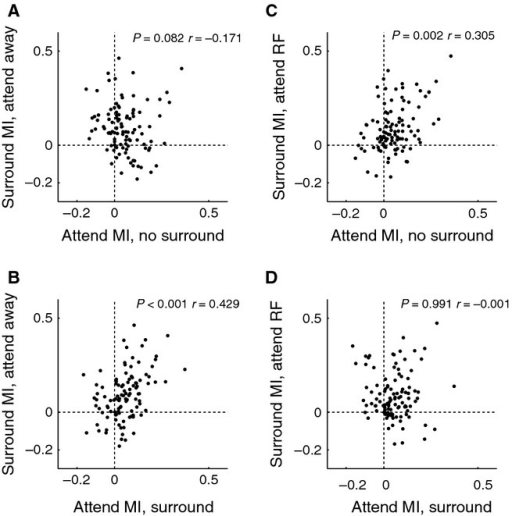 © Copyright Policy - open-access
License
getmorefigures.php?uid=PMC4402004&req=5
Mentions: So far we have investigated how the different tuning parameters are affected by surround stimulation and attention, and whether changes in a given parameter were correlated with changes in a different parameter. We now turn to the question of whether the effects of attention and of surround stimulation on the neuronal activity were correlated. This might suggest that attention and surround suppression use a similar mechanism, as proposed by normalization models of attention. A recent study reported that strength of normalization was correlated with the strength of attentional modulation, when attention was shifted between preferred and anti-preferred stimuli that were placed within the RF of MT neurons (Ni et al., 2012), in fact a condition more similar to masking than surround suppression. Here we explore whether similar correlations can be found for V1 neurons. RFs in area V1 are usually too small to allow for placement of separate stimuli inside the RF and for differential allocation of attention to these two stimuli. For this reason, our attentional modulation index is based upon attention away from the RF and attention inside the RF conditions and the normalization index is based on data acquired when the RF centre was stimulated and when the RF centre and the RF surround were both stimulated. For this analysis we used the entire neuronal sample (n = 105). We used two approaches to calculate the MIs. For the first approach we only used the preferred orientation responses, while for the second we used the average response to all 12 orientations. From these responses attention MIs and normalization MIs were obtained. We found that the correlation for one of our comparisons depended on the approach taken to calculate MIs. Using MIs calculated from preferred orientation responses only, we found a trend for a negative correlation between attention MI – no surround and surround – attend away MIs (Fig.5A, P = 0.082 r = −0.171). This is contrary to predictions from attentional normalization models. However, using the same MI types calculated from responses to all bar orientation yielded a trend for a positive correlation between the surround MI – attend away condition and the attention MI – no surround (r = 0.179, P = 0.068, Spearman rank correlation, data not shown), results somewhat reminiscent of those described previously for MT neurons (Ni et al., 2012), even though the effect in these data was much smaller (and only approaching significance). Other comparisons were more consistent across responses used to calculate MIs. We found a significant positive correlation between the surround MI in the attend away condition and the attention MI when a surround was present (P < 0.001, r = 0.429, Spearman rank correlation, Fig.5B preferred orientation responses; P < 0.001, r = 0.309, responses to all bar orientations, data not shown). Moreover, surround MIs (measured when attention was directed to the RF) were positively correlated with attention MIs measured in the absence of surround stimuli (P = 0.002, r = 0.305, Spearman rank correlation, Fig.5C preferred orientation responses; r = 0.334, P < 0.001, responses to all bar orientations, data not shown). No correlation between surround MIs measured in the attend RF condition and attention MIs measured when surround stimuli were present was found (P = 0.991, r = −0.001, preferred orientation response MIs, Fig.5D; P = 0.819, r = −0.023, MIs from responses to all bar orientations, data not shown, Spearman rank correlation). To summarize, correlations between surround suppression indices and attentional modulation are at best weak to moderate. Some of our data support a normalization model of attention, but the latter would have predicted positive correlations between attentional MIs and surround MIs for all comparisons, which we did not find, and notably not for a critical comparison as shown in Fig.5A.