Genome-wide SNP identification for the construction of a high-resolution genetic map of Japanese flounder (Paralichthys olivaceus): applications to QTL mapping of Vibrio anguillarum disease resistance and comparative genomic analysis.
Bottom Line: Synteny analysis of the QTL regions on the genome assembly revealed 12 immune-related genes, among them 4 genes strongly associated with V. anguillarum disease resistance.The mapped assembly scaffolds in Japanese flounder were used for genome synteny analyses against zebrafish (Danio rerio) and medaka (Oryzias latipes).Flounder and medaka were found to possess almost one-to-one synteny, whereas flounder and zebrafish exhibited a multi-syntenic correspondence.
Affiliation: Ministry of Agriculture, Yellow Sea Fisheries Research Institute, CAFS, Key Lab for Sustainable Development of Marine Fisheries, Qingdao 266071, China Function Laboratory for Marine Fisheries Science and Food Production Processes, National Lab for Ocean Science and Technology, Qingdao 266071, China Faculty of Marine Science, Tokyo University of Marine Science and Technology, Minato, Tokyo 108-8477, Japan.
Show MeSH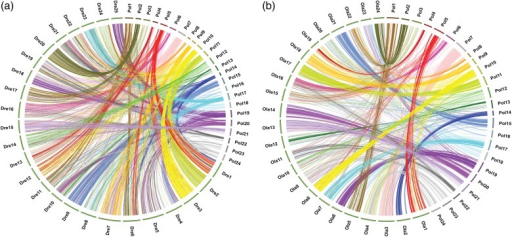 © Copyright Policy - creative-commons
License
getmorefigures.php?uid=PMC4401326&req=5
Mentions: Following genome map construction, we compared the chromosomal orders of protein-coding genes of Japanese flounder on each scaffold with their counterparts in medaka and zebrafish. A total of 6,768 1:1 best orthologues between Japanese flounder and zebrafish were identified. As shown in Supplementary Table S5 and Fig. 3, 7 of the 24 chromosomes of flounder (Po. 4, 6, 10, 11, 12, 15, 18, 21, and 22) were in relatively conserved synteny with zebrafish chromosomes Dr. 12, 16, 3, 2, 14, 9, 24, 15, and 19 respectively. Many of the flounder chromosomes were found to have syntenic blocks with more than one chromosome of zebrafish and vice versa. An example of the multi-syntenic correspondence between zebrafish and flounder genomes is that of Po. 20, which exhibited one of the highest degrees of synteny: Po. 20 had 519 hits on zebrafish chromosomes, most of which (171, 142, and 136) were located on Dr. 05, 10, and 21, respectively. Similarly, Dr. 06 was found to be highly syntenic with Po. 01, 05, and 24, whereas Po. 01, 05, and 24 were in synteny with Dr. 11, 01, and 22, respectively. With respect to flounder–medaka genome synteny, the alignment of 6,463 orthologues on the 24 flounder chromosomes revealed an obvious syntenic relationship with the 24 corresponding chromosomes of medaka. Except for some chromosomes with minor multi-chromosome hits (<50 genes), the results of this comparison suggest that flounder is more closely related to medaka than to zebrafish (Fig. 3).Figure 3.