Genome-wide association mapping of salinity tolerance in rice (Oryza sativa).
Bottom Line: It is a complex quantitative trait having different components, which can be dissected effectively by genome-wide association study (GWAS).In addition to Saltol, we also found GWAS peaks representing new QTLs on chromosomes 4, 6 and 7.The gene-based SNP array used in this study was found cost-effective and efficient in unveiling genomic regions/candidate genes regulating salinity stress tolerance in rice.
Affiliation: National Research Centre on Plant Biotechnology, New Delhi 110012, India.
Show MeSH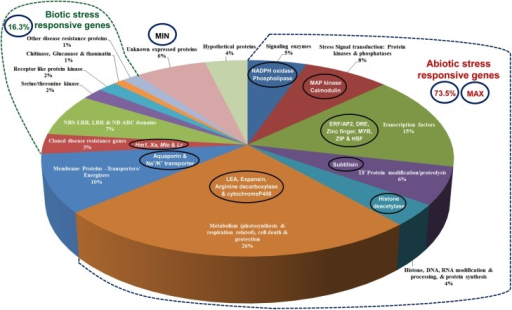 © Copyright Policy - creative-commons
License
getmorefigures.php?uid=PMC4401324&req=5
Mentions: The genotyping array used in our study was designed by selecting SNPs from differentially expressed transcripts in indica rice genotypes. For this, two rice genotypes, i.e. Nagina22 and CSR30 were grown, respectively, under drought and salt stress, and the whole transcriptome was sequenced (unpublished results). A set of 6,500 transcripts, differentially expressed in both genotypes and 8,884 non-transposable elements-related annotated rice genes (MSU, version 6.1) distributed over 12 rice chromosomes, were selected, and these gene sequences from whole-genome sequencing data of six contrasting rice genotypes (unpublished) generated using Next Generation ABI-SOLiD platform were co-aligned. One SNP from each of the selected gene was identified from these co-aligned sequences and from previously reported genome-wide Perlegen re-sequencing information among 20 rice varieties.40 The identified 15,384 genic SNPs were further mapped physically (bp) on 12 rice chromosomes (Pseudomolecule 6.1). Finally, 6,000 SNPs were selected for array designing, which were distributed at physical interval of <100 kb on 12 rice chromosomes. The physical distance (kb) between SNP loci varied from 16 kb in chromosome 3 to 98 kb in chromosome 11 with an average of 51 kb (Fig. 1). The 6,000 SNP chip array included 2,456 SNPs from the previously reported genome-wide Perlegen re-sequencing data, and remaining 3,544 SNPs were identified from our transcriptome sequencing data. Functional annotation of 6,000 SNPs carrying stress-related rice genes (Fig. 2) revealed maximum correspondence to abiotic stress-responsive genes (73.5%) followed by biotic stress-related genes (16.3%), unknown expressed genes (6%) and minimum correspondence to hypothetical proteins (4%). The SNPs from abiotic stress-related genes were associated mostly with metabolism and protection (26%) followed by zinc finger, Myb, Zip, heat shock, ethylene response element-activator protein-2 (AP-2) and dehydration-responsive element-binding transcription factors (15%). Of these 6,000 SNPs, 5,246 had satisfactory custom design score amenable for multiplexing and development of high-throughput assay in Illumina Infinium platform (Illumina Inc., San Diego, CA, USA), and this 5,246 SNP array was used for genotyping of 220 rice accessions.Figure 1.