Deterministic HOX patterning in human pluripotent stem cell-derived neuroectoderm.
Bottom Line: Despite the precision of HOX patterning in vivo, in vitro approaches for differentiating human pluripotent stem cells (hPSCs) to posterior neural fates coarsely pattern HOX expression thereby generating cultures broadly specified to hindbrain or spinal cord regions.Here, we demonstrate that successive activation of fibroblast growth factor, Wnt/β-catenin, and growth differentiation factor signaling during hPSC differentiation generates stable, homogenous SOX2(+)/Brachyury(+) neuromesoderm that exhibits progressive, full colinear HOX activation over 7 days.This fully defined approach significantly expands capabilities to derive regional neural phenotypes from diverse hindbrain and spinal cord domains.
Affiliation: Department of Biomedical Engineering, University of Wisconsin, Madison, WI 53706, USA; Wisconsin Institute for Discovery, University of Wisconsin, Madison, WI 53706, USA.
Show MeSH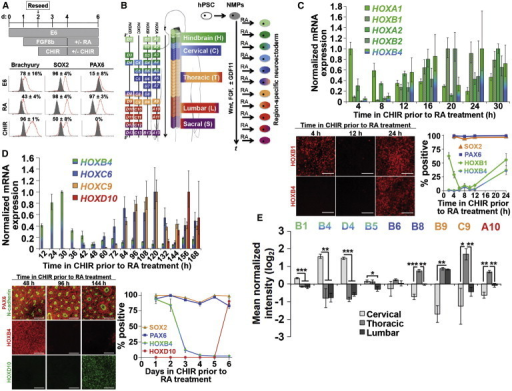 © Copyright Policy - CC BY-NC-ND
License
getmorefigures.php?uid=PMC4400649&req=5
Mentions: In vivo, regression of the stem zone along the primitive streak yields a rostral decline in FGF signaling that coincides with RA secretion from newly formed somites and PAX6 expression in the newly formed neural tube (Diez del Corral et al., 2003). This suggests that RA could induce a NMP-to-neuroectoderm fate switch. To test this in vitro, we exposed hPSC-derived NMPs to E6 medium containing RA, CHIR, or neither for 2 days. Cultures exposed to only E6 medium maintained SOX2 and Brachyury expression but gained minimal PAX6 (96% ± 4% SOX2+, 15% ± 8% PAX6+, 78% ± 16% Brachyury+), while exposure to only CHIR induced a mesodermal fate shift as evidenced by SOX2 downregulation, no PAX6 induction, and uniform maintenance of Brachyury expression (50% ± 8% SOX2+, 96% ± 1% Brachyury+) (Figure 3A). However, when exposed to RA, the cells gained PAX6 expression along with SOX2 maintenance (98% ± 4% SOX2+, 97% ± 3% PAX6+) and Brachyury downregulation (43% ± 4%) indicating a neuroectodermal fate shift (Figure 3A). Moreover, transitioning to RA at any point during NMP propagation generated a highly pure (>83%) PAX6+/SOX2+ neuroepithelial culture, i.e., polarized N-cadherin, within 4 days (Figures 3B–3D). If GDF11 was added to facilitate lumbosacral patterning, PAX6 expression in response to RA was decreased in a dose-dependent manner (Figures S3A–S3C). The ability of GDF11 to control R/C patterning is mediated by signaling via ALK5 (Andersson et al., 2006) and activation of the SMAD2/3 complex (Liu, 2006). GDF11 has also been shown to activate SMAD1/5/8 in vitro (Liu, 2006), which contributes to dorsal patterning (Tozer et al., 2013). Since dorsomorphin selectively inhibits ALK2, ALK3, and ALK6, which blocks SMAD1/5/8 signaling (Yu et al., 2008), we hypothesized the addition of dorsomorphin should prevent acquisition of a dorsal phenotype without affecting R/C patterning. Indeed, the addition of dorsomorphin with GDF11 and throughout RA treatment was sufficient to recover PAX6 expression (83% ± 4% PAX6+; Figure S3D). Thus, highly pure neuroectoderm cultures could be obtained from NMPs at any point during colinear HOX activation.