Efficient generation of NKX6-1+ pancreatic progenitors from multiple human pluripotent stem cell lines.
Bottom Line: Given this outstanding potential, significant efforts have been made to identify the signaling pathways that regulate pancreatic development in hPSC differentiation cultures.Furthermore, we show that the size of the NKX6-1(+) population is regulated by the duration of treatment with retinoic acid, fibroblast growth factor 10 (FGF10), and inhibitors of bone morphogenetic protein (BMP) and hedgehog signaling pathways.Together, these findings provide an efficient and reproducible strategy for generating highly enriched populations of hPSC-derived beta cell progenitors for studies aimed at further characterizing their developmental potential in vivo and deciphering the pathways that regulate their maturation in vitro.
Affiliation: McEwen Centre for Regenerative Medicine, Toronto, ON M5G 1L7, Canada; Toronto General Research Institute, Department of Experimental Therapeutics, University Health Network, Toronto, ON M5G 1L7, Canada; Department of Physiology, University of Toronto, Toronto, ON M5S 1A8, Canada. Electronic address: cnostro@uhnresearch.ca.
Show MeSH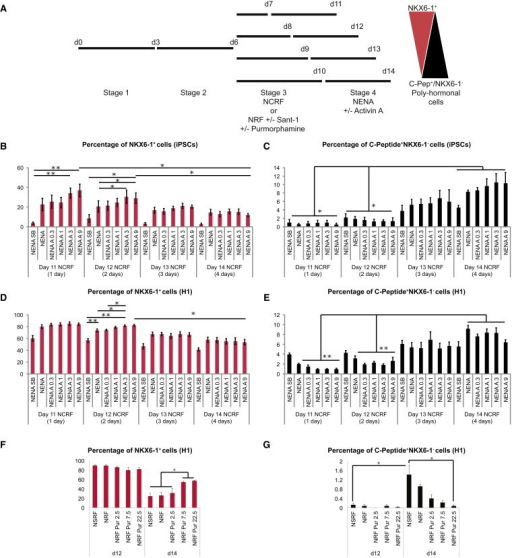 © Copyright Policy - CC BY-NC-ND
License
getmorefigures.php?uid=PMC4400642&req=5
Mentions: Because stage 3 is essential for establishing the pancreatic fate in differentiation cultures, we were interested in determining whether the duration of this induction step could influence the type of progenitors that develop. Additionally, we investigated the role of TGF-β signaling during the NENA step because Rezania et al. (2012) provided evidence that it is required for the generation of the NKX6.1+ progenitors, whereas we previously showed that it is not necessary for specification of the polyhormonal population (Nostro et al., 2011). For these analyses, we used H1 hESCs and the iPSC line 38-2. Day 6 cells were induced for 1, 2, 3, or 4 days with a combination of NOGGIN, cyclopamine, RA, and FGF10 (NCRF; stage 3 media) and then cultured for 4 days in NENA in the presence of either the TGF-β inhibitor SB or different concentrations of activin A (0–9 ng/ml; Figure 3A). The percentage of NKX6-1+ and C-peptide+ cells was evaluated at d11, d12, d13 and d14 of differentiation, respectively (Figures 3B–3E and S3). With this staining strategy, C-peptide+NKX6-1− cells are considered as polyhormonal cells equivalent to the murine first-transition population, whereas C-peptide−NKX6-1+ cells represent putative MPC progenitors (equivalent to the murine second-transition progenitors). Double-positive C-peptide+NKX6-1+ cells were not detected under any of the tested conditions (Figure S3A). Several interesting patterns emerged from these experiments. First, the duration of the stage 3 induction step dramatically influenced the development of the polyhormonal population, as significantly more C-peptide+NKX6-1− cells were detected in both H1- and 38-2-derived populations induced for 4 days than in those induced for 1 or 2 days (Figures 3C, 3E, and S3A). In contrast, 1 or 2 days of induction was optimal for development of the NKX6-1+ population from both hPSC lines, as extended stage 3 induction resulted in a decrease in the proportion of NKX6-1+ cells that developed in vitro (Figures 3B, 3D, and S3A). Second, activin treatment modestly increased the proportion of NKX6-1+ cells generated from H1 and 38-2 cells. Given these findings, it is possible that the size of the NKX6-1+ progenitor population could be increased with higher concentrations of activin A in these hPSC lines (Figures 3B and 3D). Third, addition of the TGF-β inhibitor led to a small but significant reduction in the proportion of NKX6-1+ cells that developed in the H1-derived population, whereas it completely inhibited the emergence of NKX6-1+ cells in the 38-2-derived population (Figures 3B, 3D, and S3A). TGF-β signaling did not have any impact on the differentiation of another hESC line, MEL1, which gave rise to ∼60% NKX6-1+ cells when differentiated for 2 days in stage 3 media (Figure S3B). A reduction in the duration of stage 3 from 2 days to 1 day led to a consistent increase in the percentage of NKX6-1+ cells generated from two additional hiPSC lines, MSC-iPSC1 and BJ-iPSC1 (Figure S3C).