PDX1 binds and represses hepatic genes to ensure robust pancreatic commitment in differentiating human embryonic stem cells.
Bottom Line: ChIP-seq also revealed PDX1 occupancy at hepatic genes.In HepG2 cells and differentiating hESCs, we found that PDX1 binds and suppresses expression of endogenous liver genes.These findings rebrand PDX1 as a context-dependent transcriptional repressor and activator within the same cell type.
Affiliation: Institute of Medical Biology, A(∗)STAR (Agency for Science, Technology and Research), 8A Biomedical Grove, #06-06 Immunos, Singapore 138648, Singapore.
Show MeSH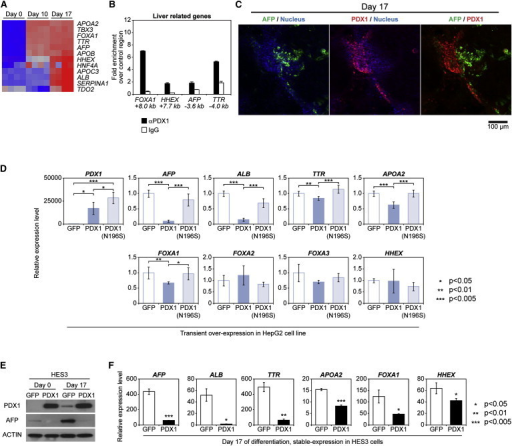 © Copyright Policy - CC BY-NC-ND
License
getmorefigures.php?uid=PMC4400640&req=5
Mentions: In the developing mouse embryo, both explant culture experiments and comprehensive lineage tracing show that the liver and ventral pancreas arise from bipotent, and possibly multipotent, precursors in the foregut endoderm (Angelo et al., 2012; Deutsch et al., 2001; Miki et al., 2012; Tremblay and Zaret, 2005). Consistent with this tight lineage relationship, closer inspection of our microarray data revealed companion upregulation of early liver lineage genes, including APOA2, TBX3 FOXA1, TTR, AFP, APOB, HHEX, HNF4A, APOC3, ALB, SERPINA1 (A1AT), and TDO2 on day 17 (Figure 4A). We reasoned that this finding reflected the heterogeneous nature of our pancreatic differentiation protocol, unmasking the identity of the roughly ∼35% PDX1− (Figure 1D), yet endodermally derived cells present in a given differentiation. We thus confirmed by qPCR that a series of canonical hepatic markers (FOXA1, FOXA3, HNF4A, AFP, ALB, TTR, APOA2) were indeed upregulated in an independent differentiation experiment (Figure S4C). We were surprised to find that PDX1 bound a number of these genes (±20 kb from the TSS), including HHEX, FOXA1, FOXA3, TBX3, TTR, AFP, ALB, FABP1, APOA2, PHKA2, GYS2, ARG1, LEAP2, and CDH17 (Figures 4B and S4A; Table S1, part B). Early Pdx1 expression in the mouse embryo exclusively labels the dorsal and ventral pancreatic buds, the caudal stomach, bile duct, and rostral duodenum (Jonsson et al., 1994; Jørgensen et al., 2007; Offield et al., 1996). Recent high-resolution immunohistochemistry and whole-mount in situ hybridization further demonstrate that Pdx1 and Afp do not co-localize in the AIP in the early-somite-stage mouse embryo (Miki et al., 2012). Consistent with this, PDX1 and AFP labeled distinct cell populations on day 17 of differentiation, with small nests of AFP+ cells often abutting or near PDX1 labeled ridges (Figure 4C). This result raises the possibility that a critical aspect of PDX1 function is to bind and repress hepatic genes in pancreatic progenitor (PP) cells, ensuring stable commitment to the pancreatic lineage.