PDX1 binds and represses hepatic genes to ensure robust pancreatic commitment in differentiating human embryonic stem cells.
Bottom Line: ChIP-seq also revealed PDX1 occupancy at hepatic genes.In HepG2 cells and differentiating hESCs, we found that PDX1 binds and suppresses expression of endogenous liver genes.These findings rebrand PDX1 as a context-dependent transcriptional repressor and activator within the same cell type.
Affiliation: Institute of Medical Biology, A(∗)STAR (Agency for Science, Technology and Research), 8A Biomedical Grove, #06-06 Immunos, Singapore 138648, Singapore.
Show MeSH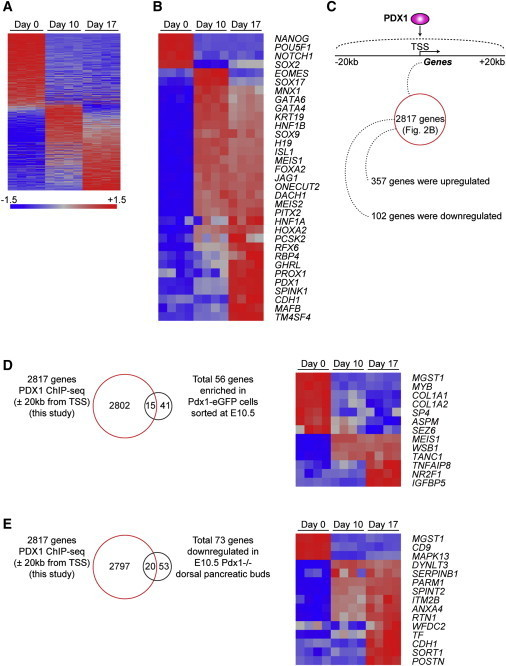 © Copyright Policy - CC BY-NC-ND
License
getmorefigures.php?uid=PMC4400640&req=5
Mentions: Microarray analyses performed in quadruplicate on days 0, 10, and 17 of differentiation revealed that these selected time points corresponded to unique gene expression signatures (Figure 3A; Table S2, parts A–C). Consistent with our qPCR studies, numerous pancreas-related genes were upregulated by day 17, including TM4SF4, MAFB, CDH1 (E-CAD), SPINK1, PDX1, PROX1, GHRL, RBP4, RFX6, PCSK2, HOXA2, and HNF1A, whereas several others such as PITX2, MEIS2, DACH1, ONECUT2, JAG1, FOXA2, MEIS1, ISL1, SOX9, HNF1B, KRT19, GATA4, GATA6, and MNX1 were expressed from day 10 onward (Figure 3B). Pluripotency genes NANOG, OCT4, and SOX2 were predictably downregulated by day 10, while mesendoderm (EOMES) and DE (SOX17) genes were downregulated on day 17 (Figure 3B). The slight increase in SOX2 on day 17 was consistent with the expression of Sox2 in the mouse anterior foregut (Que et al., 2007) (Figure 3B).