Bridging the gap between postembryonic cell lineages and identified embryonic neuroblasts in the ventral nerve cord of Drosophila melanogaster.
Bottom Line: Here we provide the missing link between the two systems for all lineages in the thoracic and abdominal neuromeres.Using the Flybow technique, embryonic neuroblasts were identified by their characteristic and unique lineages in the living embryo and their further development was traced into the late larval stage.This comprehensive analysis provides the first complete view of which embryonic neuroblasts are postembryonically reactivated along the anterior/posterior-axis of the VNC, and reveals the relationship between projection patterns of primary and secondary sublineages.
Affiliation: Institute of Genetics, University of Mainz, D-55099 Mainz, Germany.
No MeSH data available.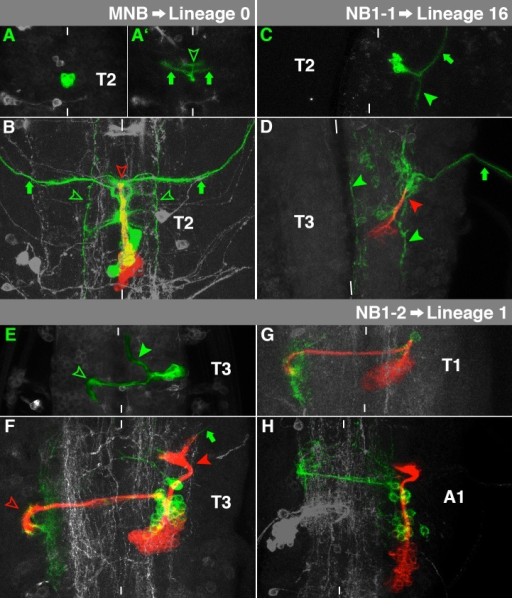 © Copyright Policy - open-access
License
getmorefigures.php?uid=PMC4400586&req=5
Mentions: (A–B′″) Lineage tracing using DiI labelling (Bossing et al., 1996b; Schmidt et al., 1997; A–A′″) as compared to applying Flybow 1.1B (Shimosako et al., 2014; B–B′″). (A) Schematic transverse sections showing right ventral half of a stage 6 and a stage 16 embryo; ventral is down, mesoderm in mint, mesectoderm and neuroectoderm are in beige. Classical labelling of single neuroectodermal progenitor cells (stage 6, capillary with red dye from right) allows targeted application of the dye (e.g. dorsal versus ventral cells or thoracic versus abdominal segments) and results in complete lineages at the end of embryogenesis (stage 16). (B) Schematic transverse sections showing right ventral half of a stage 10 and a stage 16 embryo (elav>Flybow 1.1B). Independent recombination events in (1) a NB, (2) a ganglion mother cell and (3) a postmitotic neuron, caused by a heatshock driven flipase are symbolised with arrowheads (stage 10). In stage 16 these events result in multicellular (1), two cell (2) or single cell clones (3), respectively, labelled randomly by mCherry-, mCitrine- or mTurquoise-expression. Maximum clone size and -density can be controlled by the timepoint and strength of the heatshock, but clone locations are arbitrary. Corresponding clonal types labelled by both methods can be unambiguously identified in vivo based on typical morphological characteristics: compare (A′–A′″) and (B′–B′″) respectively (dorsal views of early stage 17 VNCs). CBG, cell body glia; CG, channel glia; Ic, Ica, Icp, Ii, TB are specific interneurons (see Bossing et al., 1996b; Schmidt et al., 1997). (C–F) Demonstration of the Flybow 1.1B approach used to record, process and present the larval clone data. (C,D) Dorsal views on thoracic segments of a late L3 larva, representing the unprocessed stack that was used for Fig. 3B. (C′) resembles the default state (GFP-expression) in all neuronal cells without recombination event, while (C) extracts the three channels resulting from recombination. The yellow channel reveals only single cell clones, red shows a MNB- and a NB4-2 clone, cyan a NB4-1 clone. (C″) Nrt-antibody staining, visualising commissural fibres, that served as landmarks to identify secondary lineages (see text and Fig. 2 for details). (D) If a clone was chosen for presentation, the respective channel (here: the red one) was transformed into grey. Then every single layer was inspected and secondary cells and their projections were coloured red. Primary cells and all remaining projections clearly connected to the clone were coloured green (for discrimination between primary and secondary cells see text). (E–E″″) Stacks of several images from ventral (E) to dorsal (E″″) positions, documenting the procedure that results in (F), i.e. the complete stack and the same image as shown in Fig. 3B. White vertical bars indicate the midline.