Treatment of immobilization-related hypercalcaemia with denosumab.
Affiliation: Division of Nephrology and Dialysis , Hospital Institute of Cremona , Cremona , Italy.
This occurs when there is accelerated bone resorption, excessive gastrointestinal absorption or decreased renal excretion of Ca... Under most pathologic conditions, hypercalcaemia results from increased skeletal resorption or intestinal absorption with normal or decreased renal excretion... As an example, in primary hyperparathyroidism, elevated parathyroid hormone (PTH) levels increase bone resorption, tubular Ca reabsorption and, indirectly, intestinal Ca absorption (by increasing renal synthesis of calcitriol)... Prolonged immobilization uncouples bone remodelling because of the lack of mechanical stress... The greater deceleration in bone formation than in bone resorption results in a net efflux of Ca from bone that induces hypercalciuria and suppression of the parathyroid-1,25-vitamin D axis... CBFA1 drives the expression of most genes associated with osteoblast differentiation... Bone does not develop in mice that lack the CBFA1 gene... Pharmacokinetics and pharmacodynamics studies, and recent clinical trials suggest that denosumab might be a promising alternative to bisphosphonates for the treatment of resorption-related hypercalcaemia in patients with renal insufficiency, for a more rapid and sustained effect on bone resorption, and a better tolerability compared with bisphosphonates... Zoledronic acid is favoured by some because it is more potent than pamidronate... Their maximum effect occurs in 2 to 4 days, so that they are usually given in conjunction with saline and/or calcitonin, which reduce serum Ca concentration more rapidly... Effects on bone resorption start within 12 h, as documented by a rapid dose-dependent decrease in urinary and serum N-telopeptide levels... In patients treated with denosumab (doses ranging from 0.1 to 3 mg/kg), N-telopeptide levels decreased within 1 day and this effect lasted through Day 84 in the higher dose levels, whereas the effect of pamidronate (90 mg iv) reached a maximum at 3 days and lasted about 28 days... RANKL-inhibitor agents have been shown to induce greater suppression of bone resorption and hypercalcaemia compared with bisphosphonates in murine models of humoral hypercalcaemia of malignancy... Denosumab decreases bone resorption more rapidly and the effect is longer compared with pamidronate, in patients with multiple myeloma or bone metastases... The case suggests that denosumab might be a promising alternative to bisphosphonates also for the treatment of resorption-related hypercalcaemia in patients with renal insufficiency.
No MeSH data available.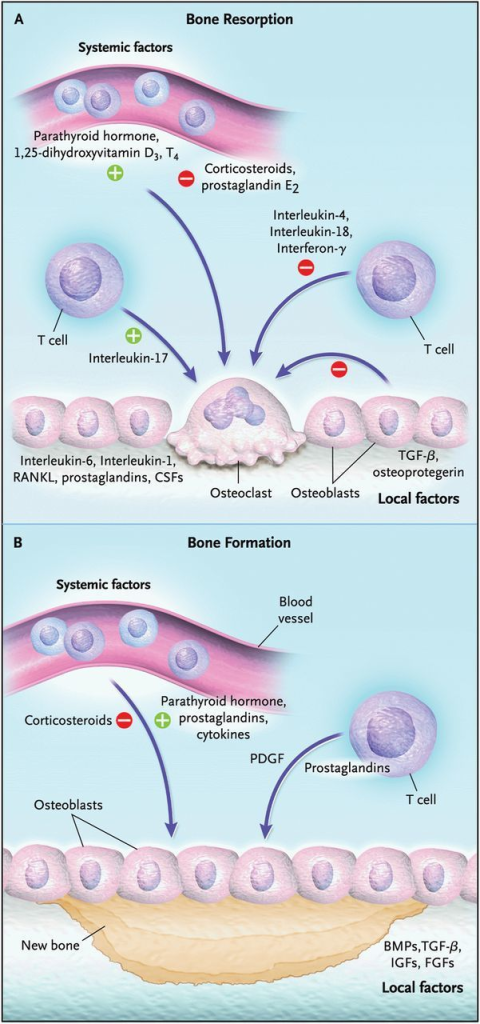 © Copyright Policy - creative-commons
License
getmorefigures.php?uid=PMC4400556&req=5
Mentions: The activity of osteoclasts and osteoblasts is intricately coordinated to continually remodel the adult skeleton. There is a well-balanced remodelling sequence in normal bone: bone is first resorbed by osteoclasts and then osteoblasts form bone at the same site. An imbalance in the bone remodelling process with excessive osteoclastic bone resorption exceeding the rate of osteoblastic bone formation results in a net release of Ca from bone, bone mass loss, hypercalciuria and hypercalcaemia. The RANK/RANKL interaction plays a key role in controlling bone remodelling by inducing osteoclast formation [9–10]. RANKL is a potent inducer of osteoclast formation. Osteoclasts arise from precursor cells in the monocyte–macrophage lineage. Both systemic factors and locally acting factors induce the formation and activity of osteoclasts. Systemic hormones such as PTH, 1,25-dihydroxyvitamin D3, thyroxine and prostaglandins (such as PGE2) stimulate the formation of osteoclasts by inducing the expression of RANKL on marrow stromal cells and osteoblasts rather than by acting directly on osteoclast precursors [10, 11]. RANKL can also be released in a soluble form by T cells in inflammatory states. RANKL binds the RANK receptor on osteoclast precursors and signals through the nuclear factor kB (NF-kB) and Jun N-terminal kinase pathways to induce the activation, migration, differentiation and fusion of haematopoietic cells of the osteoclast lineage to begin the process of bone resorption [10]. In addition, the formation and activation of the osteoclasts can be stimulated by the release of interleukin-6, interleukin-1, prostaglandins and colony-stimulating factors (CSFs) by the osteoblasts [11] (Figure 1). Osteoblasts arise from mesenchymal stem cells, which form osteoblasts, adipocytes and muscle cells [12]. A transcription factor that is critical for the differentiation of osteoblasts is Runx-2, or core-binding factor alfa-1 (CBFA1). CBFA1 drives the expression of most genes associated with osteoblast differentiation [13]. Bone does not develop in mice that lack the CBFA1 gene [14]. Both systemic factors and locally acting factors can enhance the proliferation and differentiation of osteoblasts (Figure 1). These include PTH, prostaglandins and cytokines as well as growth factors such as platelet-derived growth factor (PDGF) produced by lymphocytes. In addition, bone matrix is a major source of growth factors, which can enhance the proliferation and differentiation of osteoblasts. These include the bone morphogenetic proteins (BMPs), transforming growth factor β (TGF-β), insulin-like growth factors (IGFs) and fibroblast growth factors (FGFs) [9, 15]. Osteoprotegerin (OPG) is a soluble 'decoy receptor' that is expressed by osteoblasts and binds to RANKL with high affinity [16]. Because OPG directly competes with RANK for the binding sites of RANKL, OPG inhibits osteoclastogenesis and subsequent bone resorption [17]. The ratio of RANKL to OPG determines the level of osteoclastogenesis. Overproduction of OPG in transgenic mice causes severe osteopetrosis, whereas the absence of OPG results in marked osteopenia [18, 19]. The importance of RANKL in the formation of osteoclasts has been also documented by the knockout mouse models in which the RANKL or RANK gene has been deleted. These animals lack osteoclasts, and as a result, severe osteopetrosis develops [20]. During physiological bone remodelling, the ratio of RANKL to OPG is balanced. An excess of RANKL is found in many clinical conditions such as oestrogen deficiency [21], systemic glucocorticoid exposure [22], active inflammatory process in rheumatoid arthritis [23], skeletal malignancies such as multiple myeloma [24] and bone metastases [25], resulting in exacerbated bone loss. The imbalance of the RANKL/OPG system seems to play a pivotal role also in the pathogenesis of immobilization-related hypercalcaemia [26, 27]. Mechanical strain applied to murine primary stromal cells decreased RANKL mRNA levels by ∼40% which was paralleled by a 50% reduction of osteoclast formation [28]. OPG administration by inhibiting osteoclast activity ameliorates the decrease in both bone mineral density and bone strength in immobilized rats [29]. Increased RANKL production by osteocytes plays a pivotal role in the bone loss associated with unloading [27]. Thus, mechanical strain enhances the RANKL-to-OPG ratio, and lack of mechanical strain during the periods of immobilization may lead to an imbalance in this ratio resulting in increased bone resorption [26, 27].Fig. 1.