Lymphoma presenting as Henoch-Schönlein purpura.
Affiliation: Department of Medicine , North Shore Hospital, Waitemata District Health Board , Auckland , New Zealand.
Henoch–Schönlein purpura (HSP) is a systemic vasculitis affecting the small blood vessels of the skin, the gastrointestinal tract and the kidneys... It is the most commonly seen vasculitis in childhood, the majority of cases being reported in children and in this group the condition is typically self-limiting... HSP is less common in adults and often does not present with the classic tetrad... However, when the patient was reviewed, there were a number of atypical features noted... Typically, there is neither coagulopathy, nor thrombocytopaenia, as was seen with our patient... The aetiology of HSP is unknown; however, there are often precipitating triggers, such as an infective illness, a reaction to drugs or malignancy... Malignancy has been reported as a potential trigger in patients with systemic vasculitis, and specifically in adult-onset HSP with a relative risk of 5.25 for malignancy found when compared with age-matched controls without HSP... The pathogenetic mechanisms that lead malignancy to present as HSP or any vasculitis remain poorly understood [7]... It is believed that vasculitis behaves like a paraneoplastic syndrome and several mechanisms have been proposed, and these include (i) molecular mimicry between tumour neoantigens and endothelial cells, (ii) decreased immune complex clearance, (iii) increased antibody production, (iv) dysregulated antibody class switching from IgM to IgA, (v) reduced sialylation of the IgA hinge region and (vi) increased inflammatory cytokine release during neoplastic processes... In the case presented here, a diagnosis of angioimmunoblastic T-cell lymphoma was concurrently discovered in the absence of any other identifiable trigger of HSP resulting in a prompt initiation of chemotherapy and improvement of renal function... In conclusion, we present a patient who presented with HSP but had atypical features, and who was found to have an underlying lymphoma... HSP classically presents with purpura, arthalgia, abdominal pain and renal impairment... In patients for whom there is a known history of malignancy, the development of HSP should result in re-evaluation for a new metastatic lesion... None declared.
No MeSH data available.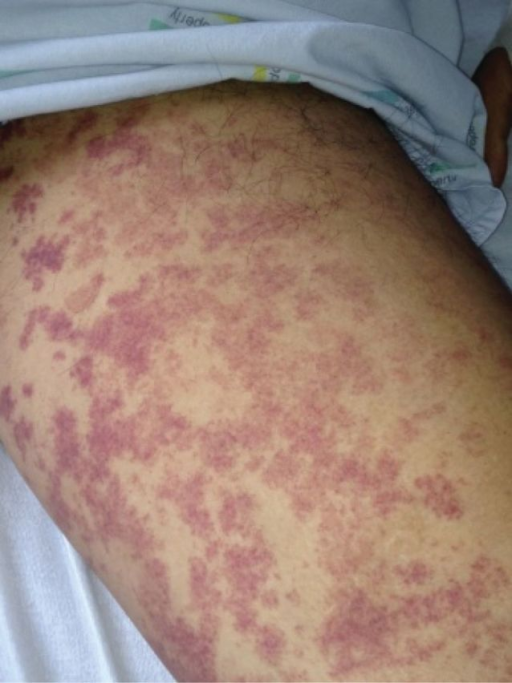 © Copyright Policy - creative-commons
License
getmorefigures.php?uid=PMC4400553&req=5
Mentions: A 57-year-old man was referred from the Internal Medicine service at another hospital with presumed HSP. He presented with a 2-week history of fever, lethargy and night sweats, and 5 days of a widespread purpuric rash on the upper and lower extremities and new renal impairment, and a skin biopsy had shown a leukocytoclastic vasculitis. Apart from a history of malaria 20 years ago, for which he received prompt treatment, he was fit and healthy. A physical examination revealed an ill, febrile patient with palpable purpuric eruptions on all extremities (Figure 1). He was noted to have cervical lymphadenopathy and splenomegaly. His blood profile showed anaemia and thrombocytopaenia (haemoglobin 99 g/L, platelet count 113 × 109/L, white cell count 10.5 × 109/L, neutrophils 8.0 × 109/L, monocytes 1.0 × 109/L, lymphocytes 0.8 × 109/L). He had renal impairment and an abnormal urinalysis (creatinine 119 μmol/L, urine red cells 50 per high powered field, urine protein creatinine ratio 198 g/mol). He was noted to have elevated serum immmunoglobulins with a moderate polyclonal immune response (IgG 16.6 g/L, IgA 4.3 g/L, IgM 4.3 g/L). Rheumatoid factor, antinuclear antibodies, anti-neutrophil cytoplasmic antibody (ANCA) screen, antistreptolysin-O titers, hepatitis serology and cryoglobulins were all negative or within the normal limits. Tests for infection including malaria and tuberculosis were negative. Tests for immune-mediated haemolysis were positive (haptoglobins <0.4 g/L, lactate dehydrogenase 585 U/L, positive direct antiglobulin test).Fig. 1.