Portrait of a Geothermal Spring, Hunter's Hot Springs, Oregon.
Bottom Line: All of these demarcations are easily visible in the field.In addition, there is a biosulfide production in some sections of the springs that have a large impact on the microbiology.Most of the temperature and chemical limits have been explained by field and laboratory experiments.
Affiliation: Institute of Ecology and Evolution, University of Oregon, Eugene, OR 97403, USA. rcasten@uoregon.edu.
ABSTRACT
---
Although alkaline Hunter's Hot Springs in southeastern Oregon has been studied extensively for over 40 years, most of these studies and the subsequent publications were before the advent of molecular methods. However, there are many field observations and laboratory experiments that reveal the major aspects of the phototrophic species composition within various physical and chemical gradients of these springs. Relatively constant temperature boundaries demark the upper boundary of the unicellular cyanobacterium, Synechococcus at 73-74 °C (the world-wide upper limit for photosynthesis), and 68-70 °C the upper limit for Chloroflexus. The upper limit for the cover of the filamentous cyanobacterium, Geitlerinema (Oscillatoria) is at 54-55 °C, and the in situ lower limit at 47-48 °C for all three of these phototrophs due to the upper temperature limit for the grazing ostracod, Thermopsis. The in situ upper limit for the cyanobacteria Pleurocapsa and Calothrix is at ~47-48 °C, which are more grazer-resistant and grazer dependent. All of these demarcations are easily visible in the field. In addition, there is a biosulfide production in some sections of the springs that have a large impact on the microbiology. Most of the temperature and chemical limits have been explained by field and laboratory experiments.

No MeSH data available.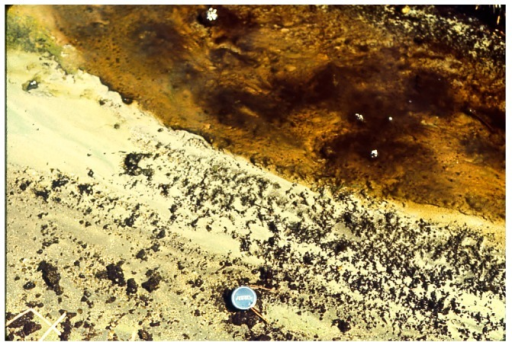 © Copyright Policy
License
getmorefigures.php?uid=PMC4390855&req=5
Mentions: Although G. terebriformis was quite capable of substantial growth below 47 °C [21], the dark phycoerythrin-containing mat was abruptly attenuated at about 47–48 °C, the upper temperature limit for the herbivorous, thermophilic ostracod (Thermopsis thermophile; formerly Potamocypris sp.) that was active and reproductively competent up to 47–48 °C [20,22,23]. T. thermophile and other species of ostracods have never been found in geothermal springs in Yellowstone where ephydrid flies and their larvae comprise the major grazers, but at lower temperatures (e.g., 43–44 °C). This micro-crustacean was very efficient in consuming G. terebriformis that appeared to be its "favorite food" in these springs. In laboratory feeding experiments they eliminated G. terebriformis very quickly with natural-populations [20,23] (Figure 9). However, the elimination of G. terebriformis below ~47 °C in springs and pools containing the ostracod, allowed and promoted the slow establishment of a nearly grazer-resistant population of a tough, leathery mat of nodules composed of Pleurocapsa sp. and Calothrix sp. Both contained the UV-shading pigment, scytonemin [24] (Figure 10 and Figure 11). In a few newly established springs at Hunter's, no ostracods were present, in which case, the G. terebriformis mat extended to temperatures below about 30 °C, although it tapered out visibly with a lower suboptimal temperature below about 35 °C (Figure 12). Slow growth was demonstrated in the laboratory at temperatures as low as 28 °C [25]. The ostracod populations that were able to decimate the G. terebriformis cover and also ranged over the leathery nodules of Pleurocapsa/Calothrix averaging about 100 animals per cm2 in the 40–45 °C range in one stream (Figure 11), but often reached densities of over 2000 per cm2 when higher temperature water eddies circled and corralled the animals [20]. The grazer-resistant, grazer-dependent population of Pleurocapsa and Calothrix often consisted of a basal crust of Pleurocapsa that consisted of a tight aggregation of dark-colored, thick-walled cells with embedded upright-growing filaments of tapered Calothrix with basal heterocysts (Figure 13). It is almost certain that these heterocyst-containing filaments are capable of N2-fixation, and it is quite likely that the Pleurocapsa component was benefited by this process. It was observed that the upright Calothrix filaments grow as a "lawn", extending above the crust of Pleurocapsa, but were usually truncated by the grazing of the ostracods, only to be extended again by later growth of the Calothrix filaments [26]. In this consortium the ostracods grazed on the extended tips of Calothrix (Figure 13). Most dividing cells of Calothrix are near the base of the filaments, close to the site of N2-fixation (i.e., the heterocysts) therefore allowing continuous growth from below. The Calothrix never revealed colorless, terminal hairs, but it is unknown whether this was a result of high phosphate concentrations, which would inhibit the growth of these hairs, or a result of the effective grazing by the ostracods (Figure 13). This community occurred downstream (<~47 °C) in the chemical gradient where combined nitrogen is diminished due to the upstream use by mainly non-nitrogen-fixing cyanobacteria [20]. Recent findings have shown that some strains of Synechococcus in Yellowstone springs fix nitrogen, but only in late afternoon and early morning [4,13]. The existence or impact of this ability has not been investigated in Hunter's springs. It was demonstrated in culture that the effect of grazing was considerably more effective and rapid in mono-cultures of Calothrix grown on agar nutrient discs, than on Pleurocapsa on agar discs, both immersed in springs at the appropriate temperature. This was expected, since the latter forms the basal, most resistant "leathery" crust in nature (Figure 14). In one spring ("Fenceline") where the G. terebriformis cover was absent, the ostracods fed and truncated the Synechococcus/Chloroflexus mat at about 47 °C, the normal upper temperature limit for the animals [20]. However, these animals made feeding, swimming sorties to higher temperatures, but became comatose and closed their carapaces in a short time with increasing temperature. For example, forays to over 50 °C initiated this state often in 10–20 min [20,23]. Nevertheless, the stream current (from high to low temperature) carried comatose ostracods down to favorable temperatures (i.e., below 47 °C) where swimming recovery generally occurred. In these eastern Oregon springs no other native grazers, besides ostracods, occurred, although an occasional tiger beetle was observed feeding on the ostracods, and an introduced population of "guppies" (Poecilia reticulata) thrived in some spring streams below 38 °C., and the bellies of these, upon examination, were full of ingested ostracods.