Increased excitability of lateral habenula neurons in adolescent rats following cocaine self-administration.
Bottom Line: However, the mechanisms of this effect are poorly understood.We found two major relevant neuronal subtypes: burst firing neurons and regular spiking neurons.We also found that lateral habenula regular spiking neurons had higher membrane excitability for at least 7 days following cocaine self-administration, likely due to a greater membrane resistance.
Affiliation: Neuroscience Department (Drs Neumann, Ishikawa, Otaka, and Dong), and Department of Psychiatry, University of Pittsburgh, Pittsburgh, PA (Dr Huang); Molecular Neurobiology, European Neuroscience Institute, Göttingen, Germany (Dr Schlüter). pan23@pitt.edu yandong@pitt.edu.
Show MeSH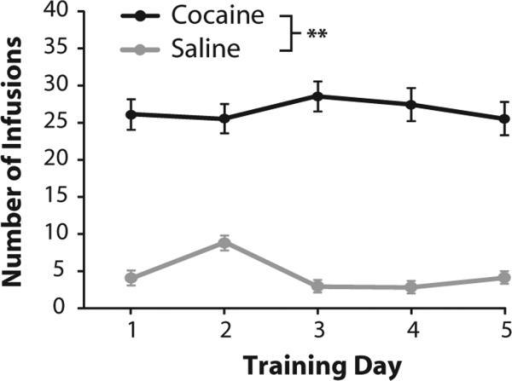 © Copyright Policy - open-access
License
getmorefigures.php?uid=PMC4390528&req=5
Mentions: To test the effects of cocaine exposure on LHb neurons, a self-administration training model was used. Rats received 5-day self-administration training after an initial overnight training session. Rats were trained to nose-poke for 0.75 mg/kg infusions of cocaine/saline during 2-hour sessions. Animals in short-term (ST), moderate-term (MT), and long-term (LT) withdrawal groups received identical training and access to cocaine/saline. ANOVA was used to compare the number of rewards received across all treatment groups and training days, whereby reward infusions was the dependent variable and the training day and treatment group were fixed factors. As expected, comparisons between the ST, MT, and LT withdrawal groups for rats revealed no differences between reward infusions after a Bonferroni posttest (ST vs LT: saline, P = 1.00, n = 6, 3; cocaine, P = 1.00, n = 6, 3; ST vs MT: saline, P = 1.00, n = 6, 4; cocaine, P = 1.00, n = 6, 6; MT vs LT: saline, P = 1.00, n = 4, 3; cocaine, 1.00, n = 6, 3). Thus, the behavioral results were combined across withdrawal groups. Analysis comparing saline and cocaine treatment groups revealed that rats in combined cocaine treatment groups nose poked for more infusions than rats in the combined saline group (Figure 1; P < .0001, F[1, 139] = 562.64, n coc/sal = 15/13). The individual day of training had no effect (P = 0.69, F[4, 139] = 0.56, n coc/sal = 15/13), and no interaction effects were present across withdrawal groups or training days. These results confirm that this 5-day self-administration procedure is sufficient to both initiate and measure cocaine-seeking behavior in adolescent rats and that these rats demonstrate equivalent cocaine-seeking across withdrawal groups.