Unravelling glucan recognition systems by glycome microarrays using the designer approach and mass spectrometry.
Bottom Line: The glucome microarray comprises 153 oligosaccharide probes with high purity, representing major sequences in glucans.The system is validated using antibodies and carbohydrate-binding modules known to target α- or β-glucans in different biological contexts, extending knowledge on their specificities, and applied to reveal new information on glucan recognition by two signaling molecules of the immune system against pathogens: Dectin-1 and DC-SIGN.The sequencing of the glucan oligosaccharides by the MS method and their interrogation on the microarrays provides detailed information on linkage, sequence and chain length requirements of glucan-recognizing proteins, and are a sensitive means of revealing unsuspected sequences in the polysaccharides.
Affiliation: From the ‡Glycosciences Laboratory, Department of Medicine, Imperial College London, United Kingdom; §UCIBIO-REQUIMTE, Department of Chemistry, Faculty of Science and Technology, NOVA University of Lisbon; angelina.palma@fct.unl.pt w.chai@imperial.ac.uk.
Show MeSH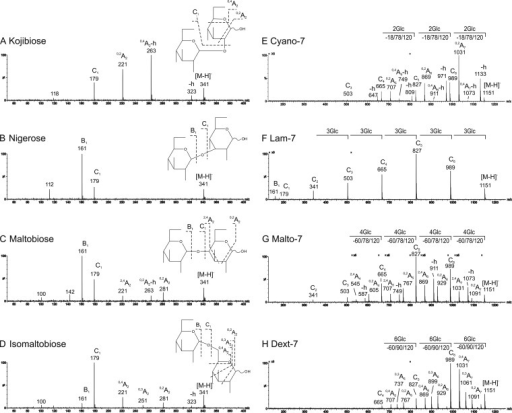 © Copyright Policy - open-access
getmorefigures.php?uid=PMC4390274&req=5
Mentions: The product-ion spectra of the four α-anomeric disaccharides with 1,2-, 1,3-, 1,4-, and 1,6-linkages are shown in Fig. 2A-2D. Under the conditions selected each glucose linkage isomer had a different fragmentation pattern. Glycosidic C-type (43) cleavages resulting in fragment ions C1 at m/z 179, arising from a neutral loss of 162 Da from the molecular ion at m/z 341, were observed in the spectra of all disaccharides but with different relative intensities. A-type fragmentation across the saccharide ring gave particularly useful information on the linkages: In the spectrum of the α1,2-linked kojibiose (Fig. 2A), neutral losses of 18, 78 and 120 Da gave a distinctive set of three ions at m/z 323, 263 and 221, as [M-H]−-h, 0,4A2-h, and 0,2A2, respectively (-h denotes dehydration). For the α1,3-linked nigerose, glycosidic cleavage C1 only was observed at m/z 179, whereas A-type fragmentation was absent (Fig. 2B). The α1,4- and α1,6-linked disaccharides each produced extensive A-type fragmentation in addition to the C1 ions: in the spectrum of the α1,4-linked maltobiose (Fig. 2C) these were the 0,2A2 (m/z 281), 0,2A2-h (m/z 263), and 2,4A2 (m/z 221) arising from neutral losses of 60, 78 and 120 Da, respectively, whereas in the spectrum of α1,6-linked isomaltobiose (Fig. 2D), these were the 0,2A2 (m/z 281), 0,3A2 (m/z 251), and 0,4A2 (m/z 221) arising from neutral losses of 60, 90, and 120 Da, respectively. The β-anomers of the 1,2-, 1,3-, 1,4-, and 1,6-linked disaccharides (Table IA) gave product-ion spectra (not shown) almost identical to those of their α-anomers.