Conservation of complete trimethylation of lysine-43 in the rotor ring of c-subunits of metazoan adenosine triphosphate (ATP) synthases.
Bottom Line: In the twenty-nine metazoan species that have been examined, the complete methylation of lysine-43 is conserved, and it is likely to be conserved throughout the more than two million extant metazoan species.In unicellular eukaryotes and prokaryotes, when the lysine is conserved it is unmethylated, and the stoichiometries of c-subunits vary from 9-15.One possible role for the trimethylated residue is to provide a site for the specific binding of cardiolipin, an essential component of ATP synthases in mitochondria.
Affiliation: From the ‡Mitochondrial Biology Unit, Medical Research Council, Hills Road, Cambridge, CB2 0XY, United Kingdom and.
Show MeSH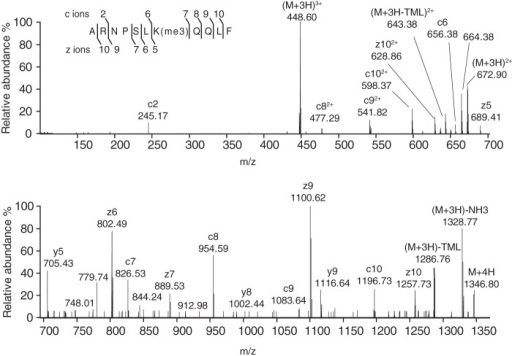 © Copyright Policy - open-access
getmorefigures.php?uid=PMC4390263&req=5
Mentions: Sequences of c-subunits from invertebrate F-ATPases. Where data are available sequences for all known invertebrate species are shown, with the exception of the arthropods and poriferans, where representative species were selected from each class when available. †, a related species was studied (L. terrestris, T. ni, E. chloroticus, and M. edulis, respectively). For the significance of the colors, and the five letter codes on the left, see the legend to Fig. 6. BRABE, Branchiostoma belcheri (Japanese lancelet); CIOIN, Ciona intestinalis (vase tunicate); CIOSA, Ciona savignyi (solitary sea squirt); STRPU, Stronglyocentrotus purpuratus (purple sea urchin); HELRO, Helobdella robusta (Californian leech); GLYTR, Glycera tridactyla; PLADU, Platynereis dumerilii (Dumeril's clam worm); CAPTE, Capitella teleta; HYDEL, Hydroides elegans; RIFPA, Riftia pachyptila (giant tube worm); LUMRU, Lumbricus rubellus (red earthworm); ACYPI, Acyrthosiphon pisum (pea aphid); APIME, Apis mellifera (honeybee); CULEX, Culex pipiens (common house mosquito) DROME, Drosophila melanogaster (fruit fly); CALVO, Calliphora vomitoria (blue bottle fly); GLOMM, Glossina morsitans (Savannah tsetse fly); IXOSC, Ixodes scapularis (black legged tick); LITVA, Litopenaeus vannamei (white leg shrimp); MANSE, Manduca sexta (tobacco hawkmoth); NASVI, Nasonia vitripennis (jewel wasp); OPICA, Opisthacanthus cayaporum (South American scorpion); STRMA, Strigamia maritima (European centipede); PEDHU, Pediculus humanus (head louse); PENJP, Peneus japonica (Kuruma prawn); APACA, Acartia pacifica (copepod); SIMVI, Simulium vittatum (black fly); SPOFR, Spodoptera frugiperda (fall armyworm); STEMI, Stegodyphus mimosarum (social spider); STOCA, Stomoxys calcitrans (stable fly); TRICA, Tribolium castaneum (red flour beetle); APLCA, Aplysia californica (California sea hare); HALDI, Haliotis diversicolor (variously colored abalone); LOTGA, Lottia gigantea (owl limpet); SINCO, Sinonovacula constricta (Chinese razor clam); MYTGA, Mytilus galloprovincalis (Mediterranean mussel); CRAGI, Crassostrea gigas (Pacific oyster); ECHGR, Echinococcus granulosus (hydatid worm); OPIVI, Opisthorchis viverrini (Southeast Asian liver fluke); CLOSI, Clonorchis sinensis (Chinese liver fluke); HYMMI, Hymenolepis microstoma (rodent tapeworm); SCHMA, Schistosoma mansoni (blood fluke); BRUMA, Brugia malayi; CAEEL, Caenorhabditis elegans; MELHA, Meloidogyne hapla (northern root knot nematode); NECAM, Necator americanus (New World hookworm); HAECO, Hemonchus contortus (barber pole worm); ANCCE, Ancylostoma ceylanicum (hookworm); LOALO, Loa loa (eye worm); ASCSU, Ascaris suum (pig roundworm); TRIAD, Trichoplax adhaerans ; CARBA, Carukia barnesi (Irukandji jellyfish); NEMVE, Nematostella vectensis (starlet sea anenome); HYDMA, Hydra magnipapillata (hydra); PLEBA, Pleurobrachia bachei (sea gooseberry); MNELE, Mnemiopsis leidyi (sea walnut); AGESC, Agelas schmitdi (brown tubular sponge); APHVA, Aphrocallistes vastus (cloud sponge); APLFU, Aplysina fulva (rope sponge); ECTFE, Ectyoplasia ferox (brown encrusting octopus sponge); HALDU, Halisarca dujardini; HIPLA, Hippospongia lachne (sheepswool sponge); IGENO, Igernella notablis; IRCST, Ircinia strobilina (black ball sponge); OSCCA, Oscarella carmela; SUBDO, Suberites domuncula; TOPOP, Topsentia ophiraphidites; CLACL, Clathrina clathrus (Mediterranean sponge); VALSP. Vaceletia sp.; AXICO, Axinella corrugate (marine sponge); GEONE, Geodia neptuni (leathery barrel sponge).