Diagnosing cancer earlier: reviewing the evidence for improving cancer survival.
Affiliation: Cancer Research UK, Angel Building, 407 St John Street, London EC1V 4AD, UK.
Since publication of the BJC supplement, volume 101; 'Evidence for a National Awareness and Early Diagnosis Initiative' (NAEDI) in December 2009, there has been considerable investment and significant research, data collection, analysis, policy activity and application of interventions under the auspices of NAEDI... A study of patients with symptoms suspicious of lung cancer presented here is the first of its kind in using a large prospective cohort and identifying factors that prompt earlier action, from the individual or the health professional, before diagnosis... It illustrates well the challenging nature of nonspecific symptoms and how to most effectively deal with them... A seminal publication from this partnership clarified that, although cancer survival has been improving in all ICBP member jurisdictions, for people diagnosed with lung, colorectal or ovarian cancer in the United Kingdom between 1995 and 2007 the survival gap did not close... For breast cancer, results indicated that we were approaching the survival of the best, with the gap closing over this period... Essentially, the stage comparisons indicate that for lung and colorectal cancer UK patients are diagnosed at a later stage than those in the 'better performing' partner countries, whereas for breast and ovarian cancers UK stage distribution is not significantly different from those countries with better survival... An examination of stage at diagnosis and early mortality using national registry data for patients with breast, colorectal, lung, prostate and ovarian cancers shows a different stage pattern for breast, prostate and colorectal cancers than for lung and ovarian cancers, and supports the finding that efforts should be concentrated on minimising stage 4 diagnosis of any cancer, as well as better understanding and reducing variation in stage-specific survival overall... Two further studies use East of England stage data linked to other data sources for patients diagnosed between 2006 and 2010 to quantify the potential survival gains of reducing socioeconomic and sex inequalities in stage for melanoma and age inequalities in stage for older breast cancer patients... In conclusion, our understanding of what underpins poor cancer survival and premature mortality has grown considerably since publication of the original NAEDI supplement, but there remain gaps in our knowledge that demand further research... The 'size of the prize' for early diagnosis was previously estimated as a proportion of the 10 000 avoidable deaths annually, based on survival comparisons between GB and the 'best performing' European countries... Although we do not know the precise proportion affected by earlier diagnosis – as within-stage variation implies that treatment differences also play a part – it is clear that optimal and 'curative' treatment can only be offered to patients diagnosed at an early enough stage to benefit from it... We can therefore conclude that pursuit of earlier diagnosis and optimal treatment can lead to many thousands of patients across the United Kingdom being spared the trauma of a late diagnosis and their life being cut short by cancer... It is also clear from national variation and inequalities that significant improvements can be made just by sharing best practice and using the knowledge, interventions, tools and clinical expertise available today, even before the realisation of promising new molecular techniques, innovations and personalised medicines.
Show MeSH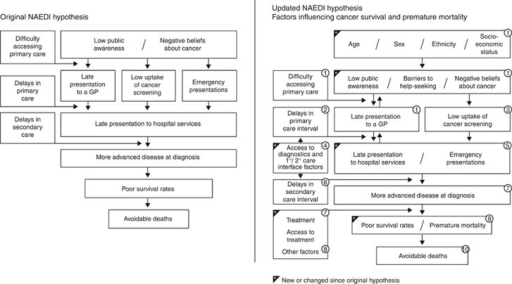 © Copyright Policy - open-access
License
getmorefigures.php?uid=PMC4385969&req=5
Mentions: Since the 2009 BJC supplement, research into early diagnosis has increased in both volume and scope, with new funding streams created with the express purpose of facilitating creation of a body of evidence to underpin activity to address late diagnosis and a consolidated research community. Being a complex and truly multidisciplinary research area, it combines behavioural science, primary-care research, epidemiology, policy and health services research, international comparison studies, data analysis and practice evaluation. This is crucial when you consider the original 'NAEDI hypothesis' (Richards, 2009) updated here, indicating the multifactorial and often nonlinear nature of the pathways to diagnosis from the first onset of symptoms and the individual's response, to help-seeking, health professional interaction, to onward referral, diagnosis and beyond (Figure 1).