Novel function of cytoplasmic p53 at the interface between mitochondria and the endoplasmic reticulum.
Affiliation: 1] Equipe 11 labellisée Ligue contre le Cancer, Centre de Recherche des Cordeliers, Paris, France [2] INSERM, U1138, Paris, France [3] Université Paris Descartes/Paris V, Sorbonne Paris Cité, Paris, France [4] Université Pierre et Marie Curie/Paris VI, Paris, France [5] Metabolomics and Cell Biology Platforms, Gustave Roussy Cancer Campus, Paris, France [6] Pôle de Biologie, Hôpital Européen Georges Pompidou, AP-HP, Paris, France.
Germline mutations in the gene coding for tumor protein p53 (TP53, best known as p53) are associated with the Li-Fraumeni syndrome, a dominant hereditary disorder characterized by an increased predisposition of patients to the development of various tumors relatively early in life... In addition, TP53 is affected by somatic loss-of-function mutations in a large fraction (>50%, according to current estimates) of human cancers all confounded... Finally, several other molecular defects causally associated with malignant transformation or tumor progression result in the functional inactivation of the p53 system... Given the implication of Ca fluxes between the ER and mitochondria in the control of mitochondrial apoptosis, Giorgi and colleagues investigated the effects of the absence of p53 on reticular Ca homeostasis... They found that Trp53 MEFs exhibit lower steady-state reticular Ca levels than their Trp53counterparts, resulting in decreased Ca mobilization and mitochondrial accumulation in response to ATP (a purinergic receptor agonist that is commonly employed to trigger cytosolic Ca waves) or hydrogen peroxide... Moreover, Giorgi and colleagues demonstrated that various naturally occurring p53 mutants, such as p53 and p53, are unable to restore reticular Ca homeostasis in Trp53 MEFs, while the WT protein efficiently does so... However, the C-terminal fragment of p53 was unable to influence reticular Ca homeostasis and sensitivity to oxidative stress per se, indicating that this function resides in another domain of the protein... Using this approach, Giorgi et al. were able to monitor Ca waves elicited by photodynamic therapy (PDT), an anticancer regimen relying on the administration of an ER-targeted photosensitizer coupled to the exposure of neoplastic lesions to visible light (which promotes oxidative stress), in tumor masses developing s.c. in mice... Moreover, they confirmed that the overexpression of SERCA rescue the sensitivity of Trp53 tumors to PDT-elicited oxidative stress, as does the overexpression of the mitochondrial calcium uniporter (MCU), the protein that is responsible for the uptake of cytosolic Ca by mitochondria... Finally, they demonstrated that intercepting intracellular Ca ions with the cell-permeant chelator BAPTA-AM significantly reduces the sensitivity of Trp53 cancers to PDT... However, several questions remain to be addressed... First, which domain of p53 is responsible for this functional effect (and not just for the interaction between p53 and SERCA)?
Show MeSH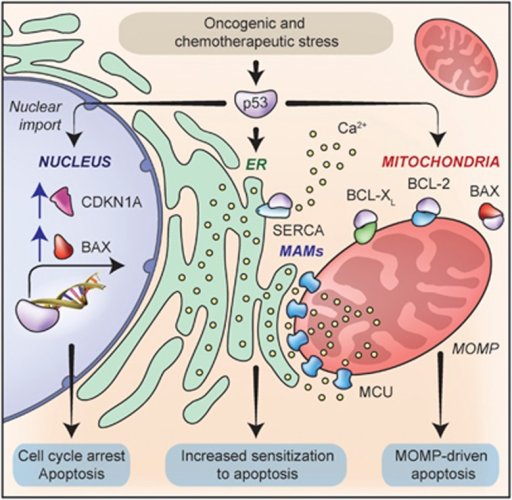 © Copyright Policy - open-access
License
getmorefigures.php?uid=PMC4385946&req=5
Mentions: Throughout the past 25 years, p53 has been the subject of intense investigation, revealing a wide panel of mechanisms by which this protein exerts robust oncosuppressive functions.3 Initially, p53 was recognized for its ability to respond to DNA damage by transactivating several genes that regulate cell cycle progression (e.g., CDKN1A) and apoptotic cell death (e.g., BAX), hence preventing the propagation of potentially transforming genetic defects.4 Later, stress-activated p53 turned out to participate in the activation of mitochondrial apoptosis by physically interacting with pro- and antiapoptotic members of the Bcl-2 protein family (such as BAX, BCL-2 and BCL-XL), thereby favoring the elimination of potentially dangerous cells via transcription-independent mechanisms.5 More recently, several studies demonstrated that p53 mediates oncosuppressive effects not only when cells are confronted with sources of stress, but also in physiological conditions. In particular, p53 has been attributed with a key role in the preservation of physiological bioenergetic metabolism, mostly linked to its capacity to regulate the transcription of some metabolic enzymes.6, 7 Now, the research group lead by Paolo Pinton (University of Ferrara; Ferrara, Italy) identified yet another mechanism by which p53 mediates transcription-independent oncosuppressive functions (Figure 1).8, 9 In particular, Giorgi and colleagues demonstrated that cytoplasmic p53 physically stimulates the accumulation of Ca2+ ions within the endoplasmic reticulum (ER) by physically interacting with ATPase, Ca++ transporting, cardiac muscle, fast twitch 1 (ATP2A, best known as SERCA). This increases the efficiency of the transfer of Ca2+ ions between the ER and mitochondria, augmenting the propensity of (pre)malignant cells exposed to oncogenic or chemotherapeutic stress to succumb to apoptosis.8, 9