L1CAM/Neuroglian controls the axon-axon interactions establishing layered and lobular mushroom body architecture.
Bottom Line: We demonstrate that the Drosophila melanogaster L1CAM homologue Neuroglian mediates adhesion between functionally distinct mushroom body axon populations to enforce and control appropriate projections into distinct axonal layers and lobes essential for olfactory learning and memory.For functional cluster formation, intracellular Ankyrin2 association is sufficient on one side of the trans-axonal complex whereas Moesin association is likely required simultaneously in both interacting axonal populations.Together, our results provide novel mechanistic insights into cell adhesion molecule-mediated axon-axon interactions that enable precise assembly of complex neuronal circuits.
Affiliation: Friedrich Miescher Institute for Biomedical Research, 4058 Basel, Switzerland University of Basel, 4003 Basel, Switzerland.
Show MeSH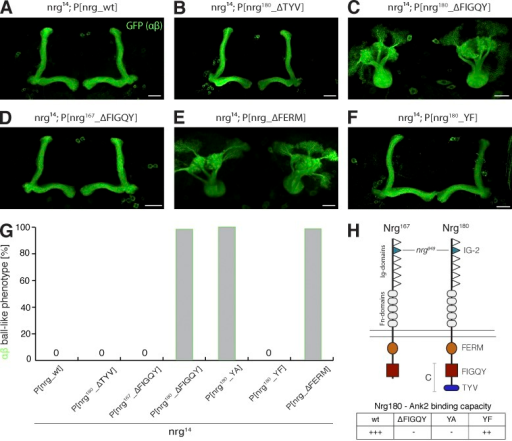 © Copyright Policy - openaccess
License 1 - License 2


getmorefigures.php?uid=PMC4384726&req=5

Mentions: To gain insights into the cellular and molecular mechanisms controlling formation of the complex axonal architecture of the Drosophila MBs (Fig. 1 A), we focused on the CAM Nrg, the Drosophila L1CAM homologue. Although it has been shown that extracellular Nrg-mediated adhesion is required for MB development (Goossens et al., 2011), the precise cellular and molecular requirements have not been addressed. To address these questions and to identify potential regulatory mechanisms, we first compared mutations affecting extracellular adhesion, nrg849 (Goossens et al., 2011), with mutations disrupting intracellular protein–protein interactions. To generate specific intracellular mutations, we used a genomic rescue approach (Venken et al., 2009) that allows expression of modified versions of Nrg at endogenous levels in the background of the embryonic-lethal nrg14 mutation (Enneking et al., 2013). Importantly, in nrg14- mutant flies rescued by a wild-type Pacman construct (nrg14; P[nrg_wt]), all MB axons project through the pedunculus (Fig. 1 B, arrow) to the anterior part of the brain, where they branch and project into vertical and medial lobes indistinguishable from controls (Fig. 1, B, G, and H). In contrast, in nrg849 mutants and nrg mutants lacking the Nrg180-specific intracellular tail (nrg14; P[nrg180_ΔC]; see Fig. 4 H), both α′β′ and αβ axons fail to project into the pedunculus despite the presence of γ lobes (Fig. 1, C–H). Strikingly, α′β′ and αβ axons remained segregated and formed two separate ball-like structures ventral to the MB calyx (Fig. 1, C and D). These data demonstrate that protein–protein interactions mediated by the cytoplasmic tail domain of Nrg180 are essential for MB development, indicating that intracellular interactions directly contribute to functional properties of Nrg in vivo despite being dispensable for homophilic adhesion in cellular assays (Hortsch et al., 1995). The nrg849 mutant phenotype has previously been described as axon stalling (Goossens et al., 2011). However, based on the close phenotypic resemblance with mutations in the rac family of actin regulators that are due to defects in MB axon guidance (Ng et al., 2002), we next analyzed the projection patterns of individual axons. We labeled individual αβ axons in nrg849 mutants using a flip-out approach (Gordon and Scott, 2009). GFP-labeled mutant αβ axons projected through the area of aberrant α′β′ axons (Discs large [Dlg] positive, Fasciclin II [FasII] negative) into the ball-like αβ structure (FasII positive) but failed to grow anteriorly (Fig. 1 E). Instead, the axons grew in circles without leaving the aberrant FasII-positive area (Fig. 1 E). Thus, the observed phenotypes likely represent a failure of nrg mutant axons to enter the pedunculus and are consistent with an axon guidance but not with an axon stalling phenotype (Fig. 1 F).