Crystal structure of human persulfide dioxygenase: structural basis of ethylmalonic encephalopathy.
Bottom Line: A channel leading to the active site is sufficiently large to accommodate a GSSH substrate.Some of the observed hETHE1 clinical mutations cluster in the active site region.The structure will serve as a basis for detailed functional and mechanistic studies on ETHE1 and will be useful in the development of selective MBL inhibitors.
Affiliation: Chemistry Research Laboratory, University of Oxford, 12 Mansfield Road, Oxford OX1 3TA, UK.
Show MeSH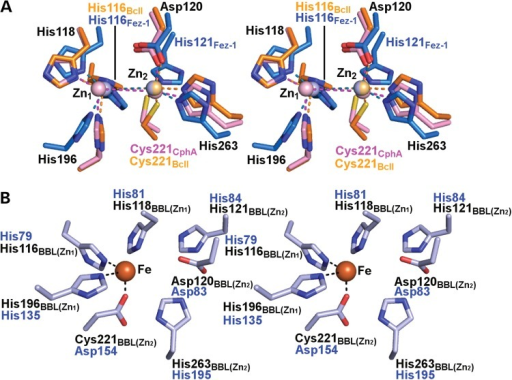 © Copyright Policy - creative-commons
License
getmorefigures.php?uid=PMC4383860&req=5
Mentions: Ethylmalonic encephalopathy (EE; OMIM: 602473) is an inborn autosomal-recessive disorder that has severe gastrointestinal and neurological effects in infants (1–3). EE is caused by mutations to the gene (HGNC: 23287) encoding for the ethylmalonic encephalopathy protein 1 (ETHE1, also known as sulphur dioxygenase, SDO) (4–6) and correlates with increased cellular levels of hydrogen sulfide. Although hydrogen sulfide is highly toxic above low threshold levels, it is also proposed as a gaseous redox signalling molecule. Thus, abnormally increased hydrogen sulfide levels have the potential to result in highly pleiotropic and toxic effects consistent with the lethal phenotype observed in infants with EE (7). ETHE1 is proposed to play a role in other diseases, including acute myocardial infarction and cardiovascular disorders (8,9). A deficiency of hydrogen sulfide is proposed to be of pathophysiological relevance, arising perhaps as a consequence of cross-talk with nitric oxide or other reactive oxygen species involved in signalling (10). ETHE1 is reported to be localized to mitochondria where its activity is linked to electron transfer chain energy generation and is of central importance in hydrogen sulfide metabolism (11). ETHE1 is a non-heme iron-dependent oxygenase that catalyses the biochemically interesting oxidation of glutathione persulfide (GSSH) to give glutathione and persulfite (11) [Eq. (1)].GSSH + O2+H2O→hETHE1GSH + SO32−+2H+.Sequence analyses predict that hETHE1 is a member of the widely distributed metallo-β-lactamase (MBL)-fold family (5). MBL-fold proteins were first isolated from prokaryotes showing β-lactam antibiotic resistance (12); these classical MBLs are di-, or less commonly mono-, zinc-ion-dependent hydrolases; they act on almost all known β-lactam antibiotics, including carbapenems and are an increasing clinical concern (13–15). The first description of an MBL crystal structure (i.e. that of the Bacillus cereus MBL) revealed a new protein fold containing an alpha-beta-beta-alpha core fold and distinctive active site architecture (12). Subsequent studies revealed three classes of MBLs: B1, B2 and B3. The MBL enzymes are characterized by the presence of five highly, but not universally, conserved active site elements (motifs) distributed across the MBL-fold (16): motif 1, D84 (which is not directly involved in zinc binding); motif 2, H116-X-H118-X-D120; H121 is present in class B3 MBLs and some human MBL-fold enzymes (hMBLs); motif 3, H196; motif 4, C221; and motif 5, H263 (12,16,17). In classical di-zinc B1 MBLs these residues normally bind two neighbouring metal ions in the active site: zinc 1 is coordinated by the side chains of H116, H118 and H196. Zinc 2 is coordinated by the side chains of D120, C221 and H263 (Fig. 1). Subsequent work has revealed that the MBL-fold is extremely widespread and found in enzymes with a range of biological functions (18). In humans, MBL-fold enzymes have roles in detoxification [i.e. ETHE1 and hydroxyacylglutathione hydrolase (HAGH), also called glyoxalase II] (11,19), DNA repair (DNA cross-link repair 1A-B-C) (20) and RNA processing and maturation (cleavage and polyadenylation specific factor family members) (21,22). The diversity of biological roles observed for MBL-fold enzymes is apparently reflected by variations in their active site metallo-chemistry. At present, the available evidence suggests that the majority of MBL-fold enzymes employ one or two zinc ions for catalysis in hydrolytic reactions. However, many MBL-fold hydrolases, including the classical MBLs, are able to employ other metal ions [i.e. Mg(II), Ca(II), Co(II)] and/or mixtures of metals for catalysis (23,24). In this regard, ETHE1 is of particular interest because it employs a single non-heme iron ion to catalyse a reaction that is reminiscent of those catalysed by structurally unrelated non-heme iron-dependent oxygenases; in particular isopenicillin N synthase (IPNS), which is an unusual member of the iron and 2-oxoglutarate (2OG)-dependent oxygenase superfamily (25–27), and cysteine dioxygenase (28,29). These enzymes have related metal-coordination chemistry to the MBL-fold enzyme superfamily (30); here we report crystallographic studies on human ETHE1. The structural work provides insights into the effects of clinically observed ETHE1 mutations (4–6), and, by comparison with the structure of an Arabidopsis thaliana ETHE1-like enzyme (31), shows active site features that distinguish the ETHE1s from other MBL-fold containing enzymes.Figure 1.