The reduction of distress using therapeutic geothermal water procedures in a randomized controlled clinical trial.
Bottom Line: Aim of the Study.Health risks caused by distress were reduced, and resources increased, whereas the probability of general health risk decreased by 18% (P = 0.01).Conclusion.
Affiliation: Seamen's Health Care Center, Taikos 46, LT-91213 Klaipėda, Lithuania ; Klaipėda University, Herkaus Manto Gatvė 84, LT-92294 Klaipėda, Lithuania.
ABSTRACT
---
Stress is an element of each human's life and an indicator of its quality. Thermal mineral waters have been used empirically for the treatment of different diseases for centuries. Aim of the Study. To investigate the effects of highly mineralised geothermal water balneotherapy on distress and health risk. Methodology. A randomized controlled clinical trial was performed with 130 seafarers: 65 underwent 2 weeks of balneotherapy with 108 g/L full-mineralisation bath treatment; the others were in control group. The effect of distress was measured using the General Symptoms Distress Scale. Factorial and logistic regression analyses were used for statistical analysis. Results. A significant positive effect on distress (P < 0.001) was established after 2 weeks of treatment: the number of stress symptoms declined by 60%, while the intensity of stress symptoms reduced by 41%, and the control improved by 32%. Health risks caused by distress were reduced, and resources increased, whereas the probability of general health risk decreased by 18% (P = 0.01). Conclusion. Balneotherapy with highly mineralised geothermal water reduces distress, by reducing the health risk posed by distress by 26%, increasing the health resources by 11%, and reducing probability of general health risk by 18%. Balneotherapy is an effective preventive tool and can take a significant place in integrative medicine.

No MeSH data available.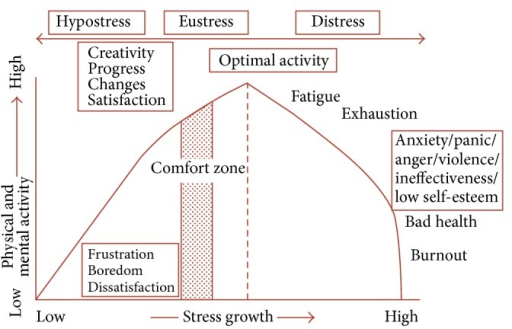 © Copyright Policy
License
getmorefigures.php?uid=PMC4383502&req=5
Mentions: Stress is an important element of our lives which depends on social, economic, psychological, physical, and intellectual aspects of development and change and is an index of the quality of life [1]. The presence of some stress should prompt changes, progress, and creativity, while the high levels of stress or long-term stress, if uncontrolled, causes health problems, reduces the capacity to work, and diminishes the quality of life (Figure 1) [1–4]. Stress is widespread: in 2012, 87% of adults in the USA and Great Britain agreed that stress is a serious health problem; 63% had acquaintances who had faced health consequences due to stress, and more than 4 out of 10 experienced stress themselves [4]; in Canada more than 6 employees out of 10 who indicated great levels of stress consider that the main reason of stress is work (2010) [5]. There is cumulating evidence that socioeconomic status (disparities in income, education, occupation, etc.) accounts for substantial variance in all-cause and disease-specific morbidity and mortality rates and for prevalent psychopathologies of mood [1, 6]. Stress is widespread among health and education system workers, other civil service workers, and seafarers [7–10]. According to studies, 28.3 to 63.5% of seafarers experience stress at work [11]. It is influenced by the lack of sleep, bad quality of sleep, long working hours, extended work, work not according to biorhythms, lack of rest, big load, noise, heat, vibration, restricted movement, dehydration, time zone and climate change, absence of medical professionals, irregular sexual life, social exclusion, and other factors [11–13].