Invariant visual object recognition and shape processing in rats.
Bottom Line: Historically, this has limited the invasive investigation of its neuronal underpinnings to monkey studies, in spite of the narrow range of experimental approaches that these animal models allow.Meanwhile, rodents have been largely neglected as models of object vision, because of the widespread belief that they are incapable of advanced visual processing.Here, I review these recent investigations, as well as earlier studies of rat pattern vision, to provide an historical overview and a critical summary of the status of the knowledge about rat object vision.
Affiliation: Visual Neuroscience Lab, International School for Advanced Studies (SISSA), 34136 Trieste, Italy. Electronic address: zoccolan@sissa.it.
Show MeSH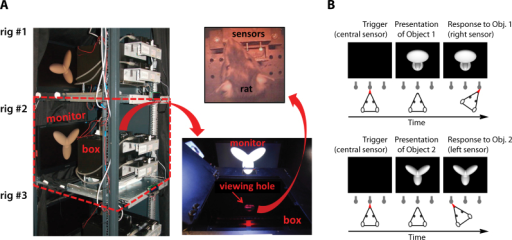 © Copyright Policy - CC BY
License
getmorefigures.php?uid=PMC4383365&req=5
Mentions: The first systematic investigation of rat invariant recognition was carried out by Zoccolan and colleagues [118] in a study where rats were first trained to discriminate the default views of two visual objects (see Fig. 6B and Fig. 7A, green frames), then required to tolerate some variation in their appearance (see Fig. 7A, light blue frames), and finally tested with many novel transformations of the learned objects (see Fig. 7A, all remaining object conditions). In this study, several rats were trained in parallel, using a high-throughput behavioral rig that consisted of multiple operant boxes, each equipped with a viewing hole, three touch sensors (also acting as juice tubes for liquid reward delivery) and a computer monitor (see Fig. 6A). The rats learned to insert their head into the viewing hole, so as to face the computer monitor (used as the stimulus display), and interact with the sensors to trigger stimulus presentation (central sensor) and report the identity of the visual objects (left and right sensors). This rig, and the stimulus presentation design, allowed a few important methodological advances over earlier behavioral investigations of rat pattern vision. First, they allowed a very tight control over some crucial stimulus properties, such as size, because the stimulus viewing distance was constant and reproducible across trials and sessions. Second, it was possible to carry out a very intensive, fast-pace training, with collection of up to 500 behavioral trials per session per subject. Third, and more importantly, the use of the touch sensors allowed testing rats without resorting to the spatial two-alternative forced-choice procedure used in the large majority of rodent vision studies – in any given trial, a rat was presented with a single stimulus only, and had to report its identity by remembering its association to either the left or right sensor/reward port (see Fig. 6B). Thus, it was possible to overcome the limitation of probing rat invariant recognition with simultaneously presented shapes, which makes it extremely challenging to prevent rats from solving discrimination tasks using lower-level visual features (see discussion in Section 3.3.1 and below). Another major difference with previous studies was that the visual stimuli, rather than being simple geometrical shapes/patterns, were renderings of 3-dimensional object models made of multiple structural parts (see Figs. 6B and7A). This allowed transforming the objects along natural variation axes, such as in-depth rotations and lighting changes, which are impossible to test with 2-dimensional shapes. Therefore, the variety and complexity of the transformations the stimuli underwent in this study were much larger than in previous work.