Invariant visual object recognition and shape processing in rats.
Bottom Line: Historically, this has limited the invasive investigation of its neuronal underpinnings to monkey studies, in spite of the narrow range of experimental approaches that these animal models allow.Meanwhile, rodents have been largely neglected as models of object vision, because of the widespread belief that they are incapable of advanced visual processing.Here, I review these recent investigations, as well as earlier studies of rat pattern vision, to provide an historical overview and a critical summary of the status of the knowledge about rat object vision.
Affiliation: Visual Neuroscience Lab, International School for Advanced Studies (SISSA), 34136 Trieste, Italy. Electronic address: zoccolan@sissa.it.
Show MeSH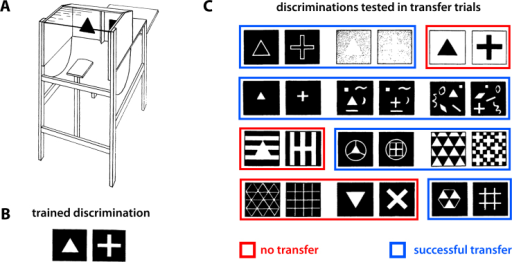 © Copyright Policy - CC BY
License
getmorefigures.php?uid=PMC4383365&req=5
Mentions: The jumping stand apparatus (shown in Fig. 1A) implemented a spatial two-alternative forced-choice procedure, with a rat required to jump against a target (positive) stimulus card from a distance of 20 cm, while ignoring a flanking negative stimulus card. The card bearing the negative stimulus was fixed rigidly, causing the rat to fall into a net for an incorrect jump toward it (punishment), while the card bearing the positive stimulus was held by a light spring, so that when a rat jumped against it, the card fell back and allowed the animal to reach a landing platform with food (reward). Using this approach, Lashley found that pigmented rats were able to discriminate different pairs of 2-dimensional geometrical shapes, such as an upward vs. an inverted triangle, a triangle vs. a circle, a triangle vs. a cross, etc. [137,138]. More importantly, he discovered that once an animal had learned to discriminate two shapes, he was able to generalize this discrimination "in spite of alteration in size, continuity of surface, or of outline [of the shapes and was] able to discover the figure in various combinations with irrelevant lines" [138] (see Fig. 1B and C). In addition, he also found that "marked changes in the luminous intensity of either figure or ground [did] not disturb reaction so long as the brightness relations of figure and ground [were] not reversed" [138] (e.g., see Fig. 1C, top row). These findings led Lashley to conclude that in rats "there must be some primitive generalization of form which goes beyond the recognition of identical elements" [138], which is what modern investigators would refer to as transformation-invariant or, more properly, transformation-tolerant visual object recognition (namely, size-tolerant, clutter-tolerant and luminance-tolerant recognition). On the other hand, Lashley found only limited tolerance to in-plane rotation (e.g., see Fig. 1C, central panel in the bottom row) and, by obscuring parts of the visual targets, he found "that the majority of animals [did] not react to the entire figure presented in the stimulus pattern. The lower or inner margin of the figures most frequently determine[d] the reaction. […] Animals react[ed] to such various characters as the distance of one figure from the frame, the relative surface areas of the figures, a conspicuous projecting point, and the like" [138]. At the same time, Lashley found that rats could learn to discriminate discontinuous oriented patterns made of distinct elements (e.g., two circles defining either a diagonal or a horizontal "line") and that, more importantly, this discrimination generalized to continuous oriented lines with the same orientation of the previously learned discontinuous patterns. The reverse was also true: rats trained to discriminate between a vertical and a horizontal grating (i.e., patterns made of multiple, alternating black and white stripes, oriented either vertically or horizontally) generalized well not only to single continuous lines with the same orientation, but also to patterns made of single or multiple discontinuous lines with the same orientation (i.e., patterns made of either vertically or horizontally aligned arrays of small squares/rectangles). These findings induced Lashley to conclude that "the constants to which [a rat] reacts in otherwise variable situation are properties which can be derived only from a total figure, hence that his reaction is dependent upon some sort of unification of the elements within a part of the field" [138].