Unreliable evidence: 2 sources of uncertainty during perceptual choice.
Bottom Line: Here, we asked whether these 2 sources of uncertainty have independent behavioral and neural effects during choice.These findings present a challenge for models that emphasize the role of the dmPFC in detecting conflict, errors, or surprise.We suggest an alternative explanation, whereby evidence is processed with increased gain near the category boundary.
Affiliation: Department of Experimental Psychology, University of Oxford, Oxford OX1 3UD, UK.
Show MeSH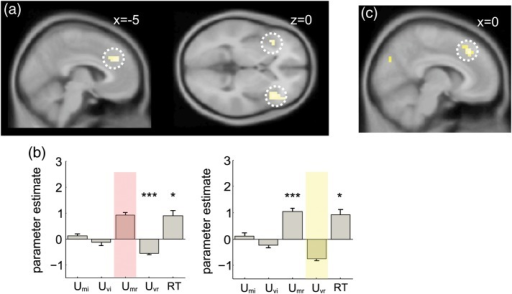 © Copyright Policy - creative-commons
License
getmorefigures.php?uid=PMC4379999&req=5
Mentions: Our statistical approach involved identifying voxels that responded to evidence mean and testing their sensitivity to evidence variability, and vice versa. One limitation of this approach is that 2 adjacent but nonoverlapping clusters might become smeared into one by spatial smoothing, potentially giving rise to the spurious impression that a single region responds to both variables. We thus conducted a further analysis in which we correlated the response to UMr and UVr in a voxelwise fashion using the unsmoothed data, and converted the correlation coefficients at each voxel to a Fisher's z-score, permitting parametric statistics at the group level. The resulting group statistical maps, which were only smoothed after correlations were calculated, indicated voxels where there were significant correlations between the response to UMr and UVr. The results are shown in Figure 4a,b. We observed a cluster of negative correlation between response to these 2 variables in the vicinity of the dmPFC/ACC, with peaks at −2, 28, 30 (z = 3.17, P < 0.001, uncorrected) and −6, 36, 30 (z = −3.34, P < 0.0005, uncorrected; Fig. 4a, left). Additional clusters were observed at the left (−38, 20, −6, z = −3.43, P < 0.0003, uncorrected) and right (42, 24, −2, z = −3.32, P < 0.0005, uncorrected) AINS (Fig. 4a, right). Within the ROI defining, the dmPFC by its sensitivity to UMr, the average Fisher's z-score was also significant (z = −2.39, P < 0.009). In other words, those voxels that responded positively to UMr (higher signal as the mean LPR approached zero) tended to respond negatively to UVr (higher signal as evidence became more homogenous) and vice versa. No positive or negative correlations between response to UMr and response to UVr were observed in other regions sensitive to UMr, such as the parietal cortex.Figure 4.