The FRK1 mitogen-activated protein kinase kinase kinase (MAPKKK) from Solanum chacoense is involved in embryo sac and pollen development.
Bottom Line: Transgenic plants with lower or barely detectable levels of ScFRK1 mRNAs lead to the production of small fruits with severely reduced seed set, resulting from a concomitant decline in the number of normal embryo sacs produced.Megagametogenesis and microgametogenesis were affected, as megaspores did not progress beyond the functional megaspore (FG1) stage and the microspore collapsed around the first pollen mitosis.The ScFRK1 MAPKKK is thus involved in a signalling cascade that regulates both male and female gamete development.
Affiliation: Institut de recherche en biologie végétale, Département de sciences biologiques, Université de Montréal, 4101 rue Sherbrooke est, Montréal, QC H1X 2B2, Canada.
No MeSH data available.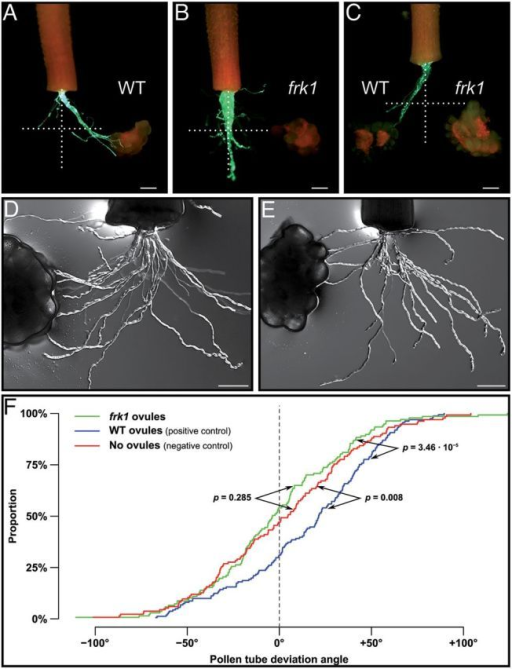 © Copyright Policy - creative-commons
License
getmorefigures.php?uid=PMC4378624&req=5
Mentions: The integrity of the embryo sac, the female gametophyte, has been shown to be a prerequisite for the ability of the ovule to attract pollen tubes. Mutants lacking a mature female gametophyte or affected in the development of its cells are defective in pollen tube guidance (reviewed in Marton and Dresselhaus, 2010; Chevalier et al., 2011; Takeuchi and Higashiyama, 2011). To determine if the ScFRK1 transgenic lines are also affected in pollen tube guidance, a semi in vivo pollen tube guidance system was used. The Scfrk1-S1 line was selected for this analysis as it showed the lowest percentage of functional embryo sacs. WT flowers were hand pollinated with fully compatible pollen and styles were collected 24h later. The detached styles are then laid on a microscopic slide covered with pollen tube growth medium with ovules placed at ~650 μm from the cut style end, a distance corresponding to the radius of the ovary. Pollen tubes start to emerge ~30 hours after pollination (HAP). Figure 7 shows the result of two different assay systems. First, a single-choice assay was used with ovules from either WT or Scfrk1-S1 plants as shown in Fig. 7A, B, respectively. Attraction was determined from the bulk pattern obtained, with each pollinated style being counted as one assay. An attraction phenotype was scored when there was a clear trend and the majority of the pollen tubes grew toward the ovules as observed in Fig. 7A with WT ovules, while typical absence of attraction can be observed in Fig. 7B with Scfrk1-S1 ovules. When WT ovules were used, 59% of the assays showed pollen tubes growing toward WT ovules (n=80), while only 10% of the pollen tubes grew toward the Scfrk1-S1 ovules (n=60), giving a highly significant P<0.0001 value in a two-sample binomial test. Furthermore, although 10% of the assays with the Scfrk1-S1 ovules showed pollen tubes growing toward them, pollen tubes never reached these ovules, in contrast to what is observed with WT ovules in Fig. 7A. Next, a two-choice assay system was used, with equidistant ovules from WT and Scfrk1-S1 plants (Fig. 7C). In this case, no difference in attraction between WT and Scfrk1-S1 ovules ( hypothesis) would lead to a 50:50 distribution. Out of 65 assays, 83% (54) showed clear attraction to WT ovules while 17% (11) grew toward Scfrk1-S1 ovules, which is highly significant in a one-sample binomial test (P<0.0001). As in the single-choice system, when pollen tubes grew toward Scfrk-S1 ovules, none reached the ovules. It is interesting to note that similar results were obtained in Torenia fournieri, where the investigators used a microfluidistic device to channel the pollen tubes toward a targeted ovary or a control (Horade et al., 2013). To confirm the results of this quick assay system, the two-sample Kolmogorov–Smirnov test, a non-parametric test comparing empirical distribution functions in two samples, widely used in axon guidance studies, was also used. In this case, growth angles for all distinguishable pollen tubes were calculated from their exit to their end point on a total of ~150 pollen tubes from five semi in vivo single-choice assays (Fig. 7D–F). A mean angle of 2.5 ° was obtained for the negative control (without ovules), – 0.8 ° for assays with Scfrk1-S1 ovules, and 16.3 ° for assays with WT ovules. Attraction was thus observed with WT ovules (P=0.008) but not with Scfrk1-S1 ovules (P=0.285).