Caveolins in rhabdomyosarcoma.
Bottom Line: Caveolins are scaffolding proteins that play a pivotal role in numerous processes, including caveolae biogenesis, vesicular transport, cholesterol homeostasis and regulation of signal transduction.There are three different isoforms (Cav-1, -2 and -3) that form homo- and hetero-aggregates at the plasma membrane and modulate the activity of a number of intracellular binding proteins.Cav-1 and Cav-3, in particular, are respectively expressed in the reserve elements (e.g. satellite cells) and in mature myofibres of skeletal muscle and their expression interplay characterizes the switch from muscle precursors to differentiated elements.
Affiliation: Department of Biomedical Sciences and Biotechnologies, Interuniversity Institute of Myology (IIM), University of Brescia, Brescia, Italy Department of Pathology, University of Brescia, Brescia, Italy.
Show MeSH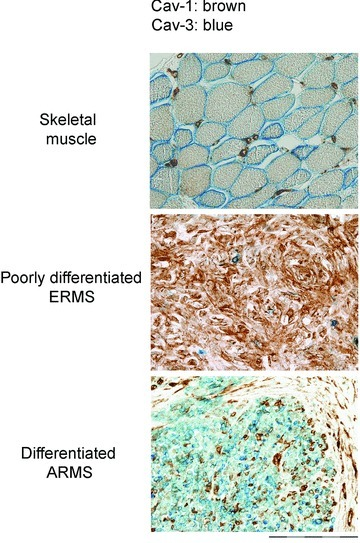 © Copyright Policy
getmorefigures.php?uid=PMC4373424&req=5
Mentions: Validation of caveolins expression in RMS has drawn the attention only recently. In a large screening of different tumours, including RMS, malignant mullerian tumour and a spectrum of different neoplasms, Cav-3 was indicated as specific marker for the detection of mature RMS, being particularly expressed in those cell elements with abundant eosinophilic cytoplasm and striation [22]. In a recent study, we have confirmed this evidence by means of immunohistochemical analyses [23]. In particular, Cav-3 and Cav-1 were predominantly associated to mature or immature RMS tumours, respectively (Fig. 2). Given the heterogeneity in degree of maturation present in the RMS cell components, the expression of Cav-1 or Cav-3 cannot be univocally associated to a certain RMS histotype. Nevertheless, a simplified model would indicate such a relationship between the expression of Cav-1 or Cav-3 and a status of poor or advanced cell differentiation, respectively, as analogously observed in skeletal muscle (Fig. 2) [10]. To further substantiate the in vivo findings, the expression of caveolins has been analysed in vitro [23]. In particular, Cav-1 expression was retrieved in the majority of the human ERMS cell lines analysed (Fig. 3A), except for TE671 cells (personal unpublished results), which intriguingly displayed low expression of MyoD. This evidence should deserve attention as might suggest an unappreciated relationship between MyoD levels and the expression of Cav-1 in immature muscle precursors, as much as a relationship between myogenin and the levels of Cav-3 has been already shown in differentiating myoblasts [194, 195]. The analysis of Cav-1 behaviour was then particularly characterized by employing RD cells, an RMS model line in which RAS mutations are long known to counteract the myogenic differentiation via hyperactivation of the ERK pathway [196]. In RD cells, Cav-1 was found to be properly localized at the plasma membrane (Fig. 3B), thus excluding the presence of inactivating gene mutations leading to protein mislocalization, as occurs in some cancer types [62, 85, 86]. In particular, high levels of Cav-1 were associated to proliferation of RD cells, whereas pharmacological inhibition of the ERK pathway, eliciting block of cell growth and subsequent differentiation, lead to Cav-1 down-regulation and increase of Cav-3, myogenin and MHC (Fig. 3C). Although it remains to be established if the decrease in Cav-1 might be related to growth arrest alone or to both withdrawal from cell cycle and subsequent myogenic differentiation, Cav-1 and Cav-3 seem to be associated to an immature and mature RMS cell phenotype, respectively, thereby confirming the previous in vivo observations. Keeping in mind that activating RAS mutations are frequently detectable in ERMS cells lines [122–124] and are critically involved in RMS tumour formation [177, 181, 183, 190–193], the relationship between Cav-1 expression and the RAS/ERK pathway deserves current attention. In fact, although Cav-1 is a marker of quiescence in muscle satellite cells [10], it configures as a marker of proliferation in RMS cells, suggesting that deregulated mechanisms in RMS cells might impair the ability of Cav-1 to overcome the RAS/ERK pathway. In this perspective, it is crucial to assess how targeted silencing of Cav-1 might influence RMS cell growth. Importantly, expression of Cav-2 has been also observed in RMS (personal unpublished data). Cav-2, indeed, is almost always co-expressed with Cav-1 and its phosphorylation can regulate the formation of caveolae and mitosis [197, 198]. Thus, the presumed impaired ability of Cav-1 to control cell proliferation in RMS cells needs to be ascertained also in relation to Cav-2 functionality.