Activity-dependent degeneration of axotomized neuromuscular synapses in Wld S mice.
Bottom Line: Periodic high-frequency nerve stimulation (100 Hz: 1s/100s) reduced synaptic protection in Wld(S) preparations by about 50%.This effect was abolished in reduced Ca(2+) solutions.Together, the data suggest that vulnerability of mature neuromuscular synapses to axotomy, a potent neurodegenerative trigger, may be enhanced bimodally, either by disuse or by hyperactivity.
Affiliation: Euan MacDonald Centre for Motor Neurone Disease Research, Hugh Robson Building, University of Edinburgh, George Square, Edinburgh EH8 9XD, UK.
Show MeSH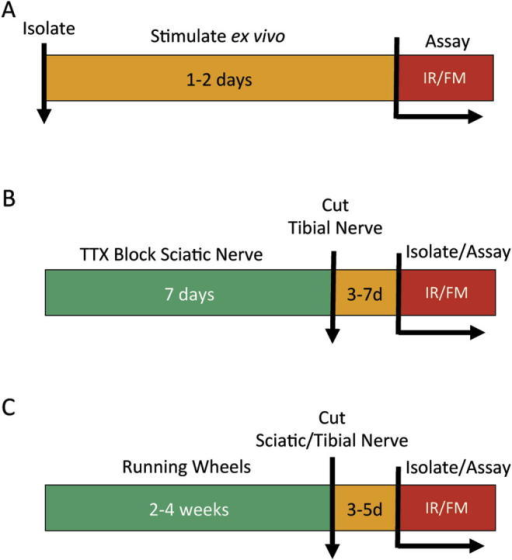 © Copyright Policy - CC BY
License
getmorefigures.php?uid=PMC4362769&req=5
Mentions: The main principle of our experimental design was to use the response of NMJs to axotomy in WldS mice as an assay for the effects of either preconditioned or coincident experimental alterations in neuromuscular activity (Fig. 1). Our basic strategy was to use a condition-test approach, in a combination of in vivo and ex vivo paradigms and in vitro physiological and morphological measurements, which has proved successful in exploring modifiers and their mechanisms in other contexts, for instance, axonal degeneration and regeneration (McQuarrie et al., 1977; Boegman et al., 1980; Deshpande et al., 1981; Hudson et al., 1984; Lund et al., 2002; Beirowski et al., 2004; Beirowski et al., 2005; Wong et al., 2009; Oyebode et al., 2012). Our assays were conducted on isolated nerve-muscle preparations of hind toe muscles: specifically flexor digitorum brevis (FDB) or one of the four deep lumbrical muscles (1–4DL). FDB is advantageous for electrophysiological analysis because its muscle fibers are isopotential, obviating the need for precise intracellular positioning of a recording microelectrode (Bekoff and Betz, 1977a,b; Gillingwater et al., 2002; Ribchester et al., 2004). The lumbrical muscles are advantageous for synaptic morphology, because they are thin and the NMJs may thereby readily be prepared and scored rapidly in unsectioned, whole-mounted preparations (Betz et al., 1980b; Gillingwater et al., 2002; Ribchester et al., 2004; Oyebode et al., 2012; Teriakidis et al., 2012; Hirst and Ribchester, 2013). We isolated FDB or 1–4DL nerve-muscle preparations and maintained them for up to 2 days ex vivo (that is, in organ culture) at 32 °C, either in the presence or absence of patterned, supramaximal electrical stimulation of their tibial nerve supply (Fig. 1A). In other experiments, we preconditioned the levels of neuromuscular activity in these muscles, supplied by axons in the sciatic nerve, for 1–4 weeks in vivo. Nerve conduction was either blocked completely using implants impregnated with tetrodotoxin (TTX; Fig. 1B); or voluntary, self-motivated activity was facilitated by providing mice free access to running wheels fitted in their cages (Fig. 1C). Mice typically elected to run between 1 and 15 km per night with this provision. Neuromuscular synaptic structure and function were evaluated at the end of this period.