The nucleoporin gp210/Nup210 controls muscle differentiation by regulating nuclear envelope/ER homeostasis.
Bottom Line: Here, we show that gp210/Nup210 mediates muscle cell differentiation in vitro via its conserved N-terminal domain that extends into the perinuclear space.Unexpectedly, a gp210/Nup210 mutant lacking the NPC-targeting transmembrane and C-terminal domains is sufficient for C2C12 myoblast differentiation.Our results suggest that the role of gp210/Nup210 in cell differentiation is mediated by its large luminal domain, which can act independently of NPC association and appears to play a pivotal role in the maintenance of nuclear envelope/ER homeostasis.
Affiliation: Molecular and Cell Biology Laboratory, Salk Institute for Biological Studies, La Jolla, CA 92037 Division of Biological Sciences, University of California, San Diego, La Jolla, CA 92093.
Show MeSH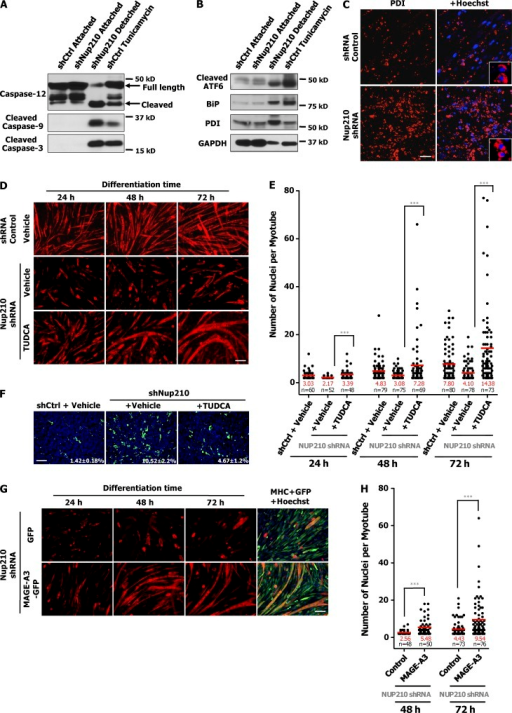 © Copyright Policy - openaccess
License 1 - License 2


getmorefigures.php?uid=PMC4362455&req=5

Mentions: In recent years, there has been a growing appreciation that ER stress is triggered as a part of normal skeletal muscle development (Nakanishi et al., 2005; Alter and Bengal, 2011; Deldicque et al., 2012). During differentiation, moderate ER stress helps maintain the homeostasis of both calcium levels and protein synthesis in the ER, selecting these cells for myotube formation and enhancing resistance to apoptosis (Huppertz et al., 2001; Morishima et al., 2002; Nakanishi et al., 2005; Schöneich et al., 2014). Upon induction of C2C12 differentiation, a proportion of cells undergoes apoptosis and fails to differentiate into myotubes, a physiological response that has been attributed to the ER stress-specific caspase cascade, which involves caspase-12, -9, and -3 (Nakagawa et al., 2000; Morishima et al., 2002; Nakanishi et al., 2005). Intriguingly, we have found that differentiation of C2C12 myoblasts expressing Nup210 shRNA leads to a substantial increase in apoptosis as assessed by caspase-3 activation (Fig. S3 A; D'Angelo and Gomez-Cavazos et al., 2012). This raised the exciting possibility that Nup210 might play a role in modulating ER stress. Consistently, Nup210 protein is induced as early as 24 h after C2C12 differentiation (Fig. S3 B), the same time point at which we detect apoptotic cells when Nup210 is knocked down. To test whether apoptosis triggered by Nup210 depletion involved an ER stress response, we examined the ER-specific caspase cascade in Nup210-depleted cultures. Western blot analysis showed that procaspase-12 (50 kD) had been extensively processed to its active form (35 kD) in detached cells and remained largely unchanged in attached cells 48 h after differentiation (Fig. 5 A). This activated form of caspase-12 was only observed when control C2C12 myotubes were treated with tunicamycin, an inhibitor of N-linked glycosylation and a widely used inducer of ER stress (Fig. 5 A). After processing of caspase-12, the ER stress-specific cascade continues with the activation of caspase-9, which then catalyzes cleavage of procaspase-3 (Morishima et al., 2002). Activation of caspase-9 and -3 was also present in detached cells from Nup210 knockdown cultures (Fig. 5 A), indicating that depletion of Nup210 from differentiating myoblasts triggers the ER stress-specific caspase cascade and apoptosis. Consistently, we detected an increase in caspase-12, -9, and -3 activation in whole-cell lysates (attached and detached) of Nup210-depleted cell populations when compared with control (Fig. S3 A).