Aurora B prevents chromosome arm separation defects by promoting telomere dispersion and disjunction.
Bottom Line: Dispersion is promoted by the dissociation of Swi6/HP1 and cohesin Rad21 from telomeres, whereas disjunction occurs at anaphase after the phosphorylation of condensin subunit Cnd2.Strikingly, we demonstrate that deletion of Ccq1, a telomeric shelterin component, rescued cell death after Aurora inhibition by promoting the loading of condensin on chromosome arms.Our findings reveal an essential role for telomeres in chromosome arm segregation.
Affiliation: Laboratoire de biologie cellulaire et moléculaire du contrôle de la prolifération, Université de Toulouse, F-31062 Toulouse, France Centre National de la Recherche Scientifique, LBCMCP-UMR5088, F-31062 Toulouse, France.
Show MeSH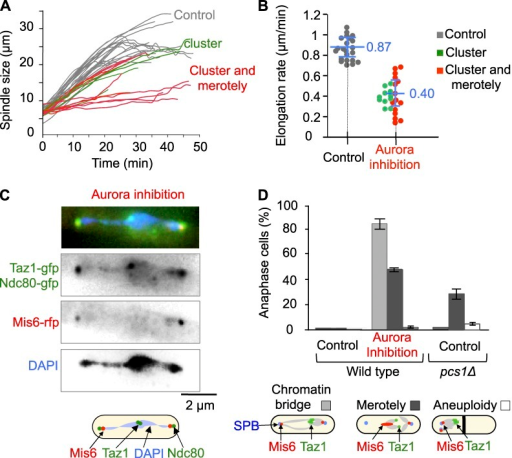 © Copyright Policy - openaccess
License 1 - License 2


getmorefigures.php?uid=PMC4362453&req=5

Mentions: Aurora B inhibition causes several types of chromosome attachment defects in mitosis, e.g., merotelic attachments (Tanaka et al., 2002; Cimini et al., 2006; Knowlton et al., 2006), which antagonize the spindle elongation rate (Courtheoux et al., 2009). Because merotelic attachments are partly corrected during anaphase B by spindle elongation forces (Courtheoux et al., 2009), it seems unlikely that the lethality of Aurora-inhibited cells arises from this type of defect. We thus analyzed the impact of telomere nondisjunction on spindle elongation. We followed the changes in spindle elongation in single cells (cdc25-22 ark1-as3 synchronised in G2) expressing markers for telomeres (Fig. 3 A, taz1-gfp, green), kinetochores (ndc80-gfp, green), centromeres (mis6-rfp, red), and SPBs (cdc11-cfp, blue). In control cells (Fig. 3, A and B, gray), the spindle elongation rate was 0.87 ± 0.09 µm/min. As expected, inhibition of Aurora B in metaphase led to the appearance of merotelic attachments in anaphase as judged by the appearance of stretched kinetochores (Fig. 3, A and B, red). Concomitantly, the spindle elongation rate was halved (0.39 ± 0.12 µm/min). In cells lacking merotelic attachments it was possible to observe the impact of the nondisjunction of chromosome arms on mitotic progression (Fig. 3, A and B, green). In such cells, DAPI staining revealed the presence of fine chromatin bridges with fully separated kinetochores (Fig. 3 C, note the presence of telomere signals at the cell midzone). The spindle elongation rate was reduced (0.4 ± 0.06 µm/min; Fig. 3, A and B, green) and spindles often collapsed (Fig. S3 A). Eventually, cell death occurred after cell abscission (Fig. S3 B), similarly to the so-called cut phenotype (the formation of the septum between daughter cells in the absence of normal nuclear division; Hirano et al., 1986). Thus, telomere nondisjunction and/or defects in chromosome arm separation can impact mitotic progression independently of merotelic attachment.