How and why to study autophagy in Drosophila: it's more than just a garbage chute.
Bottom Line: During the catabolic process of autophagy, cytoplasmic material is transported to the lysosome for degradation and recycling.This way, autophagy contributes to the homeodynamic turnover of proteins, lipids, nucleic acids, glycogen, and even whole organelles.Here we discuss the different microscopy-based, biochemical and genetic methods currently available to study autophagy in various tissues of the popular model Drosophila.
Affiliation: Department of Anatomy, Cell and Developmental Biology, Eötvös Loránd University, Pázmány s. 1/C. 6.520, Budapest H-1117, Hungary.
Show MeSH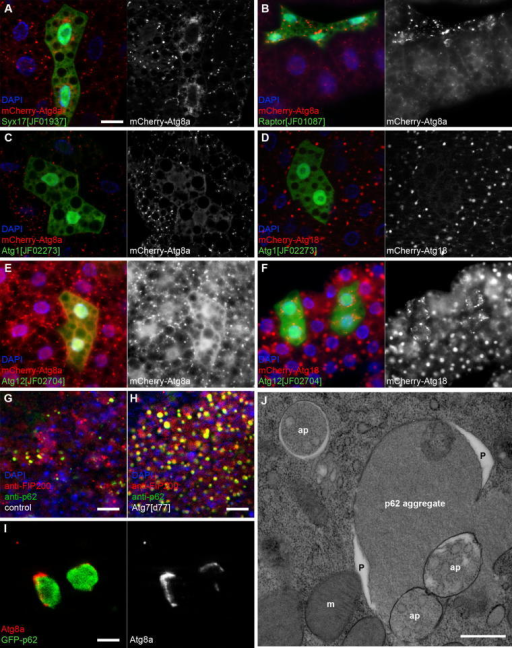 © Copyright Policy - CC BY
License
getmorefigures.php?uid=PMC4358840&req=5
Mentions: It is worth mentioning that there are two paralogs of yeast Atg8 in Drosophila. Atg8a is highly expressed in all tissues, whereas Atg8b only shows strong expression in the testis [37]. Thus, most assays rely on tagged Atg8a. A particularly popular marker for studying autophagy in Drosophila is mCherry-Atg8a, because it allows the visualization of all autophagic structures: phagophores, autophagosomes and autolysosomes [38]. This is because Atg8 family proteins are bound to both the inner and outer membranes of autophagosomes, so half of these molecules are delivered to the lysosome in each autophagosomal cycle. Likewise, fluorescently tagged Atg8a also gets into the acidic lysosomal lumen, where GFP is quenched rather quickly but mCherry retains its fluorescence much longer. This is due to their different pKa values [39]. Thus, GFP-Atg8a labels phagophores and autophagosomes more specifically, and only a subset of autolysosomes may be positive for this reporter [6,10,21,30]. In contrast, mCherry-Atg8a accumulates to high levels in autolysosomes, so phagophores and autophagosomes appear fainter (Fig. 3A and B). It is worth noting that the intensity of the mCherry signal may be used to estimate the rate of autophagic protein delivery to lysosomes in these experiments, as a block of autophagosome-lysosome fusion by knocking down the autophagosomal SNARE Syntaxin 17 prevents the formation of highly fluorescent autolysosomes (Fig. 3A) [40], whereas enhanced autophagy due to Tor kinase inhibition results in extremely high levels of mCherry in autolysosomes. As a consequence, these appear much brighter in Tor inactivated cells than the structures seen in surrounding control cells (Fig. 3B). However, sometimes there may be problems with the specificity of overexpressed Atg8 reporters. For example, high-level expression of Atg8a was found to rescue the autophagy-inhibiting phenotype of dominant-negative Atg4 [41]. More importantly, overexpressed Atg8a reporter molecules are captured into the large protein aggregates that form in fat body cells for example during proteasome inhibition [42]. These Atg8a-positive structures may as well be falsely interpreted as large autophagic vesicles, but ultrastructural analysis clearly showed that they are in fact cytosolic protein aggregates. In addition, protein aggregates in proteasome RNAi cells did not stain positive for endogenous Atg8a [42]. Except this unusual situation, indirect immunofluorescence analysis of Atg8a using a specific antibody should give a labeling similar to GFP-Atg8a. One advantage of this technique is that it is based on following the endogenous protein instead of an overexpressed tagged reporter. It is also much faster to carry out, as one does not need to cross the reporter into the genetic background of interest. Several anti-Atg8a antibodies have been published that work well for microscopy in Drosophila[16,40,43,44]. Of note, a GFP-Atg8a reporter expressed from the genomic promoter of Atg8a has also been published, which can be used to visualize autophagosomes in the midgut [45]. Unfortunately its expression level is relatively low, and we could not detect it in the larval fat body (our unpublished results). Alternatively, a heat shock-inducible GFP-Atg8a transgene may be used in a sort of pulse-chase experiment to identify autophagosomes and follow their degradation over time [6].