The functional interactome of PYHIN immune regulators reveals IFIX is a sensor of viral DNA.
Bottom Line: We discover that IFIX detects viral DNA in both the nucleus and cytoplasm, binding foreign DNA via its HIN domain in a sequence-non-specific manner.Furthermore, IFIX contributes to the induction of interferon response.Our results highlight the value of integrative proteomics in deducing protein function and establish IFIX as an antiviral DNA sensor important for mounting immune responses.
Affiliation: Department of Molecular Biology, Lewis Thomas Laboratory, Princeton University, Princeton, NJ, USA.
No MeSH data available.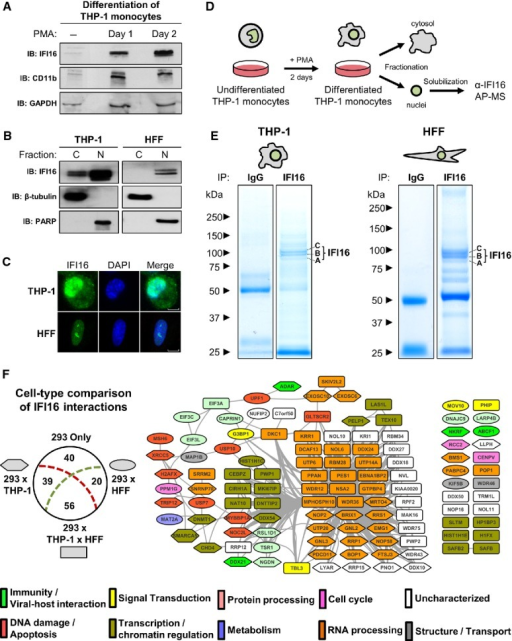 © Copyright Policy - open-access
License
getmorefigures.php?uid=PMC4358659&req=5
Mentions: Based on our analysis in HEK293 cells, the identified interactions represent a range of housekeeping functions of the PYHIN proteins. While the majority of PYHIN interactions observed in HEK293 cells (Fig3) remained fairly stable even after re-scoring against additional negative controls from the CRAPOME database (Mellacheruvu et al, 2013) (see Supplementary Fig S9), we next assessed the conservation of these interactions in additional cell types. Identification of conserved interactions would not only validate our findings, but also point to core functional interactions. We selected to focus on IFI16, as we have already optimized the immunoaffinity purification of endogenous IFI16 using a mixture of two monoclonal antibodies that recognize all three IFI16 isoforms (Li et al, 2012). This analysis could not be performed for the other PYHIN proteins, as antibodies for effective immunoisolation are not yet available. We compared IFI16 interactions in HEK293 cells to those in primary human fibroblasts (HFF) and differentiated monocytes (THP-1), given the use of these cells in characterizing antiviral factors (Muruve et al, 2008; Burckstummer et al, 2009; Unterholzner et al, 2010; Orzalli et al, 2012; Li et al, 2013). The levels of endogenous IFI16 were induced upon differentiation of monocytes into macrophages (Fig4A and D). Similar to the expression of IFI16-GFP in our HEK293 cell lines, the localization of endogenous IFI16 was observed to be predominantly nuclear in fibroblasts by cellular fractionation (Fig4B) and immunofluorescence microscopy (Fig4C). However, in differentiated THP-1 monocytes, a subset of IFI16 was also present in the cytoplasm (Fig4B and C). Therefore, for an appropriate comparison to IFI16 interactions in HEK293 cells, AP-MS analysis was performed using the nuclear THP-1 fractions (Fig4D). To address non-specific interactions, we performed parallel IgG isolations from THP-1 (N = 2) and HFF (N = 2) cells (Fig4E). We increased the stringency of the specificity filter by including additional control immunoisolations from GFP-expressing HEK293 cells (N = 3) and employed a similar SAINT scoring strategy and threshold (≥ 0.85) as above (Supplementary Tables S7 and S8). Overall, out of the 155 IFI16 interactions in HEK293 cells, nearly 75% (115 proteins) were confirmed in at least one other cell type. 56 of these were present in all three cell types, while 39 and 20 interactions were shared between HEK293 and THP-1, and HEK293 and HFF, respectively (Fig4F, left). Similar to the STRING analysis of IFI16 interactions in HEK293 cells, the most prominent functional protein classes of transcription, ribosomal biogenesis, and RNA processing were conserved (Fig4F, right). Among the shared interactions, we also observed proteins with roles in immune response, such as NKRF and ABCF1. Interestingly, 88% (23 out of 26) of the proteins with uncharacterized gene ontology molecular functions were retained among the IFI16 interactomes (Fig4F, white nodes). Therefore, further investigation into the cellular function of these proteins is likely to provide insight into the cell type-independent housekeeping roles of IFI16. The large percentage of IFI16 interactions identified in HEK293 cells and conserved across significantly different cell types highlights the importance of the PYHIN interactome delineated in our inducible cell system. Therefore, we next focused on the interactions of the least characterized PYHIN protein, IFIX.