The functional interactome of PYHIN immune regulators reveals IFIX is a sensor of viral DNA.
Bottom Line: We discover that IFIX detects viral DNA in both the nucleus and cytoplasm, binding foreign DNA via its HIN domain in a sequence-non-specific manner.Furthermore, IFIX contributes to the induction of interferon response.Our results highlight the value of integrative proteomics in deducing protein function and establish IFIX as an antiviral DNA sensor important for mounting immune responses.
Affiliation: Department of Molecular Biology, Lewis Thomas Laboratory, Princeton University, Princeton, NJ, USA.
No MeSH data available.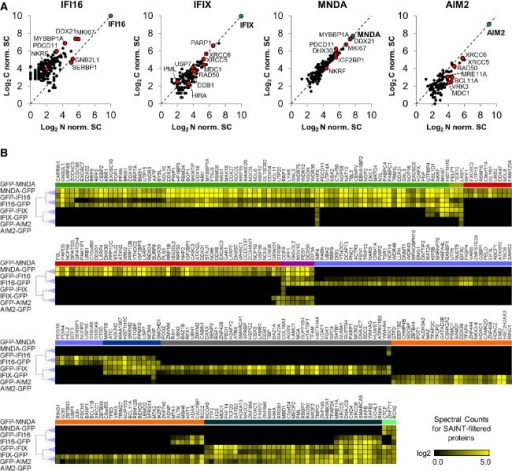 © Copyright Policy - open-access
License
getmorefigures.php?uid=PMC4358659&req=5
Mentions: To identify interactions, the proteins co-isolated with the tagged baits were digested using trypsin and analyzed by mass spectrometry using a label-free quantification approach. Non-specific interactions were filtered out via 'significance analysis of interactome' (SAINT) probabilistic scoring (Choi et al, 2011). Given the limited knowledge regarding validated PYHIN protein interactions, we assessed the distribution of SAINT probability scores. We optimized the selection of SAINT thresholds to achieve a balance between specificity (for reducing false positives) and sensitivity (for maximizing the identification of candidate interactions) (Supplementary Fig S4). As a result, we selected an average confidence score threshold of ≥ 0.85 for IFI16, IFIX, and AIM2. In comparison with the other PYHIN proteins, MNDA had the highest number of co-isolated proteins (Fig1E). Thus, to maximize the selection of the most prominent and likely specific interactions, we used a more stringent average SAINT score of ≥ 0.95 for MNDA. Importantly, all candidate interactions passing these thresholds were identified in both biological replicates. Relative abundances of SAINT-filtered interactions were next assessed by averaging prey spectral counts across biological replicates and then normalizing to the spectral abundances of appropriate PYHIN baits. Given their variation in cellular distributions, we first compared the interactions of N- and C-terminally tagged baits (Fig2A). Notably, for IFIX, MNDA, and AIM2, interactions were not significantly biased for either N- or C-terminal tagged baits. Therefore, the majority of these observed interactions were not impacted by tagging. For IFIX, this suggests that the observed interactions are mainly representative of its nucleoplasmic and nucleolar localizations, and less representative of its punctate localization (a subset likely partly lost in the pellet fraction, Fig1F). In contrast to the other PYHIN proteins, IFI16 displayed a higher abundance of protein interactions with C-terminally tagged protein versus its N-terminal counterpart (Figs1E and 2A). It is possible that, although not triggering a change in localization, the tagging at the N-terminus disrupts some of its PY-mediated interactions. Alternatively, this bias may be associated with the greater expression of the N-terminally tagged IFI16, skewing the label-free quantification following normalization to bait amounts across different isolations. Highlighted in red are several prominent interactions detected with both N- and C-terminally tagged PYHIN proteins (Fig2A). For IFI16 and MNDA, these interactions included regulators of NF-κB (PDCD11 and NKRF) and c-Jun (MYBBP1A and DDX21) and antiviral helicases MOV10 and DHX30; for IFIX and AIM2, abundant interactions included proteins involved in DNA damage response (e.g., XRCC6/XRCC5, MRE11A, RAD50, MDC1, and USP7).